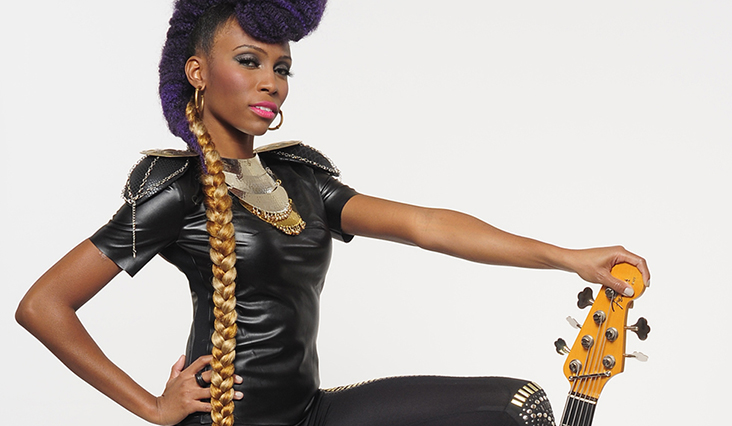 From as early as she can recollect, bassist Nik West rocked to the beat of her own tune. Growing up, she traded in her Mary Jane's and ballet flats for L.A. Gears as she played basketball with the boys, and preferred a Transformer over a Barbie doll any day. Her desire to not conform early in life foreshadowed the path she decided to follow in her musical career; a career that earned her a spot as a guest professor for the renowned Bootsy Collins' Funk University this spring. West will join a professor roster filled with fellow bassists Stanley Clarke, Larry Graham, Marcus Miller, Tal Wilkenfeld, Victor Wooten and others.
With a father who played the guitar and organ, in addition to siblings who played instruments, West says she was immersed in music and her gospel roots greatly influenced her. As a lover of old school soul and a fan of James Brown, Prince and Michael Jackson, the Phoenix native draws inspiration from these genres to create her sound. But it was the King of Pop's "You Wanna Be Startin' Somethin'" that struck a chord with West, literally.
"My dad is my best buddy, so I remember asking him what that was in the song and he said that was the bass line driving the song," she recalls. "I remember saying, 'That's what I want to play.'"
After her father presented her with a bass guitar, West learned to play, however, she faced discouragement, ridicule and rejection for her talent. At that point, she made the conscious decision to hide her instrument and musical skills from the world, and her mother encouraged her to pursue modeling.
"My mom would always say 'You don't know how pretty you are and you need somebody else tell you'," West adds.
After she attended her first modeling conference, the then teenager met an agent who taught her the basics of how to apply makeup, how to walk the runway and the ins and outs of the business. While she worked in Seattle, West recalls an encounter with a dear friend, who she says encouraged her to pick up her bass and to start playing music again.
"He said I was pretty, but I was selling myself short on the runway by not using my musical talents," she adds. "This came from someone who I respected and it opened my eyes to something new. At that point, I hadn't touched my guitar since I was 19, so I decided to dust it off."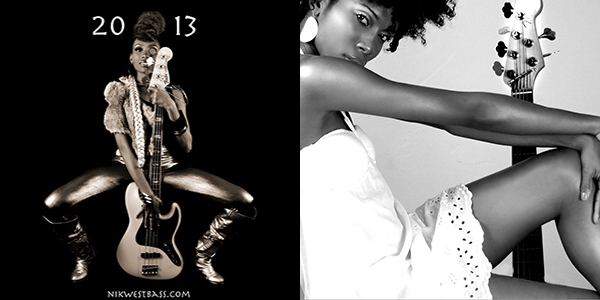 The musician admits she was reluctant at first to feature her voice on her debut project, Just in the Nik of Time.
"I didn't think my voice was good enough to be on its own, it belonged nowhere but in a choir and it's what not people are typically used to hearing," she confesses. "But, I was told if I have a voice, then I needed to use it."
As she blends Funk, Rock and Soul, the left-handed bassist's eclectic taste in music is reflected in her tunes. Under the management of Dave Stewart, West continues to focus on her music as she collaborates with various artists, including John Mayer, and paving her own way in the industry. Her eccentric sound captured the attention of George Clinton and & Parliament Funkadelic, who told her she's bringing something back to funk music that they thought people forgot about. With a new age Betty Davis flair to her style and sound, the multi-dimensional West aspires to work with her mentor Marcus Miller and artist Eric Clapton, to name a few.
West is also the face of a new line of basses for Fender that will feature the Nik West signature bass. She also works with the Fender Music Foundation, which donates autographed guitars by prolific figures in the music industry to different schools.
When she's not rocking it out on stage, West says her other main focus is working with Girl Rock Nation, an organization that empowers young women in all facets of music. She collaborated with Girl Rock Nation and the Rock and Roll Camp for Girls Los Angeles where she taught music clinics to the girls at the House of Rock.
"I want to inspire young girls and to inspire them to do their thing," she says.
With the belief that people should be who they are regardless, West says she will continue to stick to her guns, embrace what she likes and rock what feels good to her.
For more information on Nik West's music, visit www.nikwestbass.com and follow her on Twitter at @Nikwestbass.
By Iya Bakare