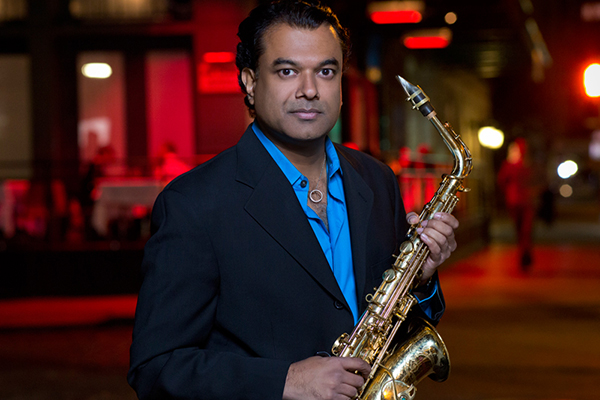 Rudresh Mahanthappa photo by Jimmy Katz
The sound of a culture goes far beyond geographical boundaries. It resonates within the very DNA of its people. Saxophonist and composer Rudresh Mahanthappa, a second generation Indian-American, skillfully harmonizes classical Southern Indian sounds of his heritage, with soulful modern sounds of American jazz, to create a unique sound that is all his own. A sound that is neither Indian nor American – it is artistic perfection.
Mahanthappa graduated from the Berklee College of Music in 1992 and received his Master of Fine Arts degree from DePaul University in Chicago. Mahanthappa has frequently been listed in Down Beat's Critics Poll and was named both "#1 Rising Star Jazz Artist" and "#1 Rising Star Alto Saxophonist" in the 2010 poll. In 2011, he was voted the No. 1 Alto Saxophonist of the Year.
He has been awarded numerous grants for his compositions, including being given the New York Foundation for the Arts Fellow in Music, three Rockefeller MAP Fund grants. In 2008, he was named a Guggenheim Fellow, in which he created the album Samdhi. The Jazz Journalists Association named Mahanthappa the Alto Saxophonist of the Year in 2009, 2010, and 2011.
IRJ: Where were you born?
RM: In Italy. I was born in Italy and raised in Boulder, Colorado. I only lived in Italy for about three months, while my father was on sabbatical.
IRJ: When did you first experience jazz music?
RM: Well, if you are going to play saxophone, that's pretty much what you are going to do [laughs]. I don't' know any saxophonists that say they want to be rock and roll saxophonists [laughs]. I think the first thing that I heard in elementary school that got me going was Grover Washington, [Jr.] and David Sanborn and folks like that. Grover was a huge influence.
IRJ: Have you ever thought about playing in any other genre of music?
RM: Well sure, you do all sorts of things to make a living. I played in soul bands, I've played in funk bands, I've played in R&B bands, and salsa bands; I've done lots of different things.
IRJ: How do you mix a diverse culture of music to create a new sound?
RM: It's a question of defining one's identity. I'm American and Indian, and both, and neither – all at the same time, you know? It's more like how do you synthesize these things, how do you unify these things into one sort of voice – because that's how I see myself, as one bi-cultural voice. The important thing for me is to examine each genre with the utter most integrity and honesty, and not look at merging superficial elements. I think it's a big mistake when people are trying to merge music or any type of art from different cultures. To take and slam dunk superficial elements together and make it seem like you're doing something exotic. And the exotic is entirely what I'm avoiding. I'm influenced by a lot of different music. I grew up in this country and am a child of the 80s. I listen to pop, rock, Prince, Peter Gabrielle, Busta Rhymes and everyone else. So when all of this music that interests me enters my head, I try to break them down to their basic building blocks, and try to synthesize these things in a very organic way that yields something that doesn't sound like a cut and paste version of lots of different things – it sounds like real, clear, unique voice.
IRJ: You were the recipient of the Guggenheim Fellow. When you receive these types of prestigious awards, how much pressure does that put on you as a musician?
RM: Well the Guggenheim is specifically tied to a project. You apply for the Guggenheim and you have a plan of action. You're supposed to propose something that is going to take a year of your life. So I proposed writing a very specific composition called, Samdhi. It was not my past record, but the record before. And that was a multi- stage process that involved several trips to India, and working with the musicians over there.
IRJ: What was it like going to India and working with musicians over there? Were there any challenges?
RM: One of the challenges was that classical Indian music has no harmony. That [harmony] is such a big component of Western music. So it's difficult to set up scenarios where these Indian musicians feel comfortable doing what they do, when there is all this other information that they are not accustomed to hearing. Whether its cords on a piano or cords on a guitar, or multiple instrumentals playing at once – that's one factor. Then there's the way we look at form. In Indian music they look at smaller beat cycles. So you have to find a common language to deal with these elements, because there are different things in Indian music that don't happen in Western music as well. It just takes open minded people that are willing to embrace other ways of thinking about music.
IRJ: Is it difficult to build a fan base of a new genre of music?
RM: I don't think about it in terms of Indian-American jazz. I think of it in terms of anyone who has done anything in music. It's no different than anything else. There are lots of new things happening in other genres right now, and everyone that we look up to in any genre of music was doing something new.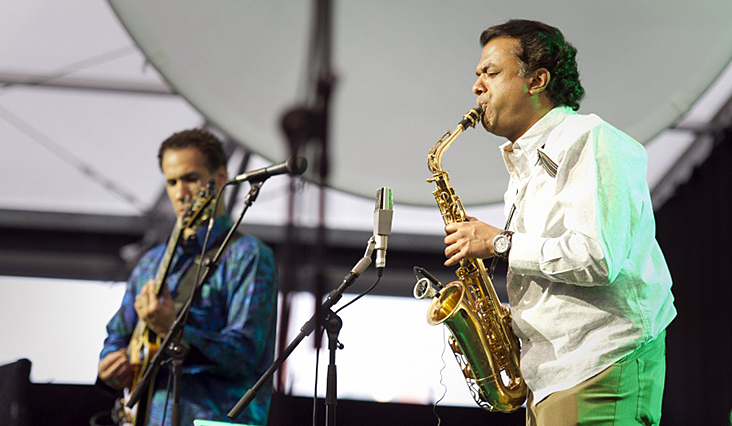 IRJ: What was the turning point in your career that really opened up doors of opportunities?
RM: It's really hard to say. But I think the year that I won the Guggenheim, that was a pretty big deal. And at that same time, that was the first year I won the Down Beat's Critics Poll and it was also around the time of some of my first big tours in Europe too. So there was just a lot happening that year, 2007-2008, where there was a confluence of different aspects of my career that were growing simultaneously. But really, it's been one kind of longer arch of just building this up. I've been living in New York for 15 and ½ years now, and my first album that I released here was back in 2002. It's been kind of a gradual up slope of music making and career opportunities.
IRJ: Do you think that there is a difference between how Europeans appreciate jazz as opposed to Americans?
RM: That's a funny thing. The audiences are definitely better in Europe, but I think that there is just a longer tradition of supporting the arts in Europe. Supporting the arts goes all the way back to the monarchies – kings and queens of the 1200's. And when the monarchies toppled, the Parliamentary governments never lost the traditions of supporting the arts. I feel like Americans aren't given the chance to appreciate it because it doesn't even come into their purview. There is very little access for jazz right now [in America]. How do you even let people know this music exists?
IRJ: Can a musician make it in a city other than New York?
RM: I don't think you can rely on any city to make a living if you are going to play art music. You need to live some place where you can connect with the rest of the world. When I lived in Chicago, I wasn't counting on making a living in Chicago; I was counting on being able to tour. When you look at musicians in New York, yeah, some of them make their living here, but their not doing their own music; they are doing studio work, or playing on Broadway, or commercial sorts of things. The reason for the move to New York is not because there are more clubs here or that you can play more, but because you can connect with the rest of the world.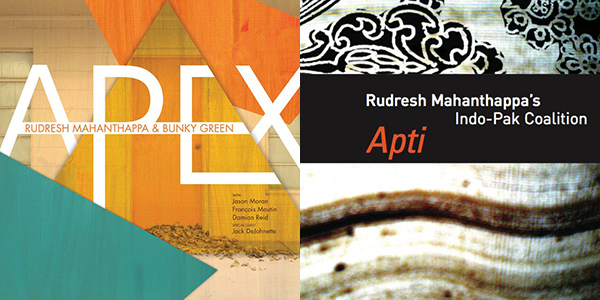 IRJ: What's next for you?
RM: Gamak is touring through the rest of the year and into 2014. But I have a few things on my plate. I'm writing for a large scale dance production that is going up in about a year. And I'm going to be writing a saxophone quartet, which will be fun. It will be some modern classic, modern chamber music. And I'm thinking about going back to the Indo-Pak Coalition. I'd like to go back to that group because it has grown and has a very different sound than what it did when we first started playing. So I'd like to write some music that really highlights that.
IRJ: Where can fans find out more about you?
RM: My website is the best place: www.rudeshm.com. There is streaming music and if you sign up for the newsletter, you can get three sample songs in your inbox. And obviously I'm on social media – Facebook and Twitter and YouTube. I'm very easy to find [laughs].
Rudresh Mahanthappa will also be performing at the Atlanta Jazz Festival.
By Steen Burke