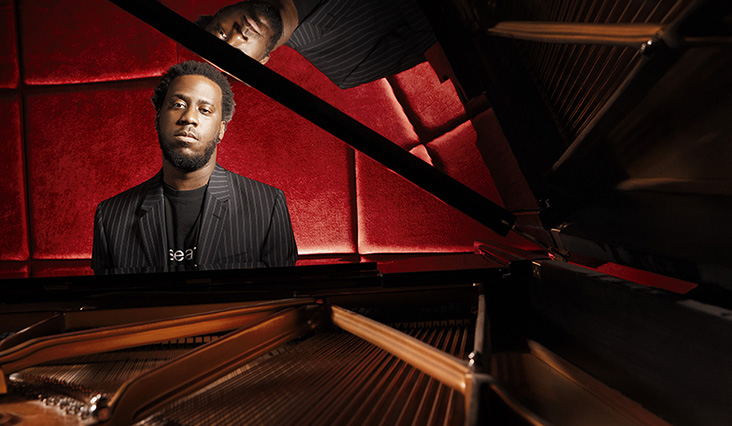 Robert Glasper photo by Joey L
Jazz pianist and composer Robert Glasper is at the head of the class when it comes to breaking rules in his genre. The 2012 Grammy Award winner for "Best R&B Album" and Blue Note label artist thinks outside of the musical box as he fuses Hip-Hop, Soul, Jazz and Rock to create his own element and niche in one of the oldest forms of music. This blend is a trademark of his music in both his solo projects and musical collaborations, including his recent work on neo-soul crooner Bilal's "A Love Surreal" and jazz/hip-hop vocalist Jose James' "No Beginning, No End." Glasper says he recognizes the need for versatility in the entertainment industry as a musician, but more so as an artist.
"It seems like jazz musicians who are able to play more than one instrument are frowned upon these days," he says. "Jazz is the mother and father of most music and of urban music. It laid the foundation for music because without it, there would be no Hip-Hop, Blues or Rock music. Without slaves humming, Blues music wouldn't exist. We as black people contributed so much to music and it's a slap in the face to the innovators and our ancestors when we don't recognize it. When you frown on Hip-Hop, you frown on your brother."
"People should start thinking outside of the box when it comes to jazz music because you can't define it," he says. "There are so many things you can do with this music, so just do it."
Glasper's formula for groundbreaking music, which is featured recently on Black Radio, spins from the sounds of bold lyrics and vocals that accompany powerful instruments, and equal a new look at jazz. The latest project features the ecletic styles of Erykah Badu, Bilal, Lupe Fiasco, Lalah Hathaway, Ledisi, Chrisette Michele, Musiq Soulchild, Meshell Ndegeocello, Stokley Williams of Mint Condition, Yasiin Bey (formerly known as Mos Def) and others. Glasper's partnerships also include work with Jay-Z, Maxwell and Kanye West. On his first album, Mood, he joined forces with jazz trumpeter and composer Terence Blanchard, trumpeter Roy Hargrove, guitarist Russell Malone and bassist Christian McBride.
Glasper previously worked with hip-hop artist Q-Tip on his 2008 project The Renaissance, which also featured Norah Jones. As the musical director of Yasiin Bey's touring band, the multi-dimensional artist keeps a hand in the hip hop game as he continues to work on jazz projects. Prior to the release of his most recent album and in his previous 2009 album Double Booked, Glasper creatively merged the two worlds of Hip-Hop and Jazz in his music and within his collective creations. He earned a Grammy nomination in the "Best Urban/Alternative Performance" in 2010 for his collaboration with Bilal on the track "All Matter".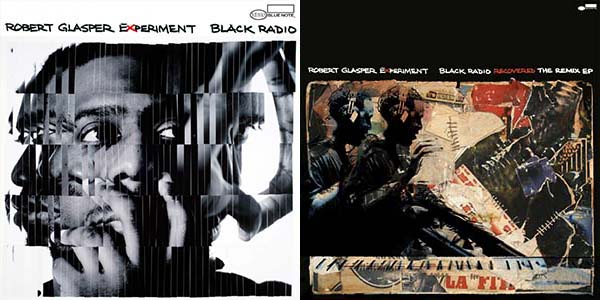 With a conscious effort to bring awareness to the jazz music, the Houston native pays homage to the legends of the industry and says he admires composers Billy Joel, Wayne Shorter and Stevie Wonder, to name a few. Influenced by J Dilla, Thelonious Monk and others, Glasper admits the younger generation should give props to the newer talents on the scene, and radio stations and music magazines should shed the spotlight on them as well.
Growing up with a mother who sang professionally, Glasper couldn't escape music. He attended Houston's High School for the Performing Arts and said his junior year marked the moment when he realized he wanted to pursue it as a career. His craft continued to blossom at the New School University in Manhattan, where he earned a full scholarship and a plethora of knowledge and experience working with various musicians in his chosen genre.
Since Glasper released his first album Mood in 2004 and Canvas, his major-label debut in 2005, he confesses he's matured in his craft, his views on his music and his opinions about life.
"My state of being, what I represent and what I bring to the table has changed," he adds. "I no longer care that I'm the best at playing jazz. At the end of the day, no one cares about how technical you are, except for technical people. What your purpose is and what you mean to someone else is what matters. I aim to touch the average person, rather than to impress my musical peers."
Glasper's single, "Black Radio" features Yasiin Bey. The song's purpose is to ignite a new flame in Jazz and to showcase the eclectic and diverse elements of the music. "People should start thinking outside of the box when it comes to jazz music because you can't define it," he says. "There are so many things you can do with this music, so just do it."
For more information on Robert Glasper and his music, visit his website at www.robertglasper.com and follow him on Twitter at @robertglasper.
By Iya Bakare