This is a jazz trio of leaders. For twelve years The Bad Plus has been consistently doing what they enjoy and love; making music. It is their unconventional style that has brought them incredible recognition in the jazz world and allowed them to connect to a vast audience. Dave King (drums), Reid Anderson (bass), and Ethan Iverson (piano) make up The Bad Plus. King and Anderson are from Minnesota, Minneapolis to be exact and Iverson is from Wisconsin. They have created an uncompromising body of work. While the majority of their music are original pieces, their innovative style has breathed new life into pop and rock standards as well as songs from other genres. The music has layers and often tells a story without words. Each member's contribution allows their musicianship and passion to flow through the songs. iRock Jazz had the pleasure of speaking to bassist Reid Anderson to talk about the band, their style and what is in store for them in the future.
iRJ: Tell me what you were doing before The Bad Plus?
RA: Well all three of us were probably laboring in obscurity I guess you would say. Dave in Minneapolis, me and Ethan in NY – we were leading our own bands and writing music and definitely a part of the jazz scene.
iRJ: How did The Bad Plus come about and how did you all decide on the name?
RA: Well the name was just something that Dave made up, but we did feel it was important to have a name because we wanted to have a real band that was group music not like the so and so trio or whatever. The three of us are all leaders and composers and we wanted to create a situation that reflected that.
iRJ: How did you all decide to play covers of different genres of music, other than jazz?
RA: Well what we've always done is mostly play our own music. We're composers and the cover thing has gotten a lot of attention in the press. But we're an original music band first and foremost, but we did feel like it's a part of the jazz tradition to play the most popular music of the day and we wanted to play something that was our own life experience, really.
iRJ: Do you feel the band itself has come under criticism for playing covers, and would you all consider yourself a jazz band?
RA: Yeah, you know we would say we're a jazz group. If someone doesn't consider us a jazz group it doesn't particularly bother me. I wouldn't really understand why they wouldn't consider us a jazz group I guess it's kind of where that stands. We're improvisers, I feel like we're part of the jazz tradition and we're just exploring. As I said we're incorporating our own life experience and our own time and place into the music.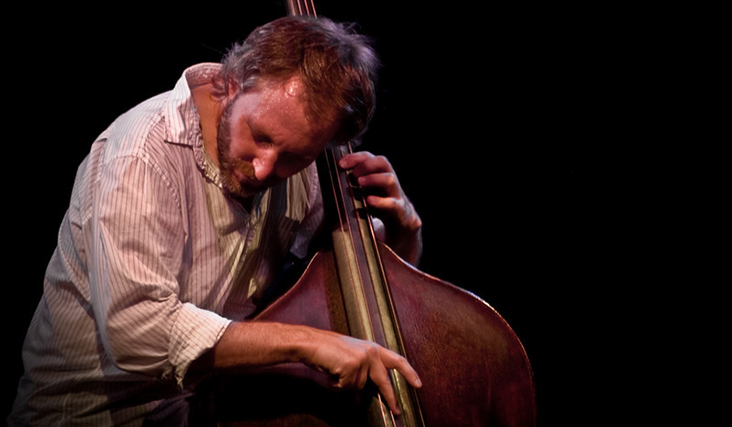 Reid Anderson photo by Joseph Spiteri
iRJ: Do you all do projects independently of The Bad Plus?
RA: We do. Although, The Bad Plus is the central thing that we all do, we have time away from it and we do other things.
iRJ: What inspires you today?
RA: Well I guess it always inspiring to try to keep imagining and try to keep on the top of your game. Try to do what you do as well as you can.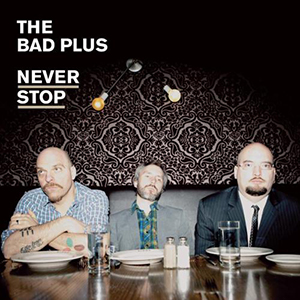 iRJ: When working in a group with so much talent how do you all keep balance in the group and stay together?
RA: I think we have a shared belief in the music and we respect each other as musicians and we sort of always kind of known what it's about from the beginning. It's not about our personalities individually. It's about what happens when we come together as a collective. We just have to keep focused on that and I think we also recognize that what the three of us do together is personal and it's unique and we feel like we have to protect that.
iRJ: You all play different clubs like Yoshi's and Jazz at Lincoln Center, do you all have a favorite type of venue to play?
RA: Not really, as long as the sound is good and people are listening that's pretty much all we require.
iRJ: The Bad Plus seems to be really down to earth. You are serious musicians, but you don't take it seriously. Would that be a good way to describe the group?
RA: Yeah, we are really serious musicians but we do value just being down to earth. We don't really play into in kind of pretentiousness or anything like that. We do feel like that's part of what we do too. We have an inclusive energy in our music and I think the way we present ourselves.
iRJ: By doing something that is really unconventional it has thrust The Bad Plus on the scene and given you the acclaim that can take musicians years to receive. Do you think you all just came at the right time and were in the right place?
RA: I don't know. You can never discount timing and time and place. If that question – questions the validity of what we're doing I have to say that I will defend until the very last the validity of what we are doing and our integrity and our musicianship. It's something we have had a certain amount of controversy around us, but we've been together 12 years and we have a body of work that speaks for itself. So if anybody questions our validity at this point or if we deserved it, they should really question it on the terms of what we've done and if someone really wants to actually listen to our music they can evaluate it from there. If they want to evaluate it on any other basis then I really don't have any time for that.
iRJ: In closing is there anything that you would like people to know about you, your music or The Bad Plus?
RA: Well that's a big question [laughs] I wish I had enough time for that one. I think the main thing is we sound like The Bad Plus and I think that's something we're really proud of and it's what we always wanted to do – is create personal music. What we're out there doing is an honest expression of who we are and we hope it connects with some people.
Bad Plus will be performing at Yoshi's in Oakland April 30th – May 2nd; you can get more information here.
By Shonna Hillard