Brooklyn is the current headquarters of fusion outfit Snarky Puppy. It's where many of their revolving members primarily reside and it's where they recorded their latest album, 2012's groundUP, at Park Slope's Shapeshifter Lab. Ironically enough, it's a place where they perform the least. Their reputation as a collective with an indescribable sound (author Cicily Janus dubbed their sound as "jafunkadansion" in his book "The New Face of Jazz: An intimate look at today's living legends and the artists of tomorrow"), they've been in demand all over the globe and have been more than willing to travel anywhere their fans want them. Brooklyn is an ideal homestead for a group that has eight or more musicians on stage at any given time, often not having the same line-up on back-to-back nights. Their malleable application of several genres fits the melting pot that is New York City's biggest borough and a cultural junction of all the Earth. The group made their triumphant return to BK to reward their fans and test out new material.
Michael League is the hand that rocks the cradle that is Snarky Puppy, as their bassist, principle composer and bandleader. As he led the band into the first songs of the night, Brooklyn Bowl was aghast with anticipation. While it can only hold roughly 600 people, Brooklyn Bowl has been a go-to performance site for artists like John Legend, The Roots, Kanye West, The Headhunters, M.I.A. and Soulive; the perfect get-down spot for multi-colored fans to groove with a multi-color band as the sound of strikes and spares crashed from the lanes beside the stage. Their first two songs were built on primal drum and percussion interaction, while League's bass was distorted and brooding, shaking the floor and walls.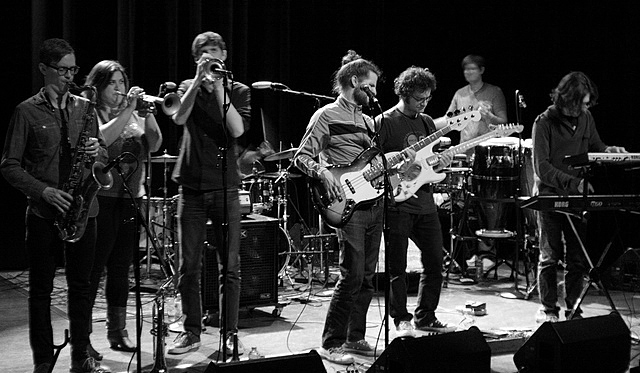 The new compositions were eclectic as hell ranging from Go-Go beats to Arabian sunrises, but the standout of that evening was a song League said was inspired by the new dubstep music craze. Yes, the rhythms were certainly influenced by the crazy dance music, the horn section was hot, slow and piercing before picking up the pace reminiscent of an awesome mid-1980s movie soundtrack.
The audience ate the new material up, but they were utterly ravenous over groundUP tracks "Young Stuff" and "Thing of Gold." The subtle scratchy guitar riddim along with intense synthesizer soloing from Corey Henry and tribal vocal chants from the crowd, League's most valuable attribute shined brightest – as bandleader. His ability to corral this band to extract music that jazz purists, hip-hop heads and dance fanatics alike can dig, is prodigious. He may be the second coming of David Axlerod.
By Matthew Allen