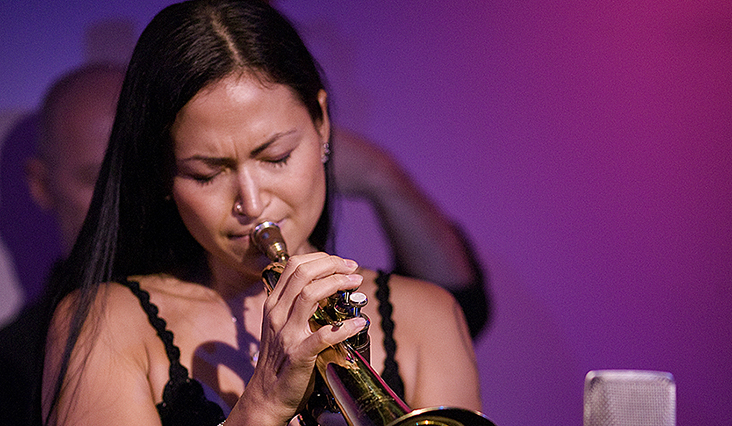 Kiku Collins Photo by Andrew T Foster
Kiku Collins is a well-traveled performer, navigating the music scene via her play on both the trumpet and the flugelhorn. Within her dynamic career, she has been invited to perform with Beyonce, Jill Scott, Michael Bolton, and Gloria Gaynor amongst a bevy of high profile artists. When she is not lending her talents to others, she leads her own band, having released two well-received albums to date.
History has a contentious relationship to its women. Patriarchy became its most prominent author—penning not only its dominant narrative, but its rules as well. This is why few knew the name Valaida Snow and more, but not enough recognize that of Tia Fuller. Situated neatly within this context is the talented Kiku Collins. Her engagement of the brass section, even now, belies a history of people telling her what she could and could not do.
iRock Jazz sat down with Kiku to talk about gender and jazz in the modern era.
iRJ: It's not often that you see women prominently playing brass instruments. What initially drew you to the trumpet?
KC: The fact that we had one [laughs]. That's the honest truth. I think I wanted to play the clarinet, but my brother is two years older than me and was already playing the trumpet. So, my mom bought me a mouthpiece. I was a gymnast. I was more athletic at the time and so she figured, 'I'm not going to bother with this crap. Let her play for a year', and all of a sudden it was like, 'Oh no. I actually really like this' [laughs]. But I didn't really pick it. It picked me.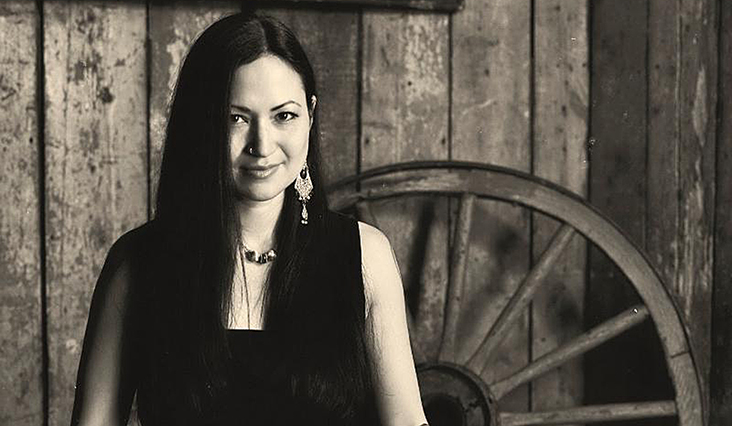 Photo by Steve Kriesel
iRJ: You have this sort of organic relationship with the trumpet. Why don't we see more women choosing brass instruments?
KC: Have you ever looked at a trumpet player up close while they're playing [laughs]. It's horrible! I can't wear lipstick. I've always got this little mark on my face [laughs]. To be honest, there's a lot more women now. I do a lot of master classes and work with younger people and it's incredible to see the number of women that are starting to play the trumpet. A couple of years ago, I played with a high school big band and the entire trumpet section was made up of girls. And I was like 'What's going on'! Because that just wouldn't have happened in my day.
iRJ: Speaking to that, how do you think we, as a musical community, can get younger women to engage brass instruments?
KC: I think it's happening, possibly as a byproduct of society in general. I was talking about my mother the other day. She was sick and the doctor told her not to work out. So, she went out and hired a personal trainer and lifted weights—this little Japanese woman [laughs]. Back then there were no women working out and now you see women working out all the time. I think it's just getting to a point where there's no reason why we can't do anything and I think society is accepting that more and more. It's kind of fun for me too, having grown up in a society where people looked at me like I was crazy because I had a trumpet with me. Now it's totally normal. It's still not a 50/50, but it's just so much closer. It's great to see these girls kicking butt, doing what they want to do. And not just because they had a trumpet in the house [laughs].
iRJ: A while back I had the opportunity to talk with Tia Fuller and in our conversation she mentioned touring with Beyonce. From your perspective, what was that experience like, playing with an all-female band.
KC: It was the first time that I played with all women. I'm so used to being in a band full of men. I think most everybody in that band came from the same background, you know "you're the only girl in the band." And all of a sudden you've got all of these hardworking, strong women together. It was great. Honestly, it's so hard to really explain what it feels like to be in something like that. I was in the birth of that female band. I had no idea what I was doing. I almost didn't go to the audition [laughs]. I was mixing my first album and I was like 'I don't have time for this'. I was literally forced to go by a friend. He told me that he would never talk to me again if I didn't go that audition [laughs].
iRJ: Another prominent role you play is that of mother. Have you gotten your daughter into music yet?
KC: She is so musical, but she doesn't want to be like me and that's great [laughs]. I encourage that. Being a musician is a really hard life. You know, she's been listening to a lot of classical music on her own. That's all she listens to on her iPod now. We actually did a TV commercial for Marshalls. It's pretty cute. She was so tiny and played this little pocket trumpet. She can pretty much do anything. She sings on my second record. I had to pay her though [laughs]. She also engineered most of the horns on my second record. That was two years ago, so she was 9 at the time. I would play something and she'd be like 'Nah. You can do that better mom', [laughs]. She's just got this incredible ear. But we'll see. She's 11. If she wants to play, that's alright. She won't have to share my trumpet like I had to do with my brother [laughs].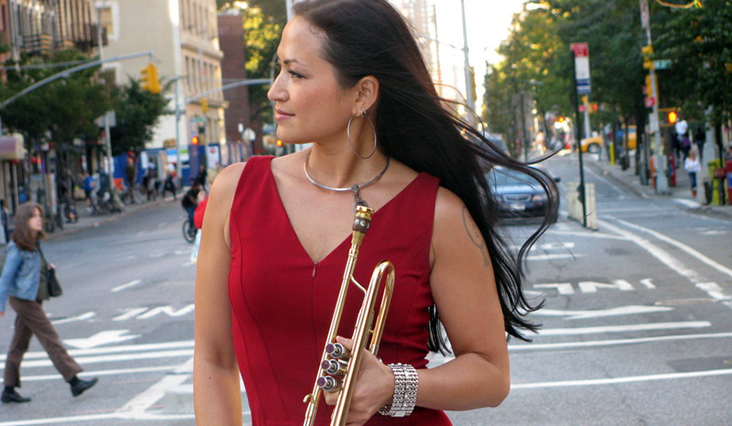 Photo by Karen Skaar-Razon
iRJ: Last year, you were a part of the International Women's Brass Conference. Obviously, organizations and events like that can be a lot of fun—great music and entertainment. But, what purpose do you think they serve in a greater context?
KC: Well, it was a really interesting event. Actually, one of the interesting points for me was that I was the only jazz act. It was me and a trombone player. It was the weirdest thing, because I'm looking over the program and everyone's playing classical music but me. In fact, they didn't know how to handle my sound. It was a just a very classical world, which made me laugh because those are my roots. But it also made me say, 'Ok. I know that there are other female brass musicians playing jazz. Where are they'? It's a very young organization, run by a wonderful group of classical musicians. I think by them asking me to come, they were trying to expand a little bit. It was very nice.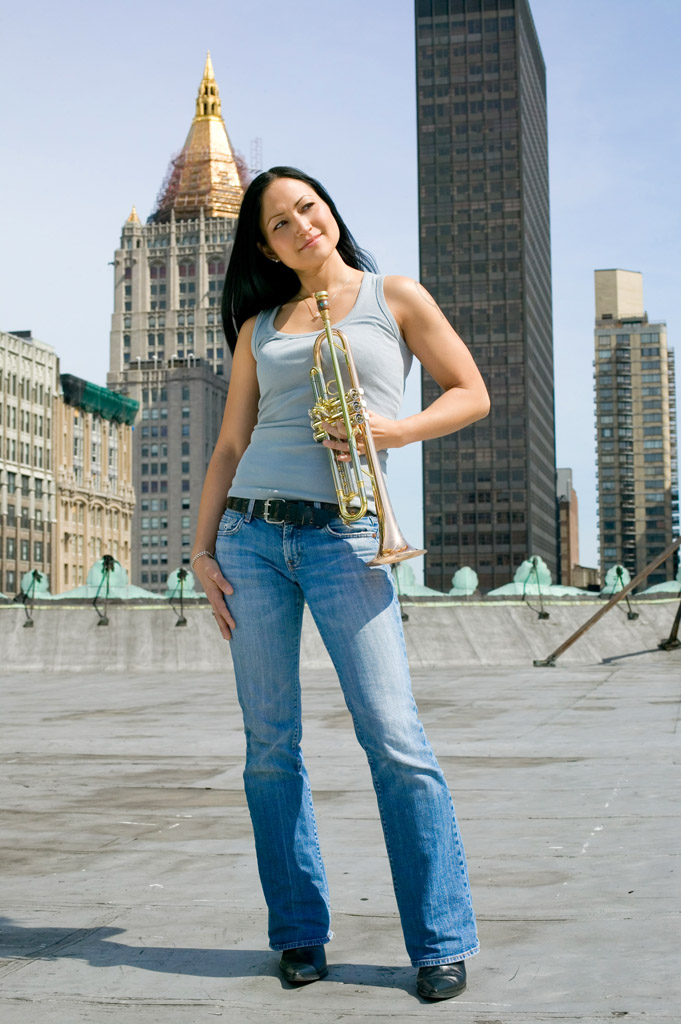 iRJ: It's interesting to hear you talk about being the only jazz player at this very big event. For those unfamiliar with the brass instrument family, who are some other female players making waves in the jazz world?
KC: There are a lot of them now. Ingrid Jensen's great. Everyone seems to know her, which is good. I love Laurie Frink. Not a lot of people are aware, but she's done a lot of big band stuff. She's got chops of steel. Another one—I'm not sure if she does more classical than jazz—is Jeanne Pocius. She's a really good friend of mine. She's terrific. Carol Jarvis is a talented trombone player. We've actually both played with Michael Bolton. There's a young trumpet player, Yazz Ahmed. She has a beautiful sound. There's just so much talent out there right now.
iRJ: What advice would you give to a young female musician, specifically those playing brass instruments?
KC: Well, don't buy a lot of lipstick. That's terrible isn't it? [laughs]. In all seriousness, I feel like the path is so much clearer for younger players. I was met with a lot of opposition. 'You shouldn't be playing the trumpet. That's a boy's instrument'! That's what I would hear. I think as far as advice goes, if this is something you love doing then no one can stop you. If nobody could stop me back in the day—and they tried, they really tried—they can't stop you now. There's no reason why you can't do whatever you want to do. If you have a passion for something you have to go for it.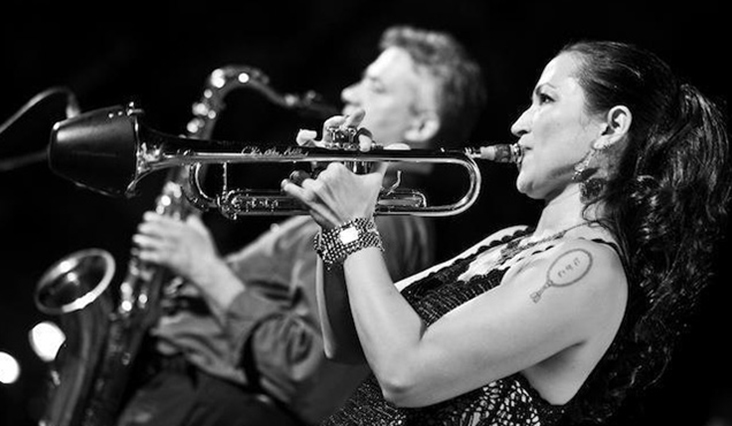 Photo by Arturo Di Vita
iRJ: Female trumpet player Valaida Snow was dubbed "Little Louis [Armstrong]." What's your take on her story? Did she open the door for modern female trumpet players?
KC: That was like the 1930's. What she did not just for musicians and trumpet players, but women in general, was just really deep. I mean, I wasn't fully accepted when I was a kid and that wasn't that long ago. I'm sure the opposition she met was frightening. I can only imagine the conflict she had internally. 'Well, nobody else is doing this. I'm the only one'. She definitely broke a lot of ground doing what she did and I think every female trumpet player, no matter what type of music we play, owes her a lot.
iRJ: Men in jazz are allowed to present themselves in terms of their music, more so than their aesthetic value. As a woman do you feel that you have to show a certain level of sexuality or femininity to balance out the fact that many still look past female players?
KC: I think there's a big difference between femininity and sexuality. I was very careful about that with my last album cover. I said, 'It's gotta hit me at the knee. I can't show any cleavage'. But it still needed to be feminine. I'm not going to stand up there in a suit, dressed as a man. I think it's important for me to be true to myself. When I was younger, I would really downplay being a girl when I was playing. I didn't wear makeup. I'd wear really plain, baggy clothes, because I wanted to blend in with the guys. It took me awhile to realize that I didn't need to blend in with them, because I was my own person.
Whether intentional or not, Kiku Collins continues to push boundaries, musically and otherwise. The stage provides her with a platform to express what many of us have known for years: Women can really play. While the music industry has seen a steady increase in female brass players, there is still a glaring disparity. The future, however, seems undeniably bright.
By Paul Pennington