The iRock Jazz interview with singer, performer and actress Freda Payne continues with Part 2:
iRJ: Tell us about "Band of Gold" how did it come about, it's obviously you're anthem? Did you know it was going to be a hit and a pillar for that decade?
FP:  I was introduced to it as being a new artist for Invictus records which was run by Holland Dozier Holland, Eddie Holland was the president and they were just looking for songs to record on me, they wanted to get a hit for me and they had just left Motown and I think they wanted to come out swinging and show they could still write hits and that's what happened.
iRJ: Many artists like Marvin Gaye, Nina Simone, Billie Holliday, they wrote music around the times or became music activists and they wrote protest songs. You sang a song "Bring the Boys Home", tell us about that particular song and why you chose to sing that one.
FP: That song was done because, the year before I had "Band of Gold" which became my first big hit nationally, the record company was looking for another big hit for me and they previously put out a song called "Deeper and Deeper" which only went to certain points and it wasn't like a smash like "Band of Gold" was so they were really looking for another hit. They had this song that General Johnson, Angelo Bond and Greg Perry had written and they told me to come in to the office and they played it for me and I teared up, and I said, 'I love this song', and they said, 'We want you to go in to the studio and cut this song', and that's how it came about.
iRJ: What is your fascination with jazz between your working with Duke Ellington and your show doing Sophisticated Ladies?
FP:I've done eight companies of Duke Ellington's Sophisticated Ladies, both here in the United States and in Europe. Eight companies different times over a period of let's say the last 20-something years. I have always been under jazz, my first recording, my first record deal I was with ABC/Paramount and they had a jazz label called Impulse! Records. If you research Impulse! it was the quintessential label like Blue Note, like jazz artists like Coltrane, you name it, they were on that label. So my first label was on Impulse! so I was a jazz artist from the beginning and I decided when Holland Dozier Holland signed me; when Invictus signed me they knew I could sign Pop/R&B and I made the decision to follow their lead and direction and sing the way they wanted me to sing. So I was a jazz artist recording R&B music and I'm only going back to what I know best. This is nothing new for me; it comes very easy for me.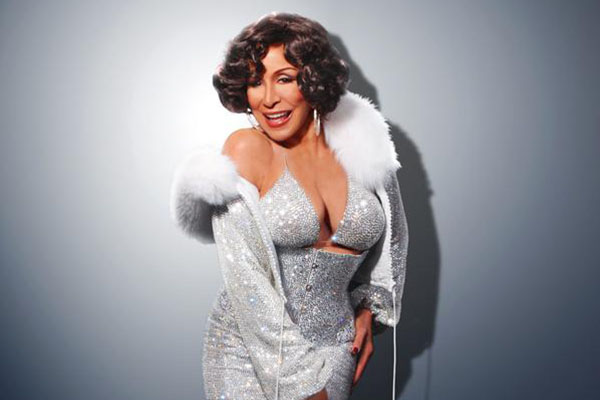 Freda Payne photo by Alan Mercer
I've had people who came to see my show and say, 'I came to see you because I love "Band of Gold" and "Bring the Boys Home" or whatever but you sing that jazz way better'. Even critics many times have said, 'We know her from the Soul and Pop genre but after hearing her perform the material that she does pails "Band of Gold". I'm not walking away from it, I'm just saying that got me out there but I'm really a singer of jazz music and that's what I love to do and that's what I do the best. By the way I still do it, I'm not saying I won't do it, I also do Lena too by the way. I do Lena Horne as well, and I've done Lena since 1977, and Ella and I used to do Eartha Kitt (laughing). But now it's just Ella and Lena and then I got myself too. By the way are you aware I just recorded a CD for Mack Avenue Records? I can't give you a release date because it hasn't been mixed yet and we don't have a title but it will be out later this year or early next year.
iRJ: What is next on the horizon for you?
FP: Well I'm doing some acting as well, they're filming a play that I did called The Divorce, that was directed and written by Donald Welch and that's gonna be done at the end of April out here and that's a straight acting role. I guess I will be doing some touring later on.
We look forward to hearing from and seeing Freda Payne in the near future. She is a woman who has maintained her integrity even while being seen as a sex symbol and truth be told, she can teach a lot of young artists the value of femininity and the power of being a woman.
By Keli Denise