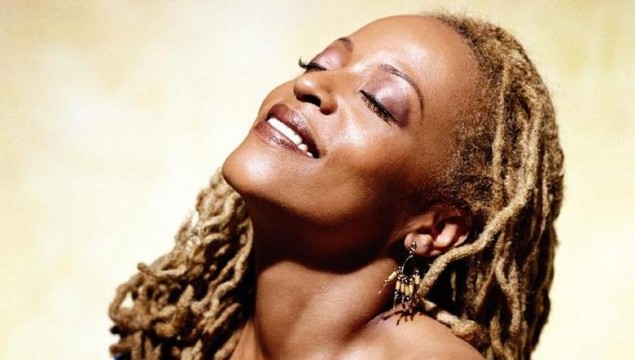 Cassandra Wilson
Cassandra Wilson's distinctive and versatile voice, coupled with her music playing and writing skills, marked her as one of the top jazz singers of the 1990s. With a background in playing both the guitar and the piano, Wilson's vocal range is the instrument that distinguishes her from other artists. Known for her work in the jazz industry, she's also ventured into Blues, Classical, Folk, Bluegrass, Hip-Hop and Rock. In each genre, she skillfully masters a knack for making every sound her own as she stretches her creative tendons as a composer who thinks outside of the box.
Wilson started her vocal career in the 1970s and after she lived in New Orleans for a year, she moved to New York in 1982. She worked with jazz composer, bassist and bandleader Dave Holland and the legendary jazz artist Abbey Lincoln, who was known for her vocal versatility and advocacy for civil rights. After an introduction to alto saxophonist Steve Coleman; who created the M-Base Collective, Wilson became the main vocalist of the ensemble.
The eclectic singer shifted gears in her musical career with her Blue Light 'Til Dawn  project, which revealed her bluesy side. She returned to her Southern upbringing of the Blues and blended it with folk music, a formula she continues to use. Wilson's career included work with jazz musician and composer Wynton Marsalis on his project Blood on the Fields and the release of an album in tribute to the late Miles Davis. Released on the Blue Note label in 1999, Traveling Miles was her 13th album, which featured covers from some of the legend's most notable hits, such as "Tutu", which was originally composed by jazz bassist and composer Marcus Miller. The project also featured a cover of pop singer Cyndi Lauper's "Time After Time", which was featured on the soundtrack for the 2002 film, Brown Sugar. Prior to Brown Sugar, Wilson's single "You Move Me" was featured on the soundtrack for the 1997 film, Love Jones.
The singer, songwriter, producer and instrumentalist stays true to her roots in her music and the gift she shares through her talents as an artist, but also as a mentor. Inspired by the painting "Yellow Scarf" by artist Dayo Laoye, the Jackson, Mississippi native established a destination of the painting's namesake in her hometown to capture the essence of music, culture and the arts.
"Yellow Scarf gives me the opportunity to give back to the community and is also a place where young talents can be nurtured," Wilson says.
A haven for music and culture lovers to gather and engage in meaningful conversations, Yellow Scarf also serves as a networking and learning opportunity where newcomers in the music industry can seek advice from veterans in the field.
Influenced by the area where she grew up, the Grammy Award winner says her music reflects an organic element that stems from the blues.
"You can hear Jazz, R&B, Country and Folk music in my sound, and all of these sounds and genres of American music come from the blues," she adds. "My father had a wonderful collection of old jazz music and I remember listening to it as a toddler. My mother was fond of R&B, specifically Motown. She also had an appreciation for classical music. I was exposed to Miles Davis at an early age and recall Sketches of Spain. I respected it because it had such a broad approach to jazz and a fascinating approach to improvisation and composition."
With her fusion of Blues, Country and Folk elements, Wilson created her own soulful spot in the jazz genre, and pays homage to the inspirations from her past. Her latest project, Another Country, reveals this vast range.
"Another Country deals with the higher levels of consciousness and was a great opportunity for me to create with another musician," Wilson says. "I love this project because it gave me the chance to go back to lyric writing. In the jazz world, the singer has to be a musician and has to be fluent in the language of music."
Recently, Wilson was celebrated as one of the members of The Mosaic Project, which features some of the best female vocalists and instrumentalists, under the arrangement of Teri Lyne Carrington. Wilson is a part of history where several generations of the jazz come together to collaborate and revel in all of the talents of this classic form of music.
"Teri is a part of a great generation of musicians and it [The Mosaic Project] showcases her amazing skills as an arranger, producer and player," Wilson adds.
As young and innovative artists continue to tap into the jazz industry, some may wonder if the historical genre will gain more popularity and develop into the mainstream market.
"Jazz is not meant to be popular," Wilson says. "The payoff as a songwriter is to continue to write music that's meaningful to you and hopefully to your audience."
by Iya Bakare