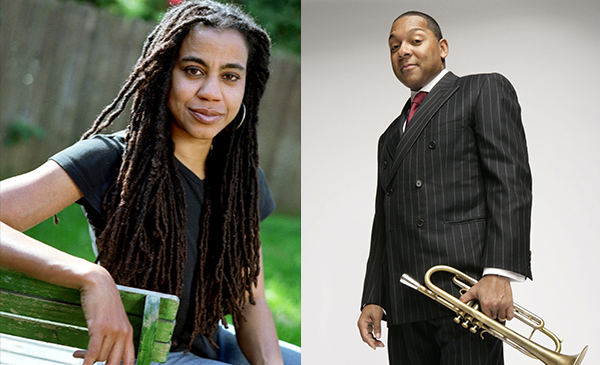 Suzan-Lori Parks Wynton Marsalis
The Public Theater, one of the nation's first non-profit theater companies, has been producing contemporary works and Shakespeare plays for the past 60 years. A devoted artistic establishment, and a promoter of political, social, and artistic dialogue, The Public runs a distinguished forum that they call Duets. These Duets are one-on-one conversations between a prominent figure in politics, media, or arts with a highly respected artist of the Public Theater. From a discussion about how people are taught music with Quest Love and David Byrne, to American politics and culture between Alec Baldwin and David Brooks, these Duets cover a wide spectrum of topics. In what was their most recent Duet, the famous trumpeter Wynton Marsalis had a discussion with writer Suzan-Lori Parks about music and American identity.
A Pulitzer and Grammy winning musician, composer, and writer, and the Managing and Artistic Director of Jazz at Lincoln Center, Wynton Marsalis is one of the most well respected musicians in present day jazz. Born and raised in the Big Easy, Marsalis is a trumpeter who is deeply rooted in the New Orleans tradition. With a beautiful tone and technical skills second to none, Marsalis has produced a plethora of different music ranging from Haydn to Duke Ellington.
Sharing the Duet with Marsalis was playwright and screenwriter Suzan-Lori Parks. The recipient of the MacArthur Foundation "Genius" Grant (2001), and a Pulitzer Prize for her play Topdog/Underdog, Parks is the Master Writer Chair of the Public Theater. She has also written screenplays for Spike Lee, Brad Pitt, Denzel Washington, Jodi Foster, and Oprah Winfrey. As a young artist, Parks had the great privilege of studying under James Baldwin, one of the first to appreciate her talents. In the words of Mr. Baldwin, Parks is "An astonishing and beautiful creature who may become one of the most valuable artists of our time."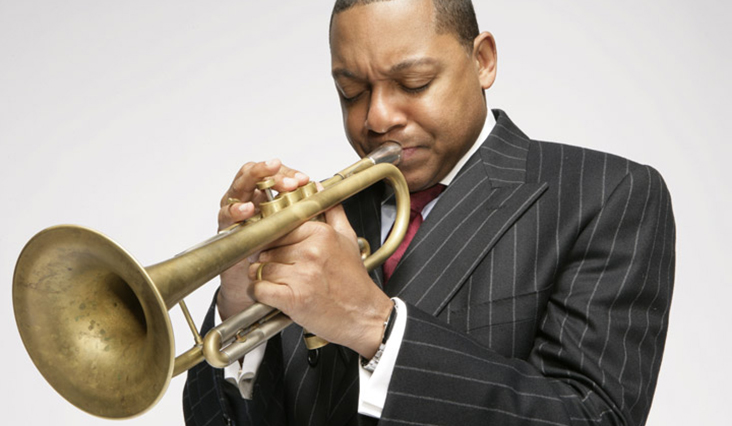 Pulitzer Prize and Grammy winning musician and composer, Wynton Marsalis
The evening takes place in the intimate Joe's Pub, a dimly lit, cozy venue in the always-hip East Village. The audience quiets down as the lights dim. Wynton Marsalis with his trumpet and Suzan-Lori Parks with her guitar walk on to the stage greeting a standing ovation. Taking their seats, the evening begins.
In a night of earnest conversation, full-hearted laughter, and open discussion, the guest artists speak freely and passionately. Starting off with a little song, Marsalis and Parks perform a beautiful rendition of "This Land is Your Land". With Parks singing and strumming her guitar, and Marsalis giving a gentle touch of New Orleans style with his trumpet, they give the audience a lesson of pure American folk music. This begins a long discussion about the Blues and its relevancy around the world. To kick off the conversation, Marsalis makes the statement that music is just a series of patterns, whether it be from Europe, South America, Asia or Africa. What separates American music from the rest is its accessibility. Americans took these patterns and successfully laid them out in ways that anyone could understand resulting in what we call the Blues. Telling the audience about his travels around the world, Marsalis said that regardless of how far away he was from home, he could always interact with musicians with the Blues. It has become something of an international language.
These artists of very different trades began to talk about the creative process. Parks felt that the backbone to any of her pieces is the story. "What am I trying to say here? What idea do I want to get across?" Marsalis felt very similarly about his work. When he begins to write a composition, he strips away everything and just tries to write a pure melody, something that has meaning that tells a tale. Both artists whether with words or with notes, are just trying to express thoughts, feelings and emotions in their purest form. These artists who feel passionately about the importance of the creative process were deeply concerned about the lack of artistic exposure to America's youth. With schools around the country shutting down art programs, students are simply not being introduced to some of America's great art. It starts with individuals taking action to make a change argues Parks. With support, America's great literature can stay alive.
After over an hour of serious discussion the night comes to a close. People applause in what was a celebration of the arts. The Duet was a gathering of two beautiful minds. To see Wynton Marsalis and Suzan-Lori Parks, both masters of their craft, interact so freely with one another was inspiring. Two art forms that don't always cross paths, converged into a brilliant blend of thoughts, vantage points, and opinions.
By Zeb Stern