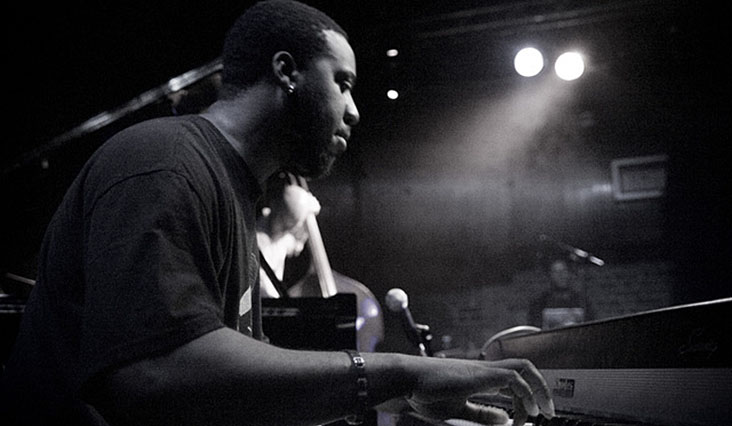 Robert Glasper
Prior to hitting the stage for two highly anticipated concerts, Grammy award winning musician and producer, Robert Glasper, engaged a small, but attentive audience in an enlightening master class session as part of the 2013 San Jose Jazz Winterfest. Glasper, who typically leaves audiences awestruck with his progressive, genre bending live performances, held captive a diverse collection of student's and music lovers during this rare session to experience one of the master talent's in music today. The Theater on San Pedro Square transformed from concert venue to institute of higher learning as Glasper drew upon a number of captivating stories with his long list of collaborators and offered a wealth of valuable wisdom and solid advice for listeners. Glasper's quick wit, easygoing humor, and candid openness displayed another side to his rising persona.
Moderated by Tommy Aguilar of San Jose based cultural entity, Universal Grammar, the master class opened with Glasper talking about life and musical foundations growing up in his native Houston, Texas. Joining his mother, a jazz and blues pianist, on gigs during the week and church on Sunday forged a foundation of the soul, jazz, and gospel that anchors his distinctive sound. Glasper also talked about attending the famed High School for the Performing and Visual Arts where a rich collective of musicians, such as Jason Moran, Kendrick Scott, Jamire Williams, and Chris Dave all attended. He joked about seeing Beyonce (who dropped out her freshman year) at school for one day and the next day she was gone–the rest, of course, is history. Glasper highlighted that all of these amazing musicians became successful, despite a fledgling jazz scene in Houston.
Glasper's shared stories about coming up as a musician in New York and as student at the New School where he met friend and collaborator, Bilal. Reminiscing on long stint gigs where Bilal and Glasper played for a mere $6 and tips not only illuminated his passion for music, but also the struggle associated with pursuing that passion–wisdom seeds for all students in attendance. The audience attention focused as Glasper spoke about his life changing experience with revered music producer, J Dilla, a juggernaut figure who shifted the sound of hip hop and laid significant sonic groundwork in the emergence of the neo-soul genre. Glasper noted, "Dilla influenced a generation of musicians. He changed my sensitivity to playing and the way I lay my chords." The conversation about J Dilla and hip hop proved to be a seamless transition into Glasper's philosophy that has ruffled some feathers in the jazz establishment, particularly his Downbeat magazine cover story where he mentioned jazz needed a big slap.
Glasper with sterling clarity mounted a suitable defense of his fusion of hip hop. "Every artist draws from the soundtrack of their lives. Hip hop is part of the soundtrack of my life. Coltrane did "My Favorite Things" because it was from a musical that inspired him. Today, we have 100 more genres to draw upon than Coltrane did years ago," he stated. He also simultaneously honored the music called jazz and challenged listeners from the young student to the jazz purist. "In jazz, improvisation lends itself to change. You can't be a purist for something that is not supposed to stay the same. A jazz purist technically should be all for change. So learn the history, but don't be held back by it. I tell that to musicians. So many are erasing history because they aren't making any."
One of the questions from the audience was from a student who asked Glasper for advice on how to get their band members to abandon their timidity while playing in jam sessions. Glasper's advice, "Do they like girls?" After giving the student some words of wisdom, Glasper went on to answer a few more questions and encourage budding musicians to possibly migrate to some of the larger cities to gain experience and bring it back to the San Jose community to help build up the music scene.
Although Glasper never made it to the piano for any in class demonstrations, the mere mention that he will begin recording Black Radio II at the end of the month was music to the ears.
The San Jose Jazz Winterfest features a stellar lineup of local and national acts. Click here for tickets and more information about San Jose Jazz.
by Johnathan Eaglin