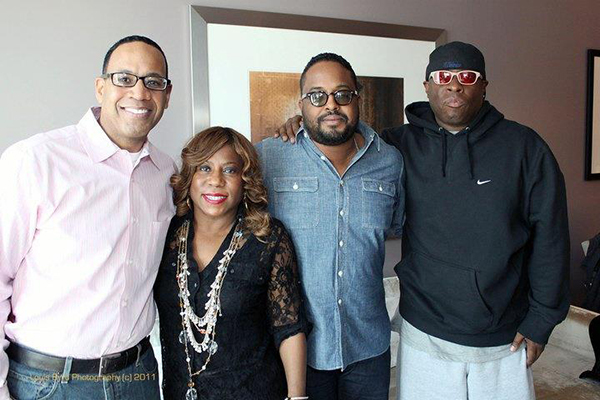 iRock Jazz Founder/CEO John Moultrie, Cheryl Davis, Erin Davis and Vince Wilburn, Jr. photo by Louis Byrd III
The legacy of the ultra-legend, Miles Davis will outlast several eternities. One has to wonder if he knew that he would be a major musical influencer and innovator when his lips first met the trumpet during musical lessons, at age 13. Like Julius Caesar, whose name and feats, have been whispered through the passage of time, this legendary trumpeter's name and highly acclaimed accomplishments will undoubtedly do the same. Astronaut Neil Armstrong took a giant leap for mankind, in 1969 and Davis took several, throughout his career, for jazz and music, with his simple desire to create. The conversion of rerouted air, through Davis' distinctive manipulation of valves and widely admired sense of space, created the melodic sounds that continue to be sampled by generations of artists today.
With a body of work, that has noted Jazz musicians such as friend and band mate Chick Corea, mouthing high praises, it is no surprise that Davis continues to receive revered industry bows. His induction into the Rock and Roll Hall of Fame in 2006 and commemorative stamp are just two of these examples. As of 2012, sales topped more than 23 million units and to date is by far the top selling celebrity stamp of that year. Ashley Kahn, the author of Kind Of Blue: The Making Of the Miles Davis Masterpiece, Da Capo, 2000, is noted for saying the following: "With an ear that disregarded categories of style, he sought out new musical worlds, and generations followed in his footsteps. While the creative rush and experimental charge that come to most musicians in youth eventually run down, Davis held an exploratory edge for most of his 65 years. It had to be fresh, or forget it."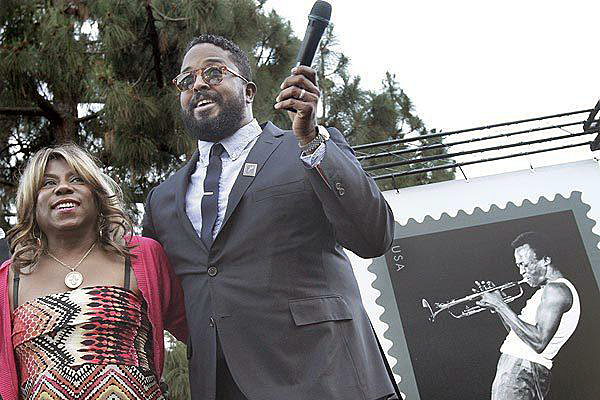 Miles Davis' children, Cheryl Davis and Erin Davis at the unveiling of commemorative Miles Davis postage stamp
Hard-core fans speak as if they just left one of his performances as they recollect sensual movements between the legend and his instrument. Davis' abandon of the "norm", while performing, is still fondly remembered by fans who believe that he knew that his creations would be perfect. With a little over a week before the annual South by Southwest® (SXSW®) Conferences & Festival, Davis' son, Erin Davis and nephew, Vince Wilburn, Jr. sat with iRock Jazz to have a heartfelt discussion on their dad and uncle.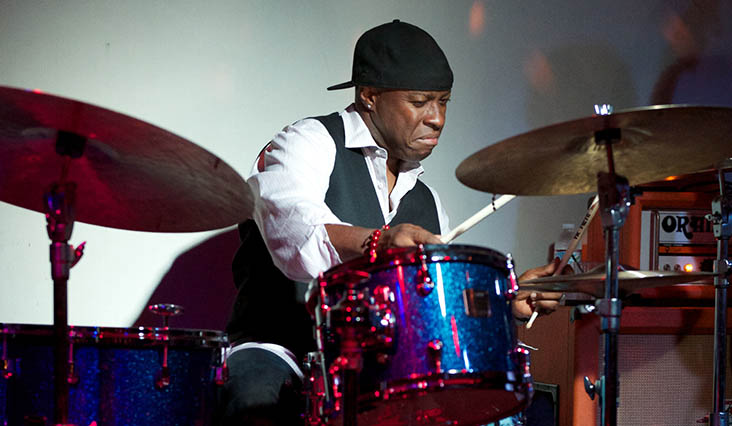 Miles Davis' nephew, Vince Wilburn, Jr.
The two shared their excitement about the conference, which showcases the evolving convergence of original music, independent films, and emerging technologies as this year, the panel looks at the years 1969 and 1970. Pieces of the Miles Davis musical puzzle will probably surface for centuries to come and as such, recent discoveries have been thrilling the family and fans alike. This year's panel examines 'Miles Davis Bootleg 2: The Lost Quintet' which celebrates a 1969 line-up that included Wayne Shorter, Chick Corea, Dave Holland and Jack DeJohnette.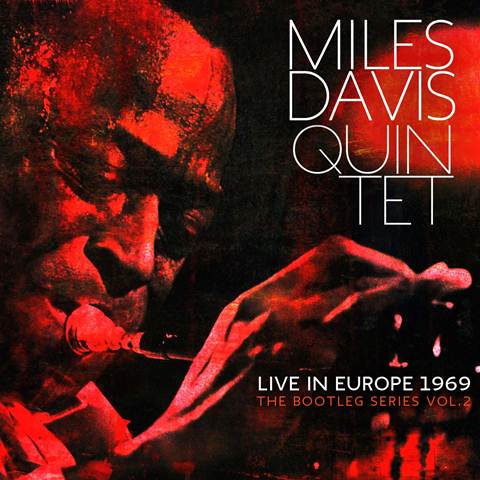 Once thought to have not been recorded, Davis would have been thrilled to know otherwise. He has been documented as saying "Man, I wish this band had been recorded live because it was really a bad motherfucker". This recent piece of Davis' musical puzzle will be discussed by a panel that includes Moderator Ashley Kahm, Author/Educator/Journalist; Nell Mulderry, Owner of Boss Sounds; Meghan Stabile of Revive Music Group; and Hip Hop duo, Bootie Brown and Imani of the The Pharcyde.
Legacy Records' ongoing "bootleg" series fills in the blanks of Davis' career and kicked off with a four-CD set that captured a 1967 European tour by a band known as the trumpeter's "Second Great Quintet." This quintet, which included keyboardist Herbie Hancock, saxophonist Wayne Shorter, bassist Ron Carter and drummer Tony Williams, left no visual documentation of their four years together so that first find, set a wonderful platform for the second in the series. "Live in Europe 1969" collects the sole known concert recordings of Davis' "Third Great Quintet."
The cousins also talked about the historic letter, written by industry titan Clive Davis to promoter Bill Graham, who is a featured speaker at SXSW and the instrumental role it played, in getting the Jazz icon added to Rock line-ups. Their respect for their dad and uncle clearly transcends the familial bond. As established music industry professionals themselves, they talk about the professional that they got to know on and off the stage. Miles Davis University is what Wilburn, Jr. calls his professional experience with "Uncle Miles". "The family thing goes out the window when you're called to play in the band", he says. Davis adds, "Nepotism may have gotten me there but that was it".
As with other great legends, Davis' attention to stretching himself, navigating the band, and paying attention to details could be heard in the cousin's description of the "ongoing student-teacher relationship" with Davis and band members – whoever they were. Davis' "sensual" relationship with his instruments is also something they understand all too well.
Davis and Wilburn, Jr. do not feel challenged with showcasing Miles Davis' legacy to younger generations. As a matter of fact, they have a lot of fun with it. Vince Wilburn, Jr. is a highly accomplished drummer and producer, who has both toured and recorded with Davis on many legendary recordings from 1984 through 1987. Erin Davis also manages several artists and is expecting an addition to the family. Together with Cheryl Davis (his sister) he and Vince oversee Miles Davis Properties, LLC.
Information on current happenings with Miles Davis Properties, LLC can be found at www.milesdavis.com and on Facebook. South by Southwest Conference attendees can stop by the Miles Davis Bootleg 2: The Lost Quintet Panel next Thursday, March 14th from 12:30p.m – 1:30p.m.
By Lisa George and Keli Denise