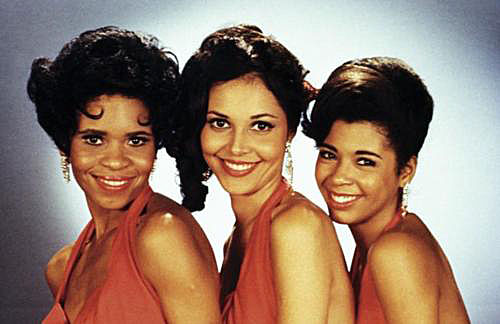 SPARKLE, Dwan Smith, Lonette McKee, Irene Cara, 1976
When we hear the name Lonette McKee, many think of first; her beauty and second; the strong characters she has portrayed such as Malcolm X's mother in Spike Lee's movie Malcolm X or as Wesley Snipes' wife in another Spike Lee Joint, Jungle Fever and of course her break out role as Sister in Sparkle. McKee was born and raised in Detroit, Michigan the daughter of a Swedish/Finnish mother and African-American/Native American father. Not many know of her background as a singer and songwriter. Considered a "child music" prodigy, she began writing songs, playing the keyboards and singing all without formal training by the age of four or five. "Local record producers, Mike Theodore and Dennis Coffey, who were arrangers and musicians; had already earned the reputation as being 'hit‐makers', listened to me play and sing my original compositions and decided they would take me into the studio to record some tracks," she says. Her first big hit was "Stop Don't Worry 'Bout It" which was rotated as a favorite on the local radio stations.
Singing and performing became a way of life for the young McKee. "I started doing a lot of gigs all around Detroit and Windsor Canada. I played then, in well‐known and respected venues like The Rooster Tail, The Twenty Grand and all of the local Pop/Jazz/R&B clubs and gigs with other artists who had hit records at the time. I became a regular featured artist on Robin Seymour's "Swinging Time Show" which was reminiscent of Dick Clark's 'American Bandstand' out of the Detroit/Windsor area and that was the beginning of it all for me," she confides. Growing up in Detroit, it is no surprise that McKee was influenced by Motown and their biggest hit makers such as, Stevie Wonder, The Four Tops, The Temptations, The Supremes, Smokey Robinson and The Miracles as well as all of the recording artists out of Philadelphia. "My Father bought an old jukebox, 'You know the kind where you push the buttons and it played 45's'? He put it in the basement and I spent many hours playing records, making up my own routines and trying to immolate the hit‐maker style of writing and producing that these legendary artists had mastered," she remembers.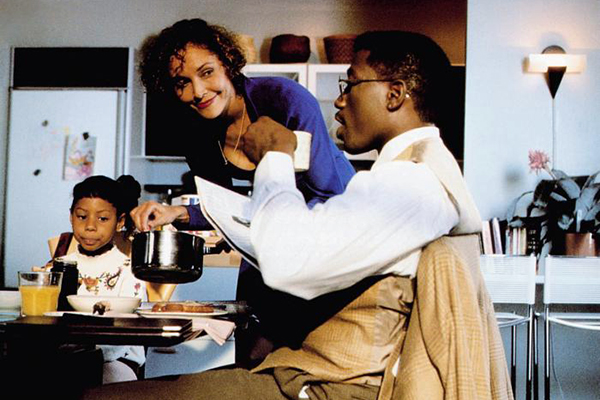 Lonette McKee with Wesley Snipes in the movie 'Jungle Fever'
Since McKee was so young when she started out, her mother escorted her to every 'gig' and encouraged her to practice. "Early on my mother was quite influential in my career because she was supportive and felt I had what it took to be in the biz on a professional level," she says. She admits no one in her family was into music before she began writing, playing and singing however, she says her mother saw to it that her business was taken care of. "Although she really knew nothing about the entertainment industry, she acted as my 'manager' and made sure my songs were copyrighted and had me join the local musicians union."
Not only does McKee sing, play and write music, she says her gift to be recognized is that of creativity. "I value the ability to write and create more than anything. I'm grateful that I can sing and act. But what I believe is a gift that cannot be taught is creativity; the ability to write or create something original." Being true to the gifts that are given is most definitely something that cannot be taken lightly. She continues, "I take great pride in my ability to write music, lyrics, screenplays, stories and television concepts. I don't think creativity can be taught. Either you 'got it' or you don't. I am certainly grateful for the ability to act, sing, dance and perform. But truth be told, I would be writing songs and scripts even if I were never paid to do so. I am a creative person and I am compelled to express this artistic creativity no matter what. I paint on canvas, write stories and music when I'm home alone and in between jobs."
Being bi-racial or better yet, a Black woman with a lighter skin tone didn't necessarily have its advantages as many in society seem to think or believe. McKee says she had to deal with racism in the industry that is no different than "real life". "Most intelligent thinking folks understand the reality that we are living, regrettably, in a racist society. I doubt that any informed folk would deny this fact. Entertainment is, and has always been, merely a reflection of whatever is happening in the bigger picture regarding societal issues." The question can then be asked, "Why would the entertainment industry be any different when racism is concerned?" It seems as though it would be even more evident especially when dealing with Black women regardless of the shade or tone of their skin. McKee continues, "So as entertainers of color, we face the same discrimination issues that all people of color and diverse religious beliefs are challenged with in everyday life.
Growing up my parents always told me that 'I have the best of both worlds'. However, this was sadly a somewhat idealistic notion on their part. I have faced many racial issues with regard to my Black heritage and continue to do so in being paid less than my Caucasian counterparts for equal work and less support for the projects I develop and seek funding for. An example of this blatant institutionalized racism within the entertainment industry is that a Caucasian student straight out of college or film school can raise several million dollars to make a film. Yet as woman‐of‐color filmmakers, we struggle to get our projects funded, regardless of our experience or talent. This is a very disturbing fact."
McKee says because of the blatant racism, it affected the roles she auditioned for. "I rarely get offered the choice roles that non‐blacks get and do not make equal pay for the jobs I do get. This is why in my Actor's Workshop at The City College of New York; I stress to my students‐of‐color the importance of thinking with a more entrepreneurial mindset." With this mindset she says it will enable the students to establish the thought of being able to fund their own projects. "We simply must take on the role of creating, writing, directing, producing and funding our own projects. I've always had great respect for the hip‐hop artists and rappers for taking control of their own careers and becoming savvy business people as opposed to waiting for the "White powers that be" to green-light and fund their music and projects. Folks like Russell Simmons, Master P, P Diddy, and Jay Z, Queen Latifah, Beyonce and J Lo just to name a few."
Being in the business for over 20 years at the time she was offered a maid's role, McKee says it motivated her to go in a different direction with her writing. "What motivated me to start writing screenplays was when about fifteen years ago, my then agent, a white man, sent me a script in which they wanted me to play a maid. Let me say first, that I feel there is nothing wrong with 'BEING' (her emphasis) a maid; all work is noble work and our Black ancestors built this country on such work. However, in this day and age to be offered only these kinds of roles sickened me and sent up a warning flag that if I didn't start writing and taking more control of my own career and destiny in my late 30's, I would be forced to take the shabby fare being offered which was beneath my ability, integrity and dignity, just to earn a living."
McKee's work ethic and commitment to her craft created an atmosphere for her to hone in deeper with her writing. "I retreated for over three years and didn't even go on auditions. I taught myself to write screenplays and emerged from my self‐imposed retreat with six stellar scripts; which I am currently seeking funding for. I don't write fluff or buffoonery. I write deep, thoughtful and intelligent fare that speaks to a finer energy and journey and reflects our experiences as women and men of color. However, my projects are inclusive of all races, genders, religions and sexual orientations. Because I do not suffer from the sickness of bigotry and racism which is so rampant in this country, I prefer to include all ethnicities in my work," she admits.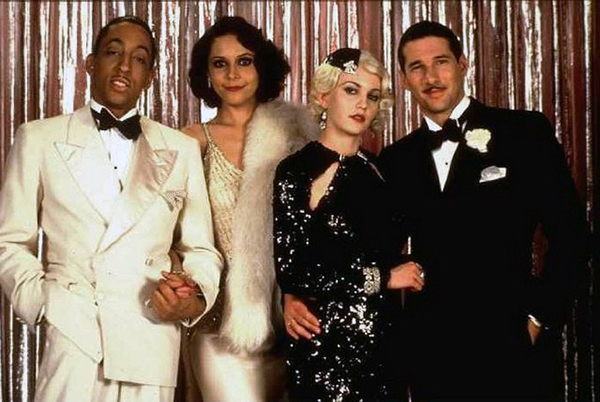 Gregory Hines, Lonette McKee, Diane Lane and Richard Gere from the movie "Cotton Club
Looking in to the future, McKee says she would like to do more work centered on the performing arts and again entrepreneurship. "I want to open a performance arts center in the NY Tristate area to include low income children and adults. I'd like to offer classes in not only performance arts disciplines; but also offer classes in entrepreneurship; starting and owning our own business." Her passion also includes nature and natural living. She continues, "Also classes in urban organic green farming, so urban dwellers can learn to grow and harvest fresh vegetables and fruit for their tables. I also want to teach youngsters and adults to respect and nurture and protect the dwindling wildlife we have."
McKee also has a to-do list which includes urban habitats for wildlife. "I also want to open urban wildlife refuges for the precious little urban wildlife which are greatly persecuted, ignored and mistreated and suffer tremendously due to ignorance and powerful false propaganda campaigns by extermination companies which seek to boost their revenues by promoting false information to the unsuspecting and uninformed public regarding urban animals such as pigeons. Did you know pigeons are actually rock doves and were here thousands of years before humans and are very intelligent and are monogamous for life! They are being harvested all over NYC by unscrupulous and greedy 'catchers' who bait them and illegally trap them and then sell them to wealthy hunt clubs to use as target practice," she says.
Lonette McKee is more than the beautiful face we know and love. She plays strong characters because she is a strong character. And it's evident in the way she lives her life, teaches her students, writes her music, screenplays and her personal story. "My hope is that, all people of the world embrace the inevitable paradigm shift in consciousness which dictates that we become more compassionate and enlightened toward one another, the planet and all creatures we share this beautiful planet with." She sparkles indeed.
By Keli Denise