Chris Dave photo by Bjorn Bergenheim
An art form that once coalesced from the underground, from the counter culture, has lost some of its swagger. Sometimes overly intellectualized and distant, jazz can come off as aristocratic, pretentious even. This musical discipline with its rich history seems to get lost in paying homage to its pioneers and creators. We live in a time where jazz is struggling to be heard, where swing is no longer in vogue. Jazz is no longer pop; it's a relic of American history. It is an art form that is diligently trying to preserve and pass on its philosophy and tradition. With respect to but not constrained from its past, this music needs to be pushed into undiscovered directions; directions not forced by pressures to conform to any crowds desires. It is imperative that musicians rejuvenate this music.
With fitted hats, thick-rimmed glasses, and a freshness only found in the streets of New York, drummer Chris Dave is making noise in the music scene. This cat is offering something new to jazz; it's something with sex appeal, something with swag. In a fusion of trap beats, walking bass lines, mambo rhythms, and funk grooves, (Chris) Dave is out with his new mixtape Drumhedz. This Houston based drummer has created a sound that is accessible, culturally relevant, and straight up fun to dance to. Chris Dave, a cat who clearly finds inspiration in jazz, is injecting a long missing youth culture back to this music. Bringing together a diverse and talented group of musicians, Drumhedz features Yasiin Bey (Mos Def), Robert Glasper, Pino Palladino, Derrick Hodge, Thundercat, Sy Smith, and Beyonce to say a few. In a 23 track statement of musical creativity, Drumhedz is the hottest mixtape on the scene today.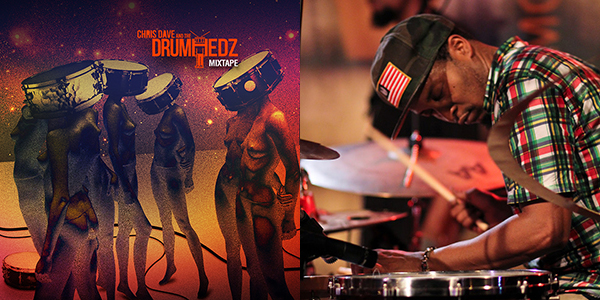 Chris Dave and Drumhedz
Rich with nuanced beats, and deep grooves, Drumhedz is a rhythmic masterpiece. Chris Dave has an innate and tasteful sense of time. His in the pocket feel is tight, pulling and modulating the time at will. With maturity and awareness he responds to the players around him. As bassist Pino Palladino delicately hints at a walking bass line, (Chris) Dave reacts by subdividing the rhythm into triplets, a concept directly quoted from jazz. Blending textures and tone colors from intricately tuned drums, exotic cymbals, and bongos, he lays down powerful backbeats. In tracks like "Pookie on Mars", and "Drumz and Sexxxxx" (Chris) Dave extracts and improvises off of the essence of hip-hop. Avoiding the redundancy and over-simplification that much of hip-hop is guilty of, (Chris) Dave has created a mixtape that is dynamic and fresh.
With a talented group of guest artists, there is more to admire about Drumhedz then just the beats. Cats fill this album with a diversity of talent and ideas. The instantly recognizable voice of rapper Yasiin Bey brings that old school hip-hop feel to Drumhedz. Complimented by the always hip chord changes from the great Robert Glasper each track is filled with harmonic depth. Drumhedz is an album that defies expectations. It has a freshness that youth culture brings to art. With style, and confidence, Chris "Daddy" Dave has presented the music community with a collection of tunes that exemplifies the beauty of improvisational art.
By Zeb Stern