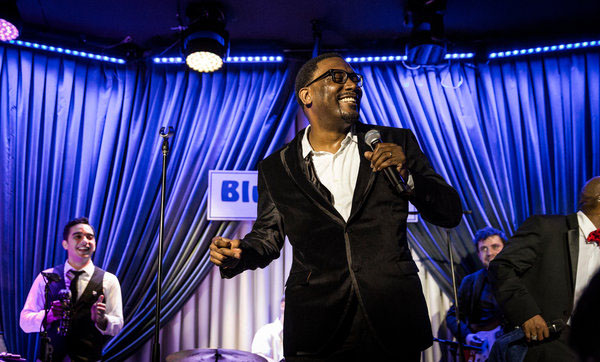 Big Daddy Kane and Las Supper perform at New York's Blue Note Jazz Club photo by Chad Batka
One of the reasons that Big Daddy Kane is one of hip-hop's greatest innovators is because he took his cues from soul music greats. His electrifying stage shows were a modern take on the dance exploits of James Brown's Famous Flames; his sold-out women only Apollo concerts took a page right out of the tome of Teddy Pendergrass; and by 21, he had rhymed on records with Quincy Jones, Barry White, Miles Davis and George Benson. At age 44, he's come full circle, assembling a live band for a new album, appropriately titled, Back to the Future. Comprising of himself, funk band the Lifted Crew and vocalist Showtyme, Kane debuted Las Supper at New York's Blue Note Jazz Club in celebration of their album and the end of Kane's 15 year recording hiatus.
Kane recently stated that his inspiration behind forming Las Supper came from the retro-soul sounds of fellow Brooklynites, Sharon Jones & the Dap Kings. This live band is much like how hip-hop worked in its infancy; a machine with a lot of moving parts. Only instead of emcees, rappers, break dancers and DJs, Kane's latest incarnation of hip-hop comprises of four horns, a keyboardist, a guitarist, a drummer, a bassist, three singers and an emcee. In fact, after the band kicked off the night with a funky overture and a wah-wah blessed cover of "Papa Was a Rolling Stone," it became clear that this was music that went beyond definition.
Kane stepped onto the crowded stage in his usual grown man style, sunglasses, a black velvet tuxedo with the bowtie draped over his neck; he looked more Rat Pack than Juice Crew. Las Supper then proceeded to slide into their original material, with Kane rhyming back to back with Las Supper lead vocalist Showtyme, a Jersey-resident notorious for lending his raspy pipes to New York rappers like Pharoahe Monch. Emoting the Motown/Supremes melodies on songs like "I Believe" and pulling from Al Green's southern soul playbook on "Control Your Mind," Kane and Showtyme were straight forward and affective in conveying mature subject matter ranging from maintaining a child-like spirit to having faith in your lover. The standout moment came during Las Supper's ode to mothers, "One of a Kind," in which Kane told the audience to pull out their phones to call their moms to tell them they love them…at 11:30pm! Even some lucky mothers got an extra late night surprise as Kane jumped into the crowd and spoke to some of them, one of the purest, most charismatic displays in a career full of pure, charismatic live moments.
Just when the audience was falling hard for Las Supper, the acrobatic Asiatic emcee let loose the anthems that made him the rap superstar he is. One by one, Kane ran through classics like "Smooth Operator," "Ain't No Half Steppin'," "I Get the Job Done," "Raw" and "Set It Off." Some of the most potent songs from rap music's golden era, the blasting brass, frantic drums and ominous organs gave these songs that extra "Umph!" Meanwhile, Kane is spitting with more rapid fire and confidence than ever, even ending the night with a slick, witty freestyle while giving musical cues to the band.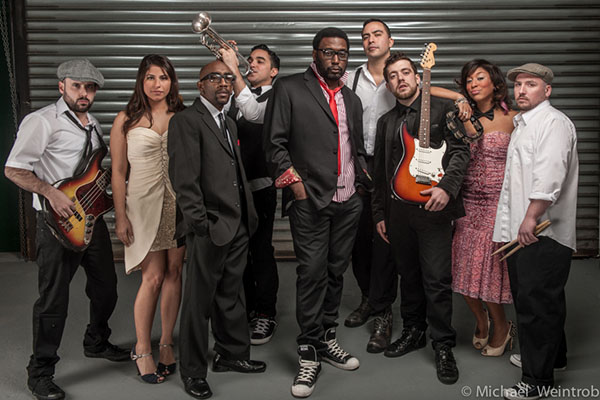 Big Daddy Kane and Las Supper photo by Michael Weintraub
Although regarded as hip-hop royalty, Big Daddy Kane's career was stifled in the early 1990s for being ahead of his time. His innovative inclusion of soul music sounds and style wouldn't truly take hold until later in the decade. However, rather than conforming to trends, Kane stayed true to himself and forced everyone else to catch up with him, and we're all the better for it.
By Matthew Allen