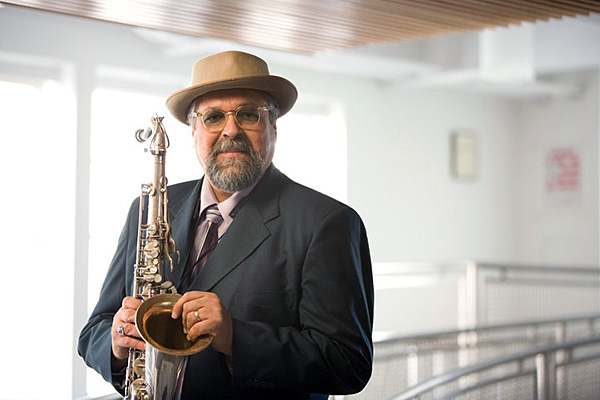 Joe Lovano
As a sold-out crowd at Yoshi's Jazz Club in Oakland, Calif. awaited the arrival of tenor sax titan, Joe Lovano and his super collective, Us Five, the atmosphere inside the Bay Area club brewed with anticipation. The Miles Davis Kind of Blue playing in the background hinted a bit a foreshadowing to what would be a memorable night of music for everyone in attendance. Like worship before the sermon, the classic music prepared the way for Joe Lovano, who in the spirit of Miles played the first few familiar notes from one of Davis' signature tunes, "Walkin".
Donning his signature fedora, Lovano strut onto the stage with the swagger of someone who has recorded over 25 albums, toured the world and won multiple Grammys. His presence also conveyed the pride of a parent eager to showcase his talented progeny. Flanked by drummers, Otis Brown III and Francisco Mela, pianist, James Weidman and bassist, Esperanza Spalding, Joe Lovano and Us Five came to have some quality family time joined by a crowd full of friends.
Us Five launched into a lengthy mosaic of dissonant, yet playful rhythms interchanged with the groovy swing that has been Lovano's trademark for many years. Although Lovano is clearly the leader, with the type of leadership born out of mutual respect, he gave significant space to the group even descending to the back of the stage at times to give his band healthy solos. The Grammy Award-winning bassist/singer, Esperanza Spalding, followed suit looking just as comfortable in the background as her normal perch center stage.
Almost unconsciously Lovano was masterful in his play. His tone, rich and full bodied especially on those familiar deep notes, Lovano displayed brilliant form. As much as his play was sterling, Lovano played point guard setting the table for his all stars and leading them on a festive journey surely they have explored, yet still approach it with the excitement of the first time. Weidmann's nimble play on the piano was enveloped by Spalding's fluid bass, which at times was sonically reminiscent to an acoustic guitar.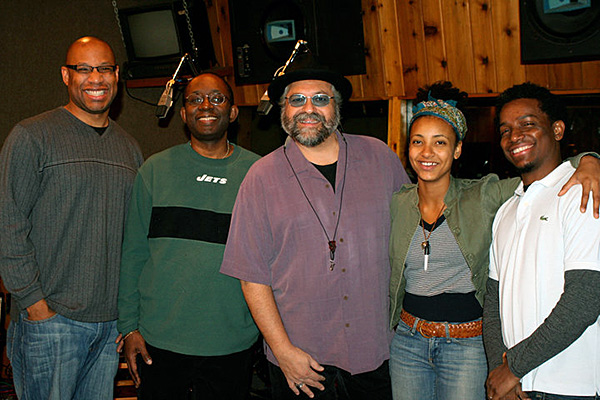 Joe Lovano and Us Five
The night, though, belonged to the drummers. The double drummer set up of Brown and Mela offer an interesting twist to the normal structure. Mela's high energy, rapid fire drumming was nicely complimented by Brown's fluid, expertly placed drum rolls. On several tunes, their sound was reminiscent of a marching band or street kids rattling on bucket tops. Their raw, polyrhythmic, well-placed percussion enhanced the performance. Lovano, who has collaborated with a list of formidable drummers like Elvin Jones, Lewis Nash, Jack DeJohnette and Paul Motion (who he dedicated a song to), continues that tradition with Brown and Mela.
The second set opened with a celestial bass solo from Spalding introducing "Drum Song" from 2009's Folk Art. Brown and Mela then erupted into an explosive drum duo accented by an intoxicating cadence and jovial bounce. Mela and Brown were as inventive with their drum play as their double drum set up was innovative. Brown left no area of the kit underserved in play as he created sound via the drum sides and cymbal stands along with the snare and toms. Mela conjured up a metallic crush groove by playing a cymbal on top of his snare.
Lovano's expression of love for his band was the highlight of the night as he more than once elicited much due praise for his band. Lovano's new CD, Cross Culture, is currently out on Blue Note Records.
Set List:
"Blessings in Ma"y (a tribute to drummer, Paul Motion)
"Folk Art"
"Our Daily Bread"
"Spiritual Walkers" (Coltrane)
"Waiting for You" (Gillespie)
"Four In One" (Monk)
"Drum Song"
"Dibango"
By Johnathan Eaglin