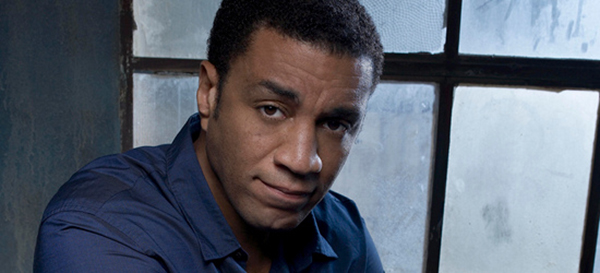 Harry Lennix
We had 'nothing but love' for Harry Lennix's character "Dresser" in The Five Heartbeats as our pulses raced listening to his bass voice and swooning over his smooth moves. His work in the 1991 musical drama, co-written by Keenan Ivory Winans and Robert Townsend, was just the beginning of Lennix's acting career in the movie industry. He's also known for his co-starring roles in Mo' Money, Spike Lee's Get on the Bus, Love & Basketball, The Matrix Reloaded, The Matrix Revolutions, Ray, Stomp the Yard and others. This multidimensional artist also wowed us on the small screen with his work on ER, Diagnosis Murder, The Practice, Commander in Chief, 24, Dollhouse, Emily Owens M.D. and a host of other television shows during his career.
With a starring role in the first black Shakespeare film ever created, Lennix continues to push boundaries as he adds historical roles to his prolific stage, screen and television career.  In the upcoming film H4, the actor and producer of the movie portrays Henry IV, which combines the language from Shakespeare's Henry IV Part I and Part II, and is set in an African-American 20th century setting. Growing up as a young man who read Shakespeare, studied it and watched the movies, Lennix says he never saw black people or any people of color in any significant role during that time in history, which is what makes this project such a significant one. He plans to bring all of Shakespeare's plays to life with a true American experience. The movie H4 parallels events in Shakespeare's original play and what takes place in today's society with leaders and their fathers, such as Jesse Jackson, Sr. and Jesse, Jr., Martin Luther King, Sr. and Martin, Jr., Adam Clayton Powell, Sr. and Adam, Jr. and others.
The Chicago native attended Quigley Preparatory Seminary South with plans to become a priest, but admits he shifted his career choice and attended Northwestern University after he left the college seminary he attended for a few weeks.
"I decided to go elsewhere [Northwestern] to pursue a girl, but that didn't work out and I settled on a career," he adds, with a laugh.
Upon graduation with a degree in acting and direction, Lennix taught music for the Chicago Public School System for eight years. While he was in school and as a teacher, he continued to hone his craft as an actor and performed in the city's Goodman and Steppenwolf Theatres. He maintains his relationship with Goodman as the theater's artistic associate. He commuted two hours each way to travel to Chicago's Englewood community to teach and performed in plays at night. It was in Chicago where Lennix landed his first movie role in The Package, which starred Gene Hackman and Tommy Lee Jones.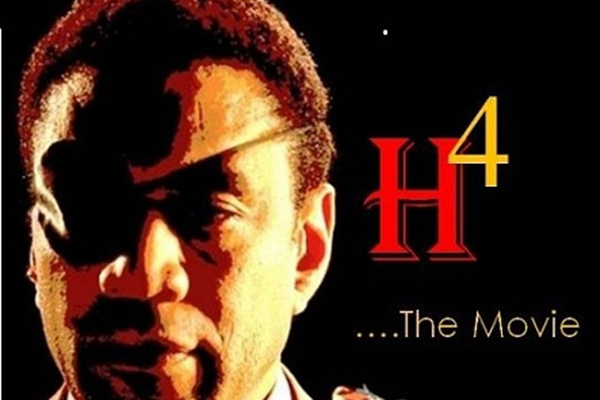 With a former career as a music instructor, the actor says he never had the chance to explore that aspect of his talent. However, in the large theater scene, Lennix explored and showcased his musical talents. He learned to play the trumpet in his work in August Wilson's Ma Rainey's Black Bottom, which is set in the actor's hometown. Lennix also played the saxophone in a production and has played the piano in other theatrical roles throughout his career.
The most prolific role of the actor's career was his portrayal of the late Malcolm X in the theatrical project, The Meeting, which earned him an Obie Award. Lennix confesses he was disappointed when Denzel Washington was chosen for the role in the film and he was not selected.
"Probably the biggest disappointment up to that time in my career was when I didn't get the role of Malcolm X," Lennix says. "I thought I was a far superior choice to Denzel, taking nothing away from him because he's obviously a very gifted and charming actor. But, I don't believe there's another person on the planet that can play the role as well I can, and I wasn't alone in that opinion."
Lennix adds that the story of Malcolm X was a story that shouldn't have been told, which includes the controversy that still exists about the assassination of the Civil Rights leader and the Honorable Elijah Muhammad.
"There are more compelling stories than of Malcolm X because we have a tendency to worship dead people in our culture," Lennix continues. "We need to start talking about the people whose institutions and whose legacies are still alive or who are still alive. In the case of the Nation of Islam, the Most Honorable Elijah Muhammad is the most misrepresented and disrespected, but is the greatest leader of our people, I believe, in the 20th century. Who has built a nation within a nation that has lasted for over 80 years that is alive and well, owns businesses, owns farmland and has a printing press? No one else has done that. So, that's the story we need to tell and I'm going to make it my place in the next few years to try to tell that story."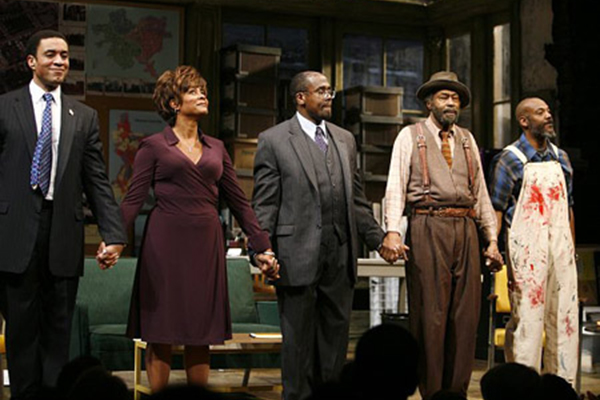 Harry Lennix (left) and the cast of playwright August Wilson's "Radio Golf"
With the latest buzz on the film Django Unchained, Lennix adds there are more captivating stories that deserve attention.
"I have no opinion because I've haven't seen it [Django] and I have no intention of seeing it because I don't need to see a story dealing with a fictional superhero who exacted a justifiable revenge when we have a real story with Nat Turner and a number of other freedom fighters," he says. "Where's the Sojourner Truth story? Where are their stories? That's my question. There are people who went out of their way and brothers who were holding it down in Texas and Louisiana. The largest slave revolt in the U.S. was in my father's birthplace of LaPlace, La. Until someone tells the truth, I don't need a White man's fantasy about it. I like Quentin Tarantino and some of his movies, but I don't want someone to tell my stories for me. I'd rather tell it myself."
Lennix admits one of his missions as a performer is to tell the untold stories of the unsung heroes in African-American history, which are some of the most important roles in his career.
"My whole purpose in acting is I want to contribute to the reconsideration of the African-American black man image," he adds. "I want to change that and help make that better. I want to rehabilitate the image that goes out in the world of the black man. Whenever I show up on a screen or on a stage, there's a bunch of actors in my category who say 'I'm an actor and black second, or I'm American first'. I'm black, whether or not I describe myself as anything else. The first thing I am is a black man because I can't separate that from the rest of my being. So, I want to change what people automatically think of me and others like me when they see me show up on the screen or on a stage because it's horrible right now. Even black people think negatively of black men when they see us across the screen or on the stage, generally."
Superman fans and supporters of Lennix will enjoy his role as General Swanwick in Man of Steel, co-starring Amy Adams, Henry Cavill, Laurence Fishburne, Kevin Costner and Russell Crowe. It's slated to appear in theaters in June and this film is the first time a British actor has played the part of Superman. Lennix is also working on an upcoming, limited theatrical release of his 2012 film, Mr. Sophistication in the late spring or early summer. The film was recently featured in the Chicago Film Festival, where screenings were sold out.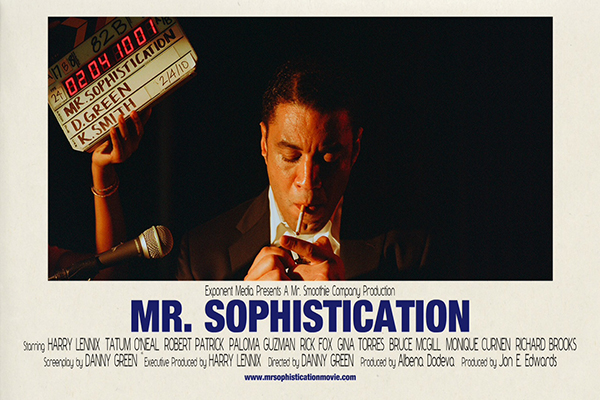 With an artistic career that spans over 20 years, Lennix admits there's nothing else he needs to prove in his career. However, he looks forward to continuing to grow and learn more in his craft as an actor as he takes on three-dimensional roles. There are still characters in history he'd like to portray, and one of which is the late jazz musician Duke Ellington, a role he says he wants to play live in a theater setting. The actor adds within the next 10 years, he'd also like to take on the role of King Lear in a production. Lennix would also like to participate in a project with Jeymes Samuel and his book, which tells the history of black outlaws. With upcoming releases and future projects brewing, the actor admits he has a full plate, but there's one he's currently working on that he's thrilled about.
"To be honest with you, the most exciting thing in front of me right now is my writing and directing of my church's Easter play," Lennix says. "I'm extremely excited about it. I've never had to tell the story of Jesus' resurrection in a play. It's quite a daunting task, but I'm enjoying it."
Lennix admits success is something that changes every day, but doing his absolute best remains constant.
"For me, success is if I can wake up in the morning, look in the mirror or go to sleep at night, look in the mirror and know I did my best. When I had the ball in my hands in the last seconds of the fourth quarter, that I either passed the ball for a successful shot or I took the shot, it went in and we stayed in the game. As long as we're still in the game as a people and as I forced overtime, it's a success. When I come to the end of my days, I want God to say 'Well done, my good and faithful servant and that'll be all the success I need. If I never acted again, it would be okay. I wouldn't like that, but I would be okay with it because there's so much other needed work that most of us who are conscientious about it need to be doing."
For more information about the Mr. Sophistication movie you can visit the website – www.mrsophisticationmovie.com
by Iya Bakare