Buddy Guy
When you think of the Blues what comes to mind? Maybe some down home feelings, feet tapping, soul stirring, finger snapping, or some rocking and rolling and definitely the sounds of legendary guitar player Buddy Guy. With over 50 years in the music industry, 6 Grammy Awards, being one of Rolling Stone magazine's 100 Greatest Guitarists of All Time and being awarded the 2012 Kennedy Center Honors, George "Buddy" Guy and the Blues are one and the same.
iRock Jazz had the honor of interviewing Blues icon Buddy Guy on life, race, his autobiography, making people smile and being called one of the "best guitar" players in history.
iRJ: With jazz, there have been ups and downs and many changes to the genre, has the Blues experienced the same with maintaining its popularity?
BG: Jazz and Blues have the same problems; the clubs, which is why I own my club here. I have been in Chicago 56 years this year and if the clubs were like they were when I arrived, I wouldn't have thought about opening one. We used to be able to play 7 nights a week and on the weekend, and not have to play in the same clubs. Muddy Waters was doing it and everybody that we learned from was doing it and all of those places have disappeared. When I first started traveling, you could drive to New York, Connecticut, Canada, and they all had Blues clubs and you could survive. They are gone now, with the DUI's and the non-smoking, they just couldn't survive. Muddy Waters, Clapton, myself and the Stones (Rolling), we were all discovered in some club, somebody heard and talked about you, and here we are.
iRJ: You have been called the "best guitar" player alive with the likes of Eric Clapton and Jimi Hendrix, how do you feel about such a title?
BG:It's great for them to say something that (chuckling), but they have sold more records than I think I will ever be able to sell because you won't be able to break Michael Jackson's record with over 50 million albums. It's a different world now as far as records, people are downloading, they don't buy albums and record companies are going out of business. Coming from them that's great, but I still have to go out and prove myself. If someone heard what they said, then they would say, 'Let me go see.' So I can't say I don't have to play because of what was heard, I have to prove to someone who doesn't know who I am that I can probably make somebody smile by playing pretty good notes. I don't take that for granted what they said.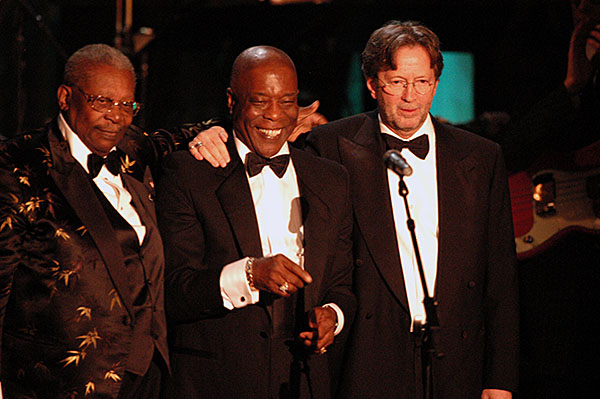 Buddy Guy with BB King and Eric Clapton accepting his induction at the 20th Annual Rock and Roll Hall of Fame Induction Ceremonies at the Waldorf-Astoria Hotel in New York City, New York ©2005 Gene Shaw, Star File
iRJ: Your relationship with Eric Clapton spans many years, what makes him so special?
BG: He did so well with the guitar and made so many hit records. He is one of the most well-known guitar players I would say in the world right now when you mention guitar players. To have a friend like him and the Stones, Keith (Richards) and those guys and what they did for the black musicians, when they started playing Blues coming out of England. They made white America recognize who we were. You have to give them credit for that. We all owe them thanks. A lot of people didn't know who B.B. King or Muddy Waters were until they (Eric Clapton, Rolling Stones) started to play the Blues. White America asked who was B.B. King and Muddy Waters and they told them who they were. The Beatles came first and they tried to hide the fact that Elvis got his stuff from Little Richard and others who played the Blues.
iRJ: Did you see race playing a role with music and musicians?
BG:I don't think it was race with the musicians. When Elvis first appeared on the Ed Sullivan show, Ed Sullivan told him they couldn't show him shaking from the waist down, only from the waist up and black people were doing that already. Little Richard, and others were 'boogie woogieing' and playing, so I don't think it had to do with race. It was one of those things where white people didn't want their kids involved with what we were doing, but they couldn't keep it away from them after it was exposed. Elvis did it and then when the British got it, they just couldn't hold them anymore. There is a record out by a late friend of mine called, "I Just Throw Up Both of My Hands," I guess they threw up both of their hands and said, 'They got it now we might as well leave it alone.' If you go back and listen to the great jazz bands before the guitar made noise and Les Paul and Leo Fender amplified it, the big bands had black people playing and it wasn't a racial thing. I saw lately on the news or in an article that if you could play, you would go play in Woody Herman's band and if you were black, they didn't pay that any mind. As long as you could play, so no, I don't think it was a black or white thing or a racial thing. If you were willing enough to play and make somebody smile and listen, then you were on your way.
iRJ: So did you experience any segregation in any of the Chicago venues or growing up in Louisiana?
BG:Well, I guess it was, because I was playing for 99.9% of black people then. When I came here (Chicago) it was 99.9% black people that listened to Blues. Then all of a sudden when the Beatles, the Stones and Rod Stewart started playing the Blues, you would hear rumors of the 'British invasion' of Blues, and they came and told America that wasn't their music. There was a show back in the 1960's called Shindig and they were after the Stones, and they wanted them to play and Mick Jagger and the Stones agreed only if they could bring Muddy Waters and they asked, 'Who in the hell was that?' He got offended and said, 'You mean to tell me you don't know who Muddy Waters is? We named ourselves after one of his famous records, "Rolling Stone".'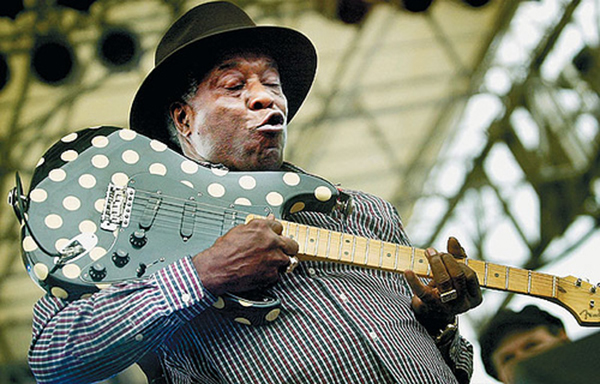 Buddy Guy
iRj: You influenced Jimi Hendrix, even your flare of showmanship on stage such as playing behind your back and picking the strings with your teeth. What was your experience being with him?
BG: We got to know each other very well. He would come in and jam, but we never got the chance to work together. He would come to New York every time I played there and sit in and jam with me. It was all small Blues clubs back then and after I played my first Newport Jazz Festival which was in 1967.
iRJ: Your autobiography, When I Left Home: My Story was released in May 2012, what inspired you to write and tell your story?
BG: Well, first of all I didn't think I would get the opportunity. The author, David Ritz came along and I thought about it and said, 'I guess I better tell my story because most of the guys who should have told their stories are no longer with us.' So I said, I better go tell the truth and where I'm from in Louisiana they say 'coming straight from the horse's mouth', so at least I know the little history I've been through, I said if I'm going to do it, I'm going to do it my way and tell the truth about 99.9% in the book and that is exactly what I did.
iRJ: You are considered a Blues legend, what do you want your legacy to be?
BG:Well, I tried to keep the music alive. I stole from those guys; some of them weren't mentioned in the awards I have received like the Kennedy Honors at the White House. I played for the President, I went in to the Oval Office with President Bush, and a lot of those guys should have been in there long before I did so I would like to say, if I hang around a little longer, I did something for those guys who didn't live to see me go to the places I've been lately, which is a shock and surprise to me.
iRJ: What inspires Buddy Guy outside of music?
BG: Well, I was born down on a farm in Louisiana and I don't have a high school education, so I taught myself how to play the guitar and my parents were so poor we were sharecroppers and they would eat to live and live to eat. I still love to cook and I love making people smile and I think music does that a lot and I think if I sit and talk to people I hope to try to tell a joke to make them smile some time, because everybody looks like they are angry now and it looks like it's getting worse. When I was coming up in Louisiana, when they gave you a gun it was to kill some wild game they didn't give me a gun to kill people. When I was growing up as a kid there was no such thing as that, everyone was loving and always wanted to make people smile.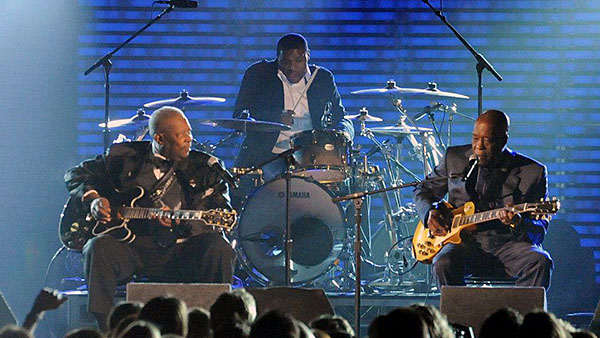 B.B. King and Buddy Guy
iRJ: What would advise young musicians coming up who want to get in to the industry today?
BG: Just keep on doing it, because you don't have a guarantee on anything and you don't even have a guarantee if you go to college. I meet a lot of college kids who have these student loans. One girl was working here at my club about 7 or 8 years ago and I didn't realize it because I didn't get that kind of education and she said, 'I got these student loans and I will be 57 years old before I'm able to pay it off,' I said who would want to hire you at 57 years old (chuckles)? I tell a young person now, if you have a YouTube, you can look at this kid, Quinn Sullivan, when I met him he was 6 years old and he plays as well as I do and as well as Eric Clapton and Stevie Ray (Vaughan). We have a record company with him now and I'm hoping to keep the Blues alive with that so maybe he can influence some other kids. Kids today don't know what a Blues player is until they are 21 years old. My own children didn't know I could play until they were 21, because that is the only time you can go in to a Blues club. They said, 'My God dad I didn't know you could play.' For the last 20 or 30 years at least in the summer time, we played in outdoor theaters and you would see some kids out there with their parents.
iRJ: What can we expect to hear from you in the future?
BG: Well, I'm still going in to the studio hoping they play us on the radio. They don't play Blues on the radio much anymore. If you're a Blues player you may get lucky and somebody says play that because I like it that will help keep Blues alive. I think it takes the youth to keep whatever going, and they used to play more music on the music television shows but they don't do that anymore either.
At the end of our interview Guy spoke more on his love for cooking and his favorite Louisiana meal. When asked what his favorite meal is, he laughed and asked in return, "Back then or now? I can get what I want now." He said he loves to boil his food and he got up at 4 a.m. to boil some black eyed peas so when he was finished with his day they would be ready for him. His wish came true, we had a lot of smiling and laughing while listening to him tell his story. He is truly a man who loves his Blues.
By Keli Denise