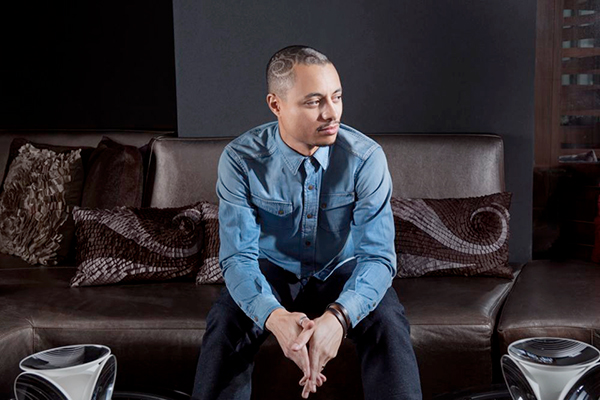 Jose James
People say Jazz isn't fresh anymore; they say it doesn't change or grow. For those who need a reminder or a wake up call as to what is really happening in the Jazz scene, go listen to vocalist Jose James. With his new album No Beginning, No End, James is keeping things moving.
James has a bright sound that fuses an array of different genres. As a young artist in high school, James was exposed to music on many levels, giving him an eclectic musical background. This Minneapolis born artist grew up with a saxophonist for a father and was raised during the golden age of Hip Hop. James listened to Rakim and A Tribe Called Quest samples, and dug through the old record crates listening to cats like Roy Ayers to John Coltrane. In joining his high school choir, James discovered his passion for singing. After hangin' with jazz musicians in Chicago, James' love of music took form. As he immersed himself in the local music scene, music turned from a hobby to a future. During his fresh new career, this up-and-comer had the privilege to collaborate with jazz legend McCoy Tyner and electronica monster Flying Lotus. With his Blue Note debut album No Beginning, No End, James takes his place in a music scene that is truly keeping things hip and fresh.
No Beginning, No End is an album that has no single definition. With each song comes a new sound and with each sound comes a different emotion. In his song "Vanguard", James teams up with pianist Robert Glasper and rockin' drummer Chris 'Daddy' Dave. James delicately sings over Dave's precisely phrased rhythm and Glasper's hip, dark chord changes. James displays the versatility of his voice on this track. His voice is soft and tender with a light vibrato. "Vanguard dances between the tension of Dave's rhythmic ideas and James sensual deep voice. The track "Heaven on the Ground", written by singer/songwriter/and guitarists Emily King, is a true exploration of harmony and texture. The quiet stir of brushes on the snare drum blended with an understated hip hop beat is a new take on the old-time ballads of Miles and Coltrane.
The delicate back-up vocalists and gentle guitar riffs help create a romantic song that will make you want to dim the lights and fall in love. No Beginning, No End is filled with elements from cats like Sly and the Family Stone, Erykah Badu, Robert Glasper, A Tribe Called Quest and Billie Holiday. "I don't want to be confined to any particular style," says James. "I decided I didn't want to be considered a jazz singer anymore and that was really freeing. Once I realized that jazz singing is just something that I do and it's just a label, it freed me as an artist to just write without any boundaries." This album pushes the constraints of genre and provides listeners with a hip and brand new sound. No Beginning No End sums up how I feel about music right now." If that's how this cat feels, then we have some pretty swingin' music coming our way.
By Zeb Stern