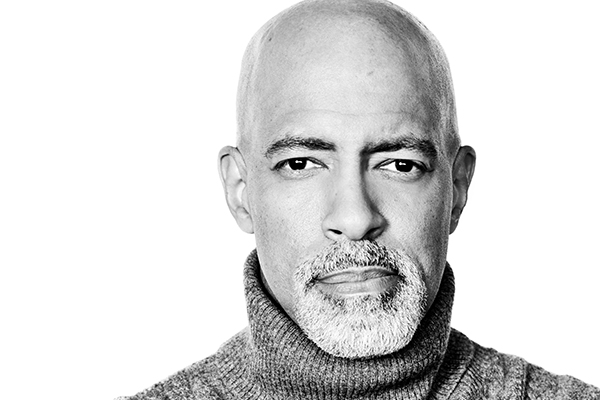 Michael Genet
With a gracious spirit who is indebted to his past, actor and writer Michael Genet says he carries a low tolerance for mediocrity, something he carries from childhood. He follows the footprints of excellence set forth by his mother, Jeanette, who was an educator and an Ebony magazine model, and by his father, Dewey Hughes, who pioneered the radio and media industry as the co-owner of WOL-AM, which was the foundation of the Radio One and TV One Networks. Their examples instilled in him a work ethic and determination to strive for nothing less than greatness in anything he set his mind to do. Genet admits that all of his work, including his current portrayal of Simon in the play The Whipping Man and his first book They Must Not Know Who I Think I Am: Lessons in Defiant Resilience, reflect his tenacity, both in life and the entertainment industry, as well as his belief in and dedication to hard work.
As Genet puts the finishing touches to his latest screenplay, The Cape Island Affair, he also navigates the choppy waters of the literary world as he preps for the release of his first book, all while performing eights grueling shows a week of The Whipping Man. The three-character play, written by Matthew Lopez, takes place after the Civil War and depicts a time when blacks in the South were reared as Jewish slaves, which Genet admits has taken both an emotion and physical toll on his body and soul.
"Trying to straddle both sides of the fence in regards to my ancestors with what they went through, and the rhythms they embodied 200 years ago, while also honoring the rituals and traditions of the Jewish faith, the Hebrew language and the ceremonies we perform on stage has been quite a task." With a sigh of exhaustion, Genet continues; "My character literally explodes every night at the end, with a rage of passion, disappointment and anger over love lost. You're talking about a man of supreme faith, who carried his faith throughout the play, only to have it ripped from his heart at the very end. He finds the only two things that matter to him in this world, his wife and daughter, were stolen from him and sold by his slave owner. I'm having vocal problems now because of where the horror of his journey takes me every night."
Adapted from the short story by British novelist Joanne Harris who wrote Chocolat, The Cape Island Affair is being produced by Dave Matthews (The Dave Matthews Band) ATO Pictures. ATO co-president, Johnathan Dorfman brought Genet on to the project after he read the writer's first screenplay, a jazz fable titled Pork Pie, which is a tribute to Genet's grandparents, Mahaley and Charles Butler. The writer says at one point Michael Jackson's company wanted the project for Jackson to star in, but Genet wasn't down with changing the jazz theme to a contemporary pop one. And although the project has been selected to the Sundance Screenwriters Lab and the Eugene O'Neill Playwrights Conference, and has earned many other awards including the Kennedy Center Award for New American Plays for the stage version, Genet says he isn't worried that Pork Pie has yet to make it to the big screen. And why should he be? Pork Pie was written in eight weeks on a little typewriter, in a tiny closet that Genet turned into an office space, while performing eight shows a week in the original Broadway production of A Few Good Men. Everyone around him told him he was crazy. No way could he write a script. Some even told him he couldn't write period. But he listened to his own heart instead. It's been 21 years in the making now and counting, but Genet says Pork Pie still the best script he's ever written. And he knows it will get made eventually when the stars are all aligned for it to be so. "The future always reveals itself in time. Pork Pie will make it to the big screen. And it'll be a huge hit when it does. Of that I have no doubt." Something that the star are aligned on however, is the release of Genet's first book, They Must Not Know Who I Think I Am: Lessons In Defiant Resilience. It's a story of survival and how Genet has managed to maintain longevity in the turbulent show business industry for more than 30 years.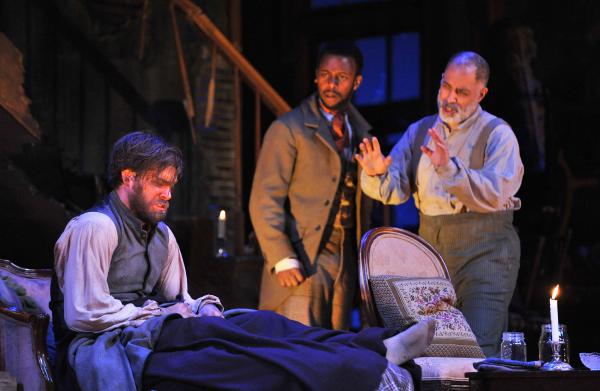 Free time (from left): Kyle Hatley, Josh Breckenridge and Michael Genet in The Whipping Man
In the near future, the artist will release his book, which is about survival and how he's managed to maintain longevity in his industry for over 30 years.
"I've been knocked down and told 'no' by everyone and their mama a million times, but I've always found a way to get back up," Genet proudly confesses. "I've worked with pretty much everyone there is to work with in the industry. And I've got some great war stories to tell. The book is about resilience and holding on to your dreams instead of giving up. We all have a dream, everyone last one of us. But, most people get to a place, where just as they're about to see their dreams come true, they get scared. They think it's going to be too hard or cost them too much to see it all the way through. So they quit. They just walk away. They tell themselves, 'I can keep chasing my dream and struggle, or I can take this nice little safe job over here and not have to worry. It's not what I really want to do, but at least I know my rent will be paid.' And then 15 or 20 years later they have this horrible sense of regret, and they asking themselves the question… 'what would've happened if…?' And so, this book is about a person, me, who's found a way to push through many hardships and hold strong through the many days that I wanted to quit. It's about how every time I've gotten knocked down, I've always found a way to get back up and keep chasing my dreams and attack those goals that I set out for myself many years ago. It's about the power of resilience; that unstoppable power that lives inside of me and inside us all. And how the only way to honor that power, is to keep pushing through and chase your dreams no matter how much it costs."
Genet says his mother was always supportive of his creative side. She wanted to be a dancer. But in the 50's good little black girls weren't supposed to consider careers in the arts. So Genet says his mother became a great educator instead and lived vicariously through her son's artistic achievements. She enrolled him in acting classes, singing classes, and whatever else would ignite his creative mind. Genet says he both enjoyed and excelled in all the various forms of training he received. It helped him understand the career path he wanted to pursue. He recalls how his mother's work ethic was hammered into him. As a teacher, vice-principal and principal, she didn't merely teach by words, she taught by example.
"My mother used to model for Ebony magazine in the '60s, but she was also a school teacher and a vice principal, so I grew up with that work ethic," he confesses. "I remember her taking me to the shows and seeing her pictures in the magazines when I was little. As a teacher, there was a set rule of disciplines that she instilled and never wavered on. There were no ifs, ands or buts; I was obligated to get a college degree. I knew that from the time I was five years old and was able to understand what she was saying. She said, 'This is non-negotiable, this is what you will do.' I was never allowed to accept mediocrity. I was never allowed to do anything but my absolute best at whatever task was at hand. Schoolwork was a must. If I was going to rehearsal with our church choir on weekends, I was expected to be there on time. If I was going to cut someone's lawn or shovel someone's walk when it snowed, I was supposed to do a good job at that too."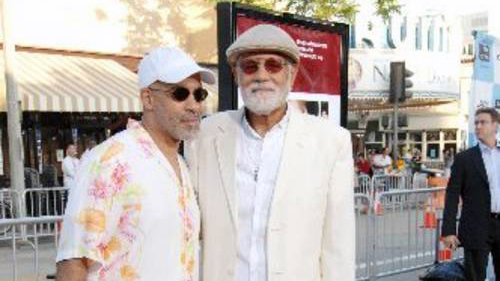 Michael Genet and his father Dewey Hughes at the 2007 Los Angeles Film Festival opening. Photo by Dimitri Halkidis / WENN
Although Genet didn't spend as much time with his father because his parents were divorced when he was five years old, his father's influence of excellence was something he remembered. The 10-time Emmy winner and his second wife, Cathy Hughes, were the first black owners of a radio station in the U.S. Tuning in to his father's broadcasts and watching his TV show on Thursday nights, Genet decided at age 11 that he wanted a career in entertainment.
Originally aspiring to be an opera singer, Genet shifted artistic gears because he admits he craved a more enthusiastic reaction from his audience. Hired to sing with jazz bassist Keter Betts, who played with Ella Fitzgerald for 25 years, the artist had the opportunity to sing with The Keter Betts Trio at the Smithsonian for two months. At that point, Genet says he'd been acting for about 10 years. But being in the company of jazz legends such as Joe Williams and Sarah Vaughan, was an invaluable lesson in how greatness was achieved. Genet recalls how Williams and Vaughan would come by Keter's house when they were in town for a gig. They all sat around eating leftovers and watching old Sugar Ray Robinson fight films in Keter's basement.
"I learned more in the two months I spent with Keter and his trio than I'd learned in 10 years of being in the industry," he admits. "I listened to Joe [Williams] talk the music, talk the rhythms, talk the beats, talk the melodies, and then I listened to Sara [Vaughan] talk about who could bring it and who couldn't. I sat in a corner and didn't open my mouth. I was sitting there with the giants and I just listened and learned as much as I could. Keter was one of the greatest guys to walk this Earth and truly one of the Jazz greats. Mention his name to any jazz musician today and they all break out in a smile. He didn't need a card. 25 years with Ella speaks for itself."(end pt. 1)
By Iya Bakare