Misty Copeland photo by Gregg Delman
Ballet is the art of story-telling that is set to music and told through the fluid movement of skilled dancers showcasing sequences such as the faille, grande jeté and extensions of their arabesque. For centuries, audiences have been mesmerized by the repertoire of renowned dance companies on some of the greatest world stages. Under the leadership of artistic directors and with the guidance of ballet masters, historically acclaimed performances like The Nutcracker and Swan Lake continue to stand the test of time.
These timeless classics maintain their original intent while drawing upon the diversity of choreographers, dancers and evolving times. For various reasons, little girls are attracted to this style of dance. Misty Copeland was one of those little girls, who at age 13, was drawn to ballet. At the age of 30, the woman whose name is firmly planted in history, says she always knew that ballet was her destined path.

At New York's American Ballet Theatre (ABT), the award-winning dancer glides across stages and slices through air as she captivates audiences with her incredible grace and physicality. Her ascension through her company's ranks and accompanying stardom is the result of her fierce love for the art, which keeps her practicing for hours, at a time. "I learned from my director, that talent is only half… being an artist is the other half," Misty says. "A capable body can only get you so far. You have to be an extremely hard worker."
The significance of becoming the first African-American female soloist, in 20 years, at ABT, one of the world's leading classical ballet companies, took a few years for her to grasp. "I think it's something that I really realized over time," Misty says. "I spent seven years in the American Ballet Theatre in the corps de ballet just working so hard. When the day came and Kevin McKenzie, the artistic director, brought me down and told me that he was promoting me, I didn't really have much of a reaction. I think I just said 'thank you'". On the day of this historical promotion, the reality of what happened started taking root, after Misty called her mother and spoke to her sponsor. Her reaction to their expressed emotions and shed tears was "Oh wow, this is a really big deal."
This feat, within the homogeneous ballet world, did not go unnoticed by the rest of the world, and Misty quickly became a role model to young African-American girls everywhere. She also caught the eye of the legendary Prince, who handpicked her to star in his "Crimson and Clover" video. As a special guest artist, she joined him at his concert in Nice, France and his "Welcome 2 America" tour in 2010.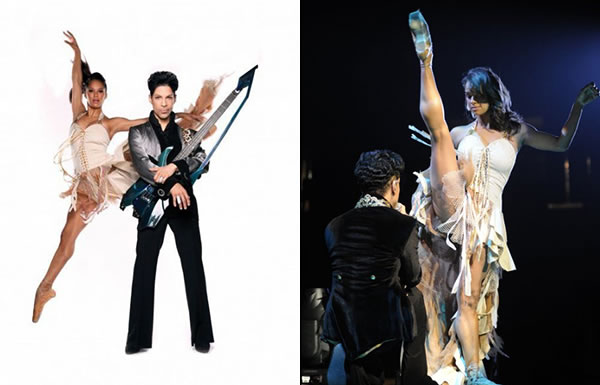 ABT Ballerina Misty Copeland performs with Prince during his "Welcome 2 America" tour
The dancer fully acknowledges and embraces her status as a role model who can use her voice to make an impact. "Being in this position now, I think I definitely have more of a voice, which is rare for a ballerina, off the stage," the dancer says. "To be in this position, and to open people's eyes to the fact there have been so many black ballerinas before me is what I want to do. I think part of what I want to do is expose these women and give them the respect that I don't think a lot of people give them." Misty would like to educate people on the history of black ballerinas, like Janet Collins and Raven Wilkinson who had an impact in the 1950s.
The dancer takes her role model status very seriously. However, she does want people to remember that people are humans, and that they make mistakes. She says she'd like to be remembered for changing the minds of people that may have been closed off to what they expect to see in the ballet world.
Although Misty believes that her life's path would have led her to ballet, her drill coach was instrumental in that. "She is my godmother. Shortly after I met her, she helped me transition into classical ballet and she immediately became very close to my parents. She's been a huge part of my life, throughout my training and my career."
At age 13, without any formal dance training, Misty decided on a whim to audition for the captain position of her San Pedro, Ca. school drill team. Elizabeth Cantine intervened and sent her to a free class, designed to reach underserved children. Having trained her entire life as a dancer, her godmother fully understands Misty's journey and remains proud of her accomplishments.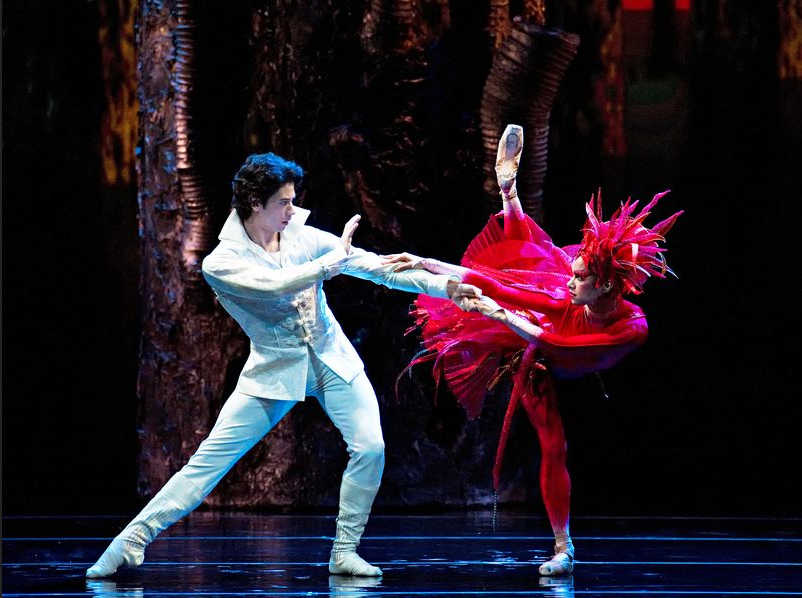 Misty Copeland (as The Firebird) and Herman Cornejo photo by Gene Schiavone
She had a later start than most in her training in ballet, but that did not hinder this dancer's progression, as her love for the art seems innate. "I always had a love for movement even though I really didn't understand it or have any structure of dance, in my life," the ABT soloist says. She's performed a variety of classical and contemporary roles, but Misty's most important role to date is the title role of The Firebird in Firebird, created with new choreography by much sought after choreographer, Alexei Ratmansky.
The mirror is a ballet dancer's ally as they seek to ensure superior technical skill and beautifully expressive dancing. In the studio, the mirror becomes part of the training. "Dancers can see what their teachers are pointing out… be it good or bad," Misty adds. "At this point, I see a very strong and confident black woman that I'm proud to be."
The goal of this dancer, who has been featured in numerous publications and television programs, is to become the first African-American female principal dancer of the American Ballet Theatre. "I want to show the world that it needs to step it up," she says. Her goal every day is to be her best which has led to being honored with the Leonore Annenberg Fellowship in the Arts. It has also led to her repertoire of highly received performances, such as her roles as the Flower Girl in Don Quixote and the Fairy of Valor in The Sleeping Beauty.
While aspiring to be a principal dancer, Misty also has numerous goals as a dancer, in terms of leading roles. She aspires to perform lead roles in Giselle, Nikiya and Gamzatti in La Bayadère, Juliet in Romeo and Juliet as well as Odette/Odile in Swan Lake. She's also looking forward to being a guest artist with other companies because she believes it's important to have different experiences and not always be under the judgment of one's company members. Misty's goal of inspiring others to aspire was captured in a promo, for Aspire TV. The promo is on rotation, on the network whose focus is "positive, uplifting images of African Americans".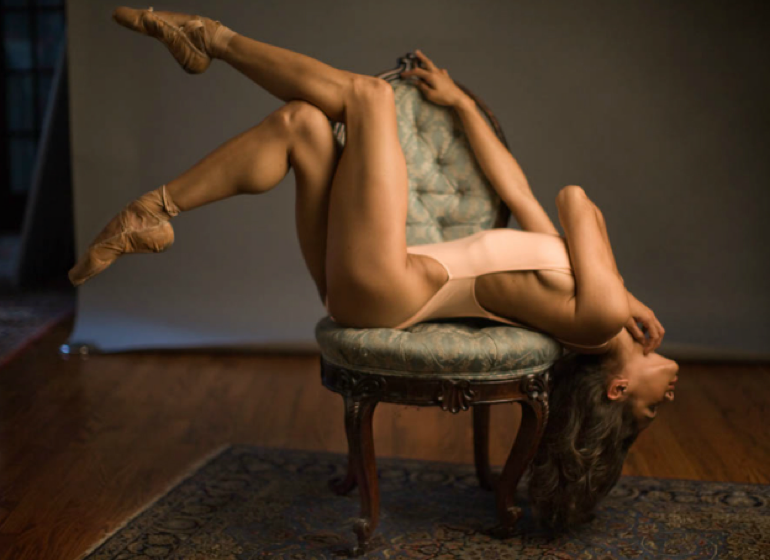 Misty Copeland photo by Gregg Delman
Fans can see Misty on a regular basis by purchasing her 2013 calendar. After working with renowned photographer Gregg Delman, Misty was pleased with the final product. "It's always really cool to see an idea come to life," she comments. "As a dancer, we spend so much time in the studio rehearsing that the finished product is a very long process. So, when you see something come together within a month, that's very quick for a dancer. I wanted it to be very versatile and not your typical classical ballet calendar. I wanted it to have a broader appeal. I wanted it to have a more fashioned feel and somewhat of a vintage feel as well…classy, elegant, sensual… all of those things that I think a woman is without it being over the top and sexy and in your face…kind of an inner beauty."
Misty loves Soul and R&B music and when she's not busy training, she can be found listening to Miguel's new album, D'Angelo and Aretha Franklin. She loves to cook, bake, travel, watch old movies, and swears to being able to make a tasty apple pie and cookies.
As an avid philanthropist, Misty has worked with many charitable organizations and is very passionate about giving of her time to work with and mentor young girls and boys. She was honored with an induction into the Boys & Girls Club National Hall of Fame in May 2012. Her endorsements past and present include BlackBerry, Proactiv, Payless, Capezio, Sansha, Boys & Girls Club and Lavazza Coffee.
Misty's fans can find out about her upcoming active-wear line, performances with ABT and how to purchase her 2013 calendar on her website at www.mistycopeland.com or her Facebook page.
by Lisa George