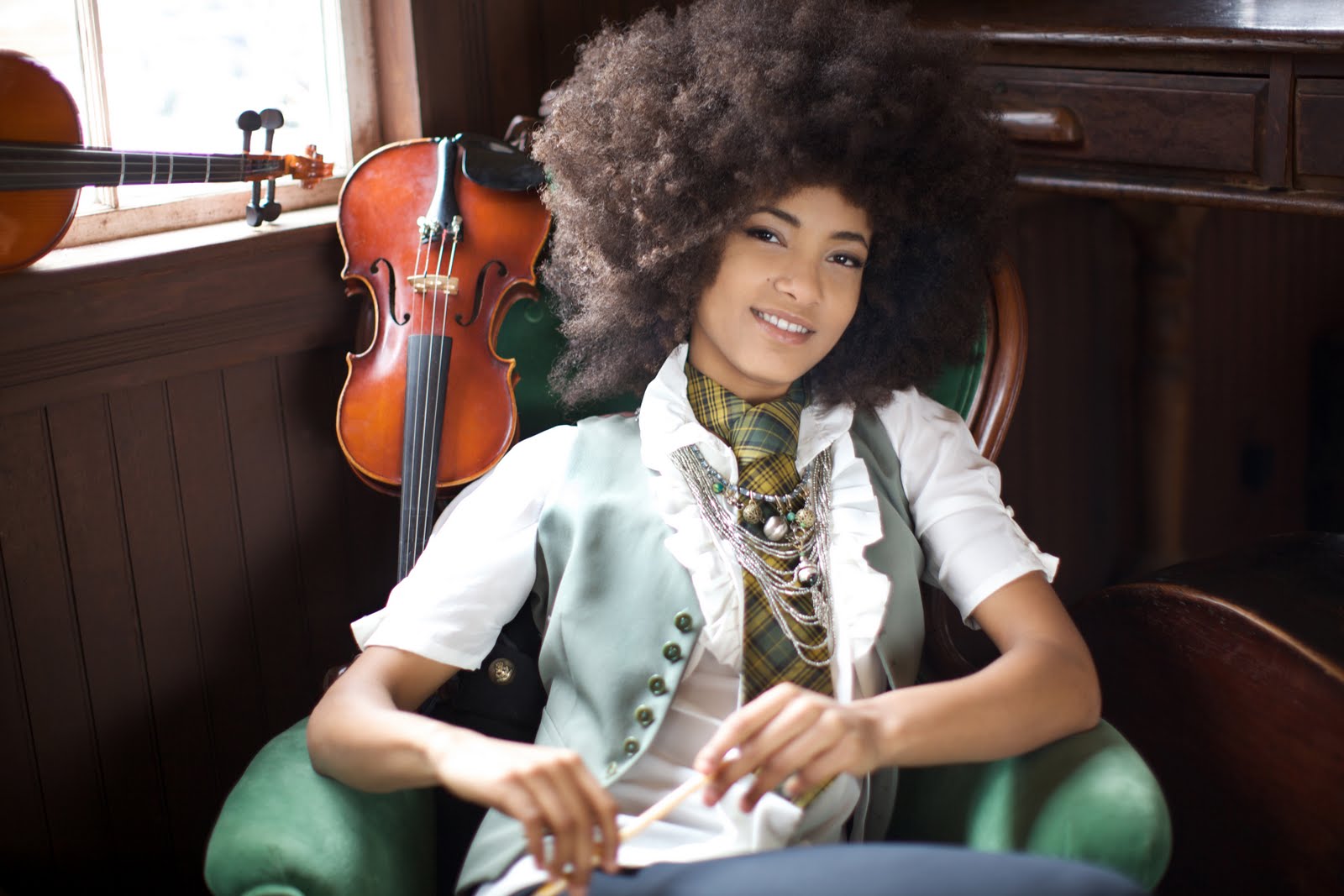 Esperanza Spalding
On Tuesday, Dec. 4, Esperanza Spalding will be using her bass and her vocals to fight for a cause as she headlines "A Night of Freedom", a benefit concert at New York's City Winery. The Grammy-winning prodigy from Portland will be playing to raise awareness and funds for Free the Slaves, a non-profit organization that helps to end worldwide human trafficking and educate communities on the prevention of slavery. Joined by the legendary Bobby McFerrin and Grammy-nominated vocalist Gretchen Parlato, Spalding will reach back in her catalog for the City Winery event, performing mostly material from 2008's Esperanza and 2010's Chamber Music Society. A few selections from this year's Top 10 hit album, Radio Music Society, will be on the set list as well. Originally intended to be a double album, Spalding's decision to split them up proved a stroke of genius, as they evoked differing arrangements and melodic emotions, but were bound by an abstract continuity of artistic expression.
"One group of music is internal, intimate, the opposite would be external, blasting it out, extroverted," Spalding explained. "So, I said 'Oh! Ok. Let's call it Chamber Music Society and Radio Music Society.' I heard somebody say you don't choose your work; your work chooses you. I think that's when you're really involved in a project and you're willing to listen for what it's asking for, I think that's really true."
The music of Spalding, along with contemporaries such as Robert Glasper, Christian Scott and others, has given jazz an upsurge of attention over the past four years. And like those artists, she's been expanding and challenging the traditional sounds and practices of what fans and critics have perceived Jazz to be by incorporating Classical and Funk into her sound. Spalding, however, would prefer to leave these labels behind when it comes to describing music.
"The more years go by, the more I listen to the music I love, the less I like these words, the less I like those descriptions," Spalding told iRockJazz. "They all seem like really lame when describing the actual experience and the elements that are involved in music, that anybody plays."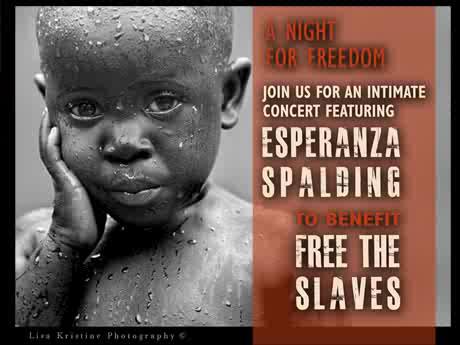 "A Night For Freedom" Benefit Concert
Spalding's dedication to the Free the Slaves organization and its commitment to self-sustained emancipation for numerous communities overseas speaks of her ideology of artistic freedom in a society that thrives on labeling sounds and pushing imagery over creativity. While many fans and critics have condemned several artists for promoting substandard product, Spalding has no qualms about what other singers and musicians choose to do with their talent and opportunity.
"That's not for me to have an opinion on because it's their life," Spalding spoke on. "It's not my life to live, so I have no judgment on what anybody uses their life for, unless there's genuine disregard for ethics and basic human rights, and I don't see that happening much in the [Jazz music] scene, so I don't care."
In fact, Spalding continued by adding that an artist should not be judged by whatever music is making them popular now because it short changes their artistic growth. "Keep in mind, they – at least the media – have short attention spans, perhaps, so us getting a lot of attention right now is the equivalent of seeing one scene of a three-hour movie. That one scene cannot inform the whole arc of story; you don't know what characters are coming in, you don't know how it's going to end, how it began. We need to let people have their own experience with the music. So, what somebody's choosing to do right this minute doesn't necessarily represent the essence of what they have to offer and experience in their whole lifetime in music."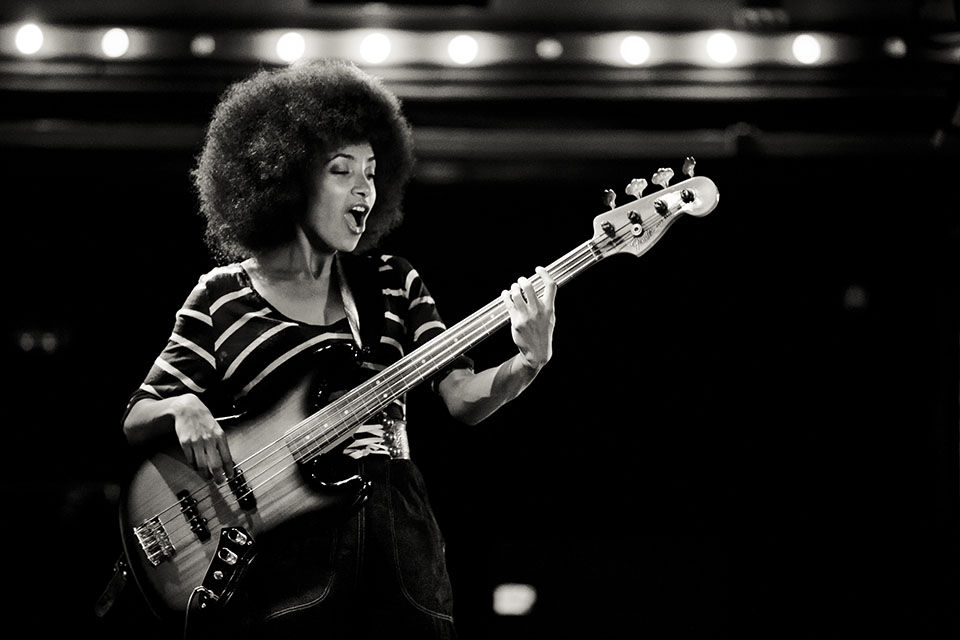 Esperanza Spalding Photo by Carlos Pericas Courtesy of Montuno
The content and presentation executed by some of her peers, in several music mediums, is not as important as the time spent taking it in. "I use the Internet as a metaphor for spotlight, or accolades or attention. Where's the attention not going, or why is the attention going on these people, including myself and what are we doing with it?"
Having an open playing field would undoubtedly be beneficial for all involved with music, be it the creator or the consumers. Spalding would like to see music of all kinds given equal exposure to the public, without confining the content itself. "I think it's important to keep the music accessible – I don't mean in terms of content – I'm talking about people accessing it, so keeping public radio and music programs alive. Whatever avenues are not being kept or we've been cut out of because of budget or formatting restrictions where music, if you wanna call it Jazz, can be exposed to a wider audience which includes, of course, young people."
Speaking of young people, one of the big reasons artists like Spalding, who are placed in the Jazz realm, have been getting so much more attention on a mainstream platform is their increasing appeal to a young audience, particularly a young Black audience. Spalding stated that catering to young listeners may have once been a motivating factor in her recording process, but at this stage of her career, she's more interested in helping the listeners do they own creating. "What I see as a priority is the educational aspect of having a community to be a part of as a young person in terms of learning about music; learning about playing music and participating in music," Spalding expressed. "I do feel called to serve in supporting, in terms of fundraising for awareness and engaging hands-on with music programs, in supporting the educators and community members, the musicians who may not be getting enough credit or financial gain from it, but relentlessly dedicate themselves to passing on this knowledge about the craft."
Before equal opportunity for musical education can be further pursued and artistic freedom can be celebrated, the basic human right to be free must be achieved. Esperanza Spalding is exercising her creative freedom to help eliminated institutional slavery around the world, further formulating the feature film that is her life as a musician.
Tickets for A Night of Freedom are available here. For more information about Free the Slaves, visit www.freetheslaves.net
by Matthew Allen