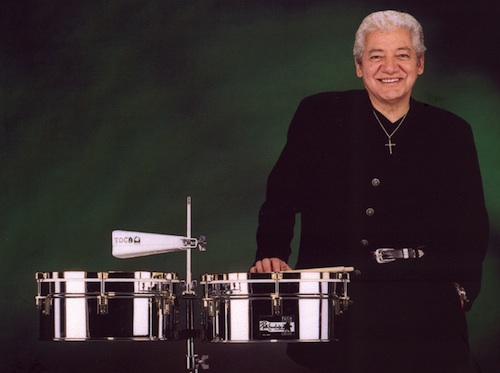 Pete Escovedo
Do what you love and love doing it. Simple, right? Legendary percussionist Pete Escovedo, an artist who broke down the barriers between Smooth Jazz, Salsa, Latin Jazz and Contemporary music, has thrilled his fans for more than 50 years. One only has to listen to one of his acclaimed, live-recorded or "E" family albums to see why fans remain loyal, and see that Escovedo loves what he does. He's merely living out the dreams of a boy who once sat on the steps of nightclubs to watch musicians play.
Born in Pittsburg, CA in 1935, the talented instrumentalist began his musical journey while he attended high school in Oakland, CA. At the age of 16, he began playing the saxophone and said he then discovered percussion, which became his love of rhythm and his dream of playing Latin Jazz music. In today's world, the categorizing of music into genres can be a chore. Whatever genre one chooses to place Escovedo's music, the world can agree that his musical creations are mesmerizing as they tug at the feet to venture on to the dance floor or help set the atmosphere for a good time.
Three days before the debut of his eclectic collection of art work at Evolve the Gallery in Sacramento, CA, Escovedo took the time to speak with iRock Jazz. Yes, he sketches and paints as well.
"It's very exciting because everyone knows that I'm a musician because I've been doing that all my life, but it just came in the spotlight now that I've been painting for a long time," he comments. "Both [music and art] are working out just great and I'm just so happy that people not only like music, but also my artwork. So, I'm having fun doing both."
Escovedo says his interest in artwork started around the time he discovered his love for music.
"I had a wonderful art teacher in high-school and she was so nice to me that she allowed me to be free-handed, in painting," he adds."
His teacher gave him the freedom to paint from the heart and to express himself artistically. Self-taught in his creations, he experiments with various styles and mediums, which naturally crosses over into his music. His work is showcased on instruments and a few of his album covers.
"With both things happening [to me], I'm just so privileged and blessed to be able to do both of these things now at my age of 77," he adds. "To still be able to play music and travel around the world is just such a blessing to me. It's all good."
His new album, digitally released in September and set for a 2013 physical release, captures Live from Stern Grove Festival, which was performed earlier this year in San Francisco. Escovedo and his band open up by swinging into a breezy rendition of the Tito Puente's classic "Picadillo". Wayne Wallace's "Take Some Time" allows guitarist Michael Angel Alvarado to exchange spirited riffs with the talented players in the large horn section. His daughter and two sons join him on this album, as they have in the past, and according to the legend do "an Escovedo extravaganza of music" with his Latin band orchestra.
It makes sense that Escovedo would recruit a phenomenal player like the Bay Area's Alvarado to play in his band. Early in his career, Escovedo toured with guitarist Carlos Santana for three years before starting the Latin band Azteca, a group that successfully established Escovedo as a major Latin Jazz artist.
On the album, Ray Obiedo dials in some terrific guitar work on Escovedo's rendition of his "Brasileiro," a contemporary Jazz number that benefits from Obiedo's spirited soloing. Listeners remain spellbound while guitarist Alvarado's intense playing on the first half of "True or False" practically pays homage to Santana before giving way to a fantastic saxophone solo that comes courtesy of special guest Dave Koz.
"We had a great time," Escovedo comments about recording the album "The crowd was very enthusiastic and it made for a real exciting recording. My artwork is on the cover of the CD and so we combined both. It turned out really well and so I'm really happy about the new CD. Hopefully, we'll get it up in the category of Latin Jazz for the Grammys. Keep our fingers crossed. Maybe, we'll get a Grammy this year."
"Dance" is an original salsa number that Escovedo penned with the help of sons Juan and Peter Michael, as well as daughter Sheila E. The song's lyrics about losing control and feeling the rhythm "deep in your soul" refer to the tune's almost-frantic tempo. Guest Sheila E. plays congas on the song, adding to the complex percussion rhythms designed to keep the dance floor moving. The final lyric, "it's going to make you dance" is one heck of an understatement. "Fly Me to the Moon" is Escovedo's musical journey back to the era of Frank Sinatra and Dean Martin when The Rat Pack guys wore the shiny suits and did their thing.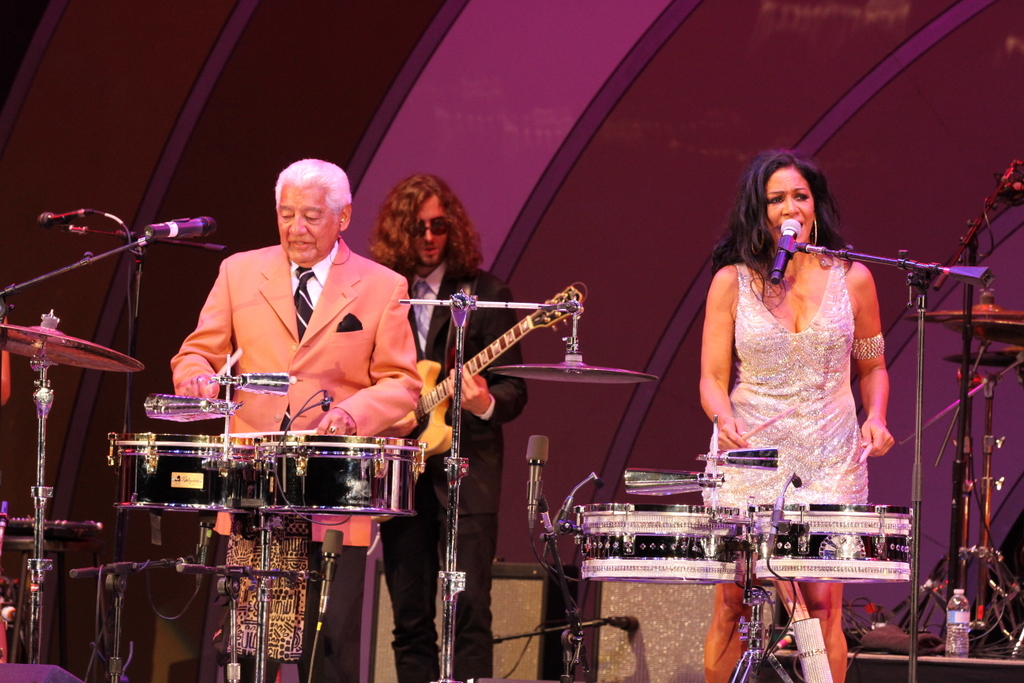 Peter Escovedo and Sheila E. at 34th Playboy Jazz Festival
"I'm not a great singer and I'm probably my worse critic," he says as he laughs "Sometimes, when I listen to my voice, I don't like the sound of it, but I thought it'd be cool to put it [the 50's era] in a song and do it in the way of the old style of the 1950s, with straight ahead Jazz and vocals. I really got a kick out of doing that song. It was so much fun to do. I mean, I'm 77 years old and I can do whatever I want to do right?"
By this daring act, the artist demonstrates why one can hear true living in his voice. "It was probably the most daring thing that I've ever done," he says about the song.
Escovedo grew up during a time when big bands played music in ballrooms. His dad, who wanted to be a singer, made friends with band members and often invited them to their house. His mom kept a piano and played it often. Listening and appreciating music at an early age paved the way for several family members to become recording musicians. It's clear that the love for music traveled through generations of Escovedo's as they sometimes join him to periodically create "E" family CDs.
Throughout the 1970s, Escovedo collaborated with many of the genre's best including Herbie Hancock, Bobby McFerrin, Anita Baker, George Duke, Dionne Warwick, Barry White and Chick Corea. Recently, he has had special guests such as Earth, Wind and Fire, Raphael Saadiq, Gloria Estefan, George Duke, and more on "E" family CDs.
Escovedo says Grammy categories have experienced downsizing in the Jazz genre.
"It took us awhile to get [Latin Jazz] back into the voting category," he admits "I do understand where they are coming from with the cutting down of the categories and making things a lot simpler. But at the same time, they have taken out music that has been in existence forever. And sometimes the people who hold these positions are people who really don't understand music. Latin Jazz has been around for so long [and] goes back to the early 1950s… the days of Dizzie Gillespie and is notable and honorable."
Having the Latin Jazz category back is special to Escovedo and others as he feels the country rejoins the rest of the world in appreciating and embracing this genre of music. The Latin Jazz musician has more musical ideas in mind and doesn't have any intention on stopping anytime soon. He says he would love to be remembered as a great father and family man because that's the basis of what makes him thrive. He also wants to be remembered as a man who achieved what he wanted to do. He fondly shared stories of his wife of 56 years and his appreciation of all that his family and he have been blessed with.
For more information on Pete Escovedo's art and his music, visit his website at www.peteescovedo.com.
by Lisa George