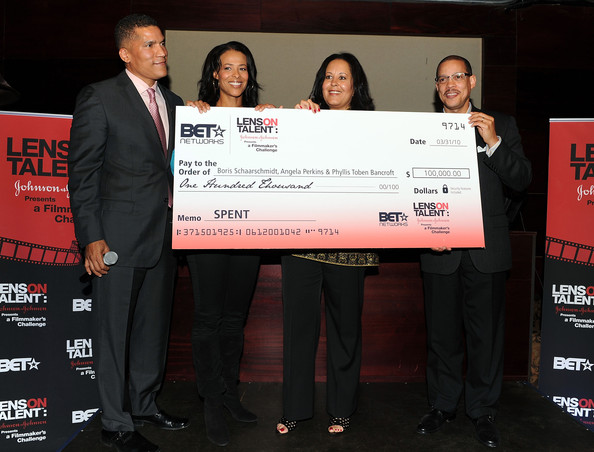 (L-R) BET's Paxton Baker, Tracey Costello, Phyllis Toben Bancroft and Johnson & Johnson's Anthony Carter hold the grand prize check presented for the movie "RENT" at the "Lens On Talent" grand prize winner reception at Taj Lounge on March 31, 2010 in New York City.
(March 30, 2010 – Source: Andrew H. Walker/Getty Images North America)
As executive vice president and general manager of Centric Television, Paxton K. Baker remains cognizant of the responsibilities that go along with his role in the media and entertainment industries, but keeps them in perspective and relative to everyday life.
"I feel a weight and a responsibility, but it isn't a life-altering role such as a surgeon or a soldier in a battlefield," he comments. "There are too few precious roles for minorities in the business world."
Defined as a spiritual and lifestyle channel rooted in soul, Baker says music is the DNA of Centric because the station is music-based at its core. Launched on Martin Luther King, Jr.'s birthday in 1996, the channel made its premiere as BET on Jazz. Over the years, it morphed to BET Jazz, then to BETJ and switched to Centric, as we know it today. The former disc jockey of Temple University and co-founder of the St. Lucia Jazz Festival doesn't neglect his music roots, and fuses his love of it with his business skills to creatively market the Jazz genre, which he admits generally lacks support and recognition. At the 67th Anniversary of the United Nations, Stevie Wonder opened the show with his classic "Sir Duke", a tribute to the late Duke Ellington. He enlisted the help of a host of other singers to join him, and Baker said this performance enticed the musical appetite of people for Jazz music.
With a soul perspective that features videos, shows and specials centered on R&B, Soul, Rap, Hip Hop, Jazz, Blues and Gospel music, Baker says the channel is a vehicle for African Americans and multicultural adults aged 25-54 years to feel good about themselves, similar to the work of the legendary Don Cornelius.
"Don [Cornelius] used music as a vehicle to provide opportunities for African Americans," the executive comments. "He taught us how to love ourselves and each other."
With plans to continue to support the Soul Train Music Awards, to launch a new Showtime at the Apollo, new documentary specials, special comedy events and other projects, Baker says the channel will continue to center around music heavily during Black History Month and Black Music Month. Some of the projects may feature both the entertainment work and philanthropic work of the entertainers.
"As we've become more accepted in mainstream, others have participated during Black History Month," he adds. "The goal is for the general market's population to participate and to have a crossover product. We build relationships and open doors on the other side of it. We work with celebrities and their causes to form holistic relationships."
With an aim to open doors in entertainment, Centric gets out of the office, steps from behind the camera and steps into the communities who support them. For three years, Baker says his organization held entertainment industry seminars in high schools in Atlanta and hosted one in Las Vegas this year. The seminars feature music artists, advertising representatives, managers and other personnel involved in the music industry. Baker says the focus of these sessions exposes young people to all of the facets and careers affiliated in the entertainment realm.
As the economy attempts to repair itself, the business executive recognizes the competition and what he needs to deliver in order to succeed.
"The advertising market itself is tough, so your goal is to put out a great market piece on the air and monetize it," he confesses. "But, the competition is part of what drives the economy. The process itself is challenging, but a worthwhile effort.
Baker admits much of what is featured on Centric is acquired programming, yet the station works to develop a brand that grew out of something else – Black Entertainment Television (BET), targets a younger demographic. Baker says shows like Black Girls Rock! are enlightening, and Centric will carry that torch with efforts to enlighten, entertain and to enrich the public.
Interviewed by John Moultrie
Written by Iya Bakare
Sponsored by Coco Key Water Resort