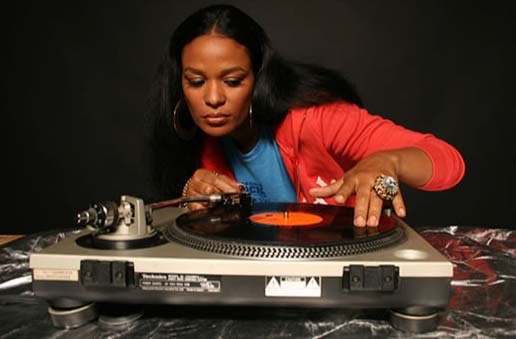 Whether it's the perception on reality TV and in entertainment, a 'study' by a psychologist, an evening news report or an advertisement posted on a billboard for millions to see, African-American women receive the brunt of negative stereotypes and images. Celebrity DJ, entrepreneur and mentor Beverly Bond provided her own rebuttal for that argument when she established BLACK GIRLS ROCK! (BGR) Inc. in 2006. The philanthropist says her non-profit organization was her way to address the blatant and insulting dismissal of black women and women of color in our community.
"It's time to bring awareness to this issue and we need to continue to put a spotlight on it because it affects our young girls," she adds. "Many of their positive images have been stripped from them and they think they're only valuable because of their bodies, which limits who they are."
Beverly says as she contemplated about all the women who 'rocked' to her such as Shirley Chisholm, Harriet Tubman, Rosa Parks, Grace Jones, Tina Turner, Nina Simone and a plethora of other historical figures, and not limited to her mother, grandmother, her aunts and teachers in her life, she couldn't contain herself with how black women continue to make their mark in history and imprints in her life. After creating a tee shirt, the innovator admits she couldn't rest on the idea for the organization.
She decided on a mission for a mentoring program to empower inner-city girls through the arts as a base to stress the significance of integrity, work ethic and service, which serves as one of the most important aspects of the curriculum, she says. In honor of the powerful black women who made tremendous contributions to history in various facets, Beverly decided to utilize BLACK GIRLS ROCK! as a way to pay homage to and recognize them. In 2010, the group partnered with BET to create an awards show for this purpose. The philanthropist cites Regina King, Tracee Ellis Ross, Kerry Washington, Janelle Monae and Queen Latifah, to name a few, as well-known supporters of BGR.
"How are these women not getting the recognition they deserve?" the founder says she asked herself. "There's a special uniqueness of who we are because we've contributed so much to this world. There's a spirituality that's innate in us that's nurturing and giving because all life comes through us. We have a special place in this world that should be recognized and I don't take that lightly or for granted."
The former introvert who recalls being painfully shy as a child says she aspires to inspire her mentees to be everything they can be.
"I moved around a lot as a child, was always the 'new kid' in school and was bullied," she recollects. "Those things stick with you. I wanted to disappear and didn't want to be seen. It's important for the girls to know there are going to be valleys and crises in their lives, but they can find the positive parts of it. Through being an introvert, I developed into an independent thinker because I wasn't a crowd pleaser."
Beverly says one of her mentees, a kindred spirit who was also extremely shy, cried when she was initially asked to speak in front of her class.
"Since she joined the program, I can't keep her quiet," the mentor proclaims. "It's great to see how her confidence level grew and to watch her mature into a critical thinker. Many of my girls said they've become better students because of the different workshops through BGR."
BLACK GIRLS ROCK! expanded its organization with a summer camp that includes 50 girls from all over the world, including parts of the U.S. As it continues to gain notoriety and forges partnerships with companies and associations such as My Black is Beautiful and the United Negro College Fund (UNCF), Beverly guarantees the grassroots focus of its hands-own curriculum will always remain intact. The entrepreneur works to create an association for boys as well.
"You can't mentor the girls and forget about the boys," she says. "They need just as much mentoring and support as the girls do."
Beverly recognizes the outcry of all cultures that support BGR. She anticipates as the organization grows, she may face more critics, but says that's okay.
Tune in to this year's BLACK GIRLS ROCK! Award Celebration on Sunday, Nov. 4 at 6 p.m. CST on BET.
by Iya Bakare