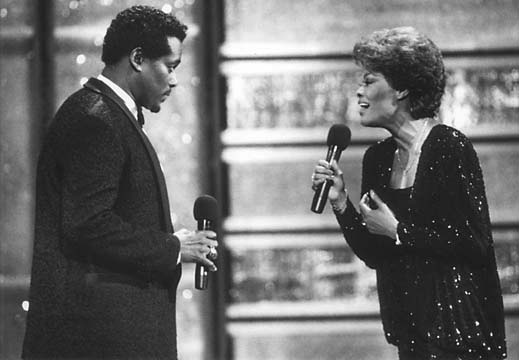 Luther Vandross and Dionne Warwick
"Some people make things happen, some watch things happen, while others wonder what has happened". –Author Unknown
Dionne Warwick is the first. Singing since the age of six, Dionne Warwick has carved out a path that has resulted in nearly sixty charted hits since "Don't Make Me Over" began its chart climb in December 1962. This pioneer's musical career, that spans 50 years, started during a time when America was experiencing racial unrest and the Feminist movement of the 1960s was gaining momentum. One can only imagine the thoughts that went through her mind during this time as she began her artistic journey, but one thing is certain – she was armed with The Vocals and a healthy dose of determination.
As a result, Warwick continuously captivated her loyal fans on every continent, secured a place as a pioneer with several "firsts", and amassed a slew of awards, including her first Grammy in 1968 for the classic "Do You Know the Way to San Jose?" With this award, she became the first African-American solo female artist of her generation to win the prestigious award for Best Contemporary Female Vocal Performance – an award that has only been awarded to one other female African-American legend – Ella Fitzgerald. Today, Dionne Warwick continues to make things happen.
Less than 24 hours after President Barack Obama was re-elected, Warwick took some time out of her day to talk to iRock JAZZ about her latest musical creation, Now: A Celebratory 50th Anniversary Album. Election Day, Nov. 6 was also the elected day for her album release and so for many reasons, that was a good day for her. Three days before, millions tuned in to BET to watch her receive the Living Legend Award from BLACK GIRLS ROCK! During the past month, millions more tuned in to watch her receive the AVO Sessions Lifetime Achievement Award, The MOBO Lifetime Achievement Award in the U.K. and the Q Magazine Award for the timeless hit "Walk on By".
Her modesty was hard to miss through the conversion of sound into electric signals as she responded to my congratulations with the following.
"It's humbling to be thought of in that fashion and I feel I've got a little more of my life to keep going on [chuckles]. She adds "Toward be continually called a legend is quite flattering, but I feel as if I still have a lot to do in order to meet the requirements of becoming a legend. If you look at people like Lena Horne, Ella Fitzgerald, and Sarah Vaughan – those to me are legends. And, I certainly have a long way to go before I can be put in the same breath as they are."
With the release of Now, Warwick says, "I think it's wonderful. It's something I think people would appreciate. It's my way of saying thank you to those who have been supportive of this 50 year career. I had a wonderful time recording it, and I certainly hope, those [who] are so inclined to put it in their repertoire of recording, would enjoy it as much as I did."
The songstress reunites with long-time friends and collaborators, Burt Bacharach and Hal David for several new tracks and revisits some of her favorite songs from five decades of classics. Now includes classics such as "(There's) Always Something There to Remind Me", "Don't Make Me Over", "Be Aware", and "Reach Out". The legendary record producer, Phil Ramone, who has worked with a long list of industry greats, brings his impeccable skills to the creation of this anniversary album as well.
Warwick's delightful musical time travel takes listeners to Now with new tracks that include "Is There Anybody Out There?", "Love Is Still The Answer", and "I Say a Little Prayer", a duet with her son David Elliott.
"Love Is Still the Answer" "is basically a very inspiring piece of information letting people know that it truly is the answer to all of the madness going on in our world", she adds. The entitling of the album was simple. Warwick says "I woke up and that's what it was. It just came to me because it represents Now."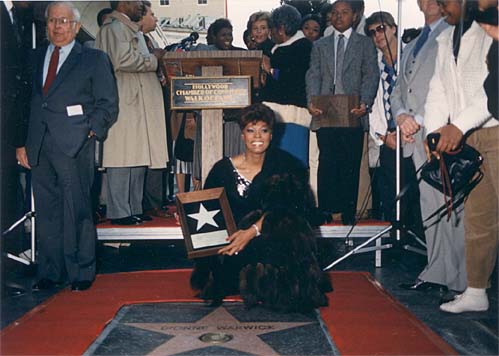 "Wow" is Dionne Warwick's choice of word to describe her 50 years in the industry. She continues by saying "To be in this particular industry more 10 years is successful. 50 is definitely a 'wow'." The anniversary celebration will include the release of a documentary about Warwick's music and life, and features contributions from Barry Manilow, Gladys Knight, Bette Midler, Mary Wilson, and many more.
Of her world tour, Warwick says "It's wonderful to be able to revisit places that I have been touring for the past 50 years. We have covered three [continents] already and we have three more to go." Warwick chuckles while saying that she plans on taking some time off "between songs".
The groundbreaker shared her views on how the scope of music has changed over the years. "It's quite different and geared for the audience that it's being presented to, and that's our youth. It's suitable for them and that's what I think of it." She goes on to say, "Since recording artists are known as messengers, we should be sending some positive and possible solutions to what is going on in the world today."
The author of the opening quote, who remains unknown to me, would definitely agree on classifying Dionne Warwick as a person who makes things happen. This musical legend and staunch philanthropist who preceded the mainstream success of some of her musical peers by becoming the first such artist to score a dozen consecutive Top 100 hit singles from 1963 to 1966 continues to trail-blaze. The humbleness that traveled over the phone lines was not indicative of one who has performed before kings, queens, presidents, and heads of state. Known as the artist who "bridged the gap", Dionne Warrick's soulful blend of Pop, Gospel, and R&B music continues to transcend race, culture, and musical boundaries. Her legendary, iconic musical and humanitarian status is forever etched in stone, as illustrated with her own star on the Hollywood Walk of Fame.
Now is wonderful and everyone should have it in their collection. Please join iRock JAZZ in wishing this legend an early Happy Birthday and of course, take a listen to her latest release. More about Dionne Warwick can be found at www.dionnewarwick.info. Fans can also look forward to her fragrance, "Dionne" in the beginning of 2013 as well as her skincare line.
by Lisa George