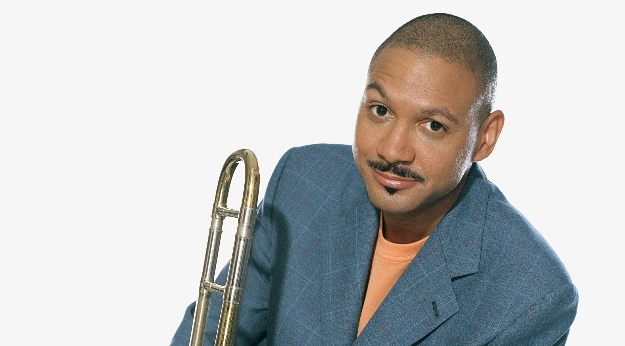 "Trombones generally sit in the middle of the Jazz band. They keep the trumpets and saxes away from each other. There's always that love and hate relationship between them." – Delfeayo Marsalis
The name "Marsalis" is synonymous with Jazz, like the name "Kennedy" is to American politics. No other family has done more to promote, educate and facilitate Jazz around the world. As the lone trombone player of the family, Delfeayo sees his instrument as an extension of his personality; he is the middleman or the peacekeeper, bringing order and stability to the piece. Born in New Orleans, he was exposed to the likes of JJ Johnson and Curtis Fuller at a very young age. In this fascinating interview, we examine his feelings about Jazz, his family and the importance of musical repertory as a form of expression.
iRJ: What was it like growing up in such an incredibly musical family?
DM: It wasn't always about the music. My mother was sure to make sure we played sports. Music was not the main point; she wanted us to be well-rounded. We knew what our parents did, but it wasn't expected that we had to play instruments.
iRJ: You are a classically-trained musician. What is the connection between Jazz and Classical music?
DM: The blend of European classical music teaches you how to read music. You are able to learn themes and improvisation. Studying classical music gives you an idea how to construct ideas for a period of time. You learn control and technique. You also learn about orchestration and tamber. If you listen to have Beethoven or Stravinsky and how Ellington constructed music too, it's important to understand how Beethoven got the music to sound so big. So, that's another connection.
iRJ: So would you say that technique is just as important?
DM: Technique takes care of what you are doing. You are not thinking when you are playing. That's what's hard about Jazz improvisation. That's what happens when you have a concert musician who switches over to Jazz. The inclination is to go away from the technique.
iRJ: In sixth grade you gravitated towards the trombone, which is an incredibly emotive instrument. Why did you decide to play the trombone?
DM: Kids gravitate to the instrument that best represents their personality. Trombones generally sit in the middle of the jazz band. They keep the trumpets and sax away from each other. There's always that love and hate relationship between them. The trombone is the peacekeeper. The trumpet plays the lead, but trombone is the rhythm section. It has a big responsibility.
iRJ: Since you said the trombone matched your personality, would you say that you were you the peacemaker in your family?
DM: As a producer, I would say yes. I was the one who kept family documents and pictures. The other instruments can have a singular view. The trumpet only worries about the melody. Ellington would be lost without trombones. He never did anything without trombones. There is an album he did featuring Clark Terry, and the piece could not work without the trombone. The trombone is flexible. Louis Armstrong never wrote anything without trombones either.
iRJ: Does being from New Orleans carry a certain significance as a Jazz musician?
DM: Well, what do you mean?
iRJ: I've heard other artists make references to musicians from New Orleans by saying that they have a distinct style, or they really know the music.
DM: Most people from New Orleans play a unique style of music. It is a guttural or instinctual approach to the melody. The second line is where it's at! Just by listening to how they play that part of the song, can tell you whether they are from New Orleans or not. When you study Jazz, the teacher may play "Castle Rock", a tune by John Coltrane. When you first listen to it, you think that there is no possibility it's Coltrane, even though it has a strong foundation in the blues. But, when you listen to it for a second time, you realize that by not having that one fundamental element, he's not from New Orleans. There is a void. Something is missing. As someone from New Orleans, I can honestly say that we play the music for the people. It's part of the culture and who we are.
iRJ: So, in order to play the New Orleans style, you must understand and accept the culture to do it?
DM: Yes. There is no other way.
iRJ: Your earliest influences include the likes of JJ Johnson, Curtis Fuller and Tommy Dorsey. Who would you say had the most significant impact on you?
DM: Well, early on it was definitely JJ Johnson. But, I would say that everyone has a filter for whoever they enjoy listening. For Wynton, it was Miles Davis. For Branford, it was Wayne Shorter. For my younger brother Jason, it was Jeff "Tain" Watts. For me, there is no way to escape JJ Johnson. That's how I hear music. I think it is important to embrace that idea and experience to arrive to new concepts and ideas.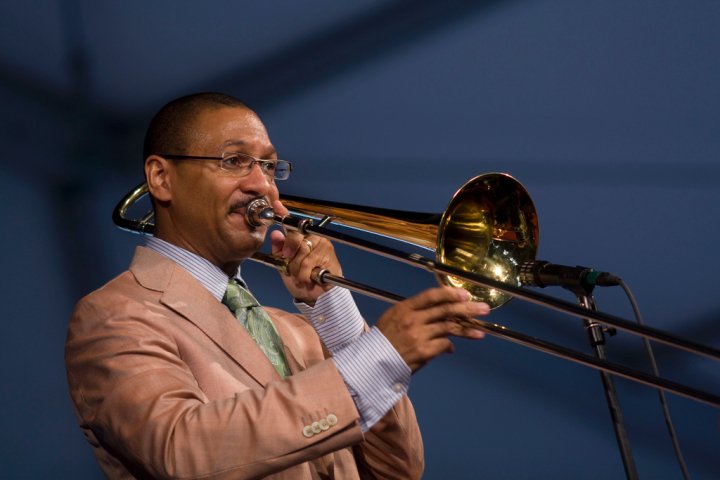 [/caption]
iRJ: Christian Scott spoke about how during his development as a player, a lot of the musicians around the time seemed to turn back the clock by playing music of the golden age of Jazz. Players like Wynton Marsalis were seemingly bringing back Jazz with what they were doing. Is the evolution of Jazz a continuum?
DM: Jazz must get back into the black community. There are musicians here and Kenneth Terry comes to mind. When these students come to New Orleans to play, it's considered high brow music and it's disconcerting. They look down on it like it's an embarrassment. You don't understand why. I am realizing more and more that the younger generation often plays for themselves. Duke Ellington and Louis Armstrong were part of a great specter of entertainment. The younger guys are only surrounded by themselves. When you don't play with other entertainers, it affects the way you perceive the music. What is missed a lot is the importance of the guys out here swinging. That's what shows like "Treme" missed. My dad is the anchor of the New Orleans community. His level of importance is very great. We have to get back to the people. It must include all facets of the music.
iRJ: The Marsalis family is the Kennedys of Jazz. How much of a responsibility do you feel you have collectively and individually?
DM: First of all, I cannot speak for the entire family. But, my mother and father were not happy with segregation. They taught us that we had a responsibility to do whatever we could to give a voice to their generation. Early on, we knew music as a certain way of life. As you know, four of the six children gravitated to music. We didn't think we had to save Jazz, but maybe Wynton did. The main thing was to grow up to be responsible men. If it happened through Jazz, then so be it.
iRJ: Where there any musical disagreements between you and your brothers? What are things that you all don't agree with individually?
DM: Between my brother Branford and me, my mother described it best: I like to play music that the people enjoy! In short, Branford doesn't! Branford plays music on such a high level that he's not as flexible. If you aren't a lover of Jazz, he'll leave you in a trail of dust! For me, I like to bring them in, and then bust them in the mouth! The main difference is that he believes in repertory performances of Ellington and older musicians and I don't. That's why he has the Jazz at Lincoln Center program. They are trying to recreate music of the greats. My work called "Sweet Thunder", I had to change it in some way. I had to figure out how to maintain the integrity of the Ellington's music, but add my own twist to it. We have different influences. He's a trumpet player, which means he can a have a single vision and be really pointed. I tend to be more flexible on things. Jason and I have our differences as well. When he played with Marcus Roberts, he was influenced by Mark "Tain" Watts. At the time, he was told to remove all that playing, which I thought affected his ability to develop. It's like saying you speak English and then speaking Russian, or vise versa.
iRJ: Do you feel like you receive a "free pass" for being part of the Marsalis family?
DM: Let me say it this way about myself: No trombonist has come out with a better or stronger concept than what I have done. Now, some are better players, but if you look at my first album called Pontius Pilate's Decision, there was nobody at age 25 who played like that. That allowed the critics a certain leeway. However, they missed the boat on the musical concept. They loved what Wynton was doing, and then Branford came along. When I came around, they weren't sure what to do with me. They said that, "He came out of the shadows" of his brothers. You can't control what the public is ready for. Pontius Pilate's Decision was different. Now, when I came along, if I came out chops blazing, it might have been a different story! For me, the journey is about maintaining and getting better. I'm just trying to get better.
iRJ: On some levels, since your father never reached critical acclaim, do you feel like he is living vicariously through all of you?
DM: Now that's a question that you have to ask him. I mean, he may live vicariously through Wynton. There is a certain level of pride and joy. Dad was respectful of all of us. I mean, I produced my dad when I was seventeen years old. It was strange having him look for me to run the show. He'd say things like, "You know the technology." He gave me a lot of latitude. He had a lot of respect for us. He's really low key. He doesn't need the accolades. He's just really cool. He doesn't need to play for one hundred people. The main thing for him is that he brings everything when he plays. I was playing at convention with Elvin Jones years ago. One night, there was a small audience, which was not responsive. The next night there was a bigger crowd that was far more responsive. I made the comment and said, "Well, at least they are more into it tonight." Elvin was so angry with me. He let me know that we played for the people, for the people. Whatever the response was doesn't affect what we do. Our goal is always the same.
iRJ: What is the best advice your dad has ever given to you?
DM: Always know the lyrics of the song. That always makes the difference.
by Mark A. Moore