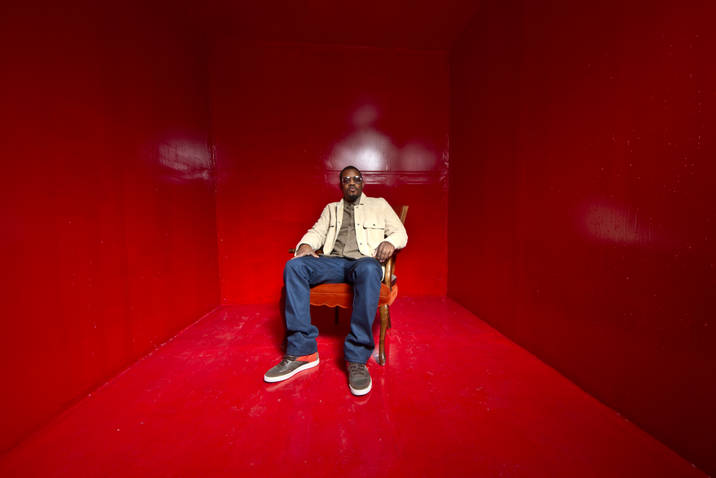 "Without great solitude no serious work is possible"  – Pablo Picasso
Some of the world's greatest minds from Mozart to Einstein have extolled the virtues of solitude as necessary catalyst to spark genius. As creativity often flourishes when one is alone, the ability to focus deeply and hear one's own thoughts open the door to endless possibilities of inspiration. And thankfully, we, the public, often become the beneficiary while sharing in the reward of the artists' isolation. While no one can deny the contributions of Mozart or the immeasurable impact of Einstein, one listen to versatile jazz drummer, record producer, Karriem Riggins, new 34 track opus, aptly titled "Alone Together", listeners bear witness to the gift of his solitude, a colorful mosaic of his contributions to music.
Riggins, one of those few artists with the ability to balance and thrive throughout multiple musical genres with ease, is highly lauded in both the worlds of hip hop and jazz. His prolific body of work includes production credits for Common, Erykah Badu, and The Roots as well as providing the sonic backdrop for musical titans like Ron Carter, Oscar Peterson, Donald Byrd, Sir Paul McCartney, and more. Much of the new project, whose title bears the name of one his favorite jazz standards written by Arthur Schwartz and Howard Dietz and covered by the likes of Dizzy Gillespie, Sonny Rollins and more, was crafted on the back of a tour bus while touring Eastern Europe and Russia with Grammy Award winning jazz vocalist, Diana Krall.
iRockJazz recently caught up with the Detroit native, who recently moved back to Detroit after living and working for many years in New York and Los Angeles, to talk about resurgence in Detroit, playing drums for one of The Beatles, what makes a good drummer, and the meaning behind his debut solo album "Alone Together".
iRJ: How does it feel to be back home in Detroit?
KR: It feels great. I have a lot of space to create and I get a lot of inspiration just being here. Over the years I've created so much here, I feel connected to the city. I also created in LA and it feels good there, but it's just a different vibe here, a different spirit. It's interesting you mention the Detroit Jazz Festival because that was one of the festivals I learned a lot from. It was called the Montreux-Detroit Jazz Festival back when I was little. I grew up seeing so many people there.
iRJ: Do you sense a resurgence or rebirth in music taking place in Detroit?
KR: I definitely feel that. The city already has such a soul to it. There are so many artists here that are really doing their thing from Black Milk, who I love listening to, and also Waajeed. A lot of great musicians and producers are here and I think that it is definitely needed especially seeing what happened to the city. It's definitely like a rebirth. We need it bad. The spirit of the music is here and the love is still here. I'm glad to be a part of helping the city come back.
iRJ: Since the economic collapse and the automotive industry woes, it seems like businesses are coming back and the environment is changing. It seems like it's a good time for Detroit.
KR:It is. There are some young musicians here playing their butts off. I know you guys covered the Detroit Jazz Festival and I know that you've heard the city has some great young talent.
iRJ: Tell us how you got your start in music.
KR: My mom is a music lover and had a large record collection. My dad is a jazz musician, so I grew up going to a lot of rehearsals with him. He played with Marcus Belgrave, a world renowned trumpet player from Detroit who played with Ray Charles, and he also played with Grant Green. So, just being around that inspired me. I knew early on that this is what I wanted to pursue. I've always known I wanted to do music even at 3 and 4 years old.
iRJ: What instrument did you father play?
KR: He played piano and organ.
iRJ: Wow. We recently interviewed legendary organist, Dr. Lonnie Smith.
KR:Oh yeah, Lonnie knows my pops. They're pretty tight.
iRJ: So, your dad played the piano and organ, what drew you to the drums?
KR: Man, hearing guys like Roy Brooks, Lawrence Williams, Louis Hayes—these are all guys from Detroit. It was just being in the city, going to different shows, hearing my dad play. I always gravitated towards the rhythm. Also, listening to the records, the first thing I listened to was the syncopation and the rhythm.
iRJ: Out of all the instruments I am most captivated by the drums and even more so struck by the camaraderie between drummers. Guys like Chris Dave, Otis Brown III, Questlove and many others–it seems like drummers root for each other the most and there's almost like a brotherhood of drummers. Why is that?
KR: Rhythm is just infinite and there is love in the rhythm. The drums are the heartbeat of any band. I just think that we all have a love and respect for each other to be able to have that type of talent. Everyone has their own thing and it's unique. That's the beauty in it.
iRJ: What makes a good drummer?
KR: I think having the ability to know when to play less and when to play more and to just be funky and create that foundation for a soloist or rhythm instrument like the guitar. Drummers can create that foundation for everything to feel good. It's all about feeling good and creating that platform to be that foundation. The drums are the heartbeat and it keeps the music alive.
iRJ: Who is your favorite drummer? Past, present, and future.
KR: Okay, I have several. My favorites from the past are guys I listen to everyday like Elvin Jones, Philly Joe Jones, Art Blakey, Max Roach, Louis Hayes, Roy Haynes, Clyde Stubblefield, Steve Ferrone, and Zigaboo (Joseph "Zigaboo" Modeliste). Present, there are so many guys. I love Greg Hutchinson, he's one guy that really helped me out in my career and he's one of my favorite drummers. Also, Chris Dave, Questlove, of course, he's one of my favorites. I think drummers are the best music producers too. I love a lot of these guys for not only the way that they present themselves on the instrument, but also for their sense of production. Kendrick Scott is another great drummer as well as Brian Blade  and also Damion Reid. I get something from everybody. I always get some type of inspiration.
iRJ: Are there any younger, lesser known drummers that you know of that we should be on the lookout for?
KR:Definitely, there's a young drummer here in Detroit, I think he's a senior in high school now, whose name is Kayvon Gordon. He is going to be great. There's another drummer, not as young as Kayvon, by the name of Thaddeus Dixon, he's from Detroit as well.
iRJ: You mentioned earlier that drummers make the best producers. Why?
KR:They have a different perspective coming from the rhythm side. You know exactly how to sit the music right to make it perfect. Listening to Questlove's music you can hear how it's from his perspective and it's just so funky. Chris Dave as well, he makes some real funky stuff.
iRJ: You studied with Ray Brown. How would you describe his influence?
KR:What I learned from Ray while playing in his trio was how to interpret arrangements. He had over 100 arrangements in his repertoire. He had two or three drummers prior to me joining the trio, so it was just about learning how to interpret the music in a different way that they did. He took a big band approach to his trio so I had to listen to a lot of Count Basie and Duke Ellington and incorporate that into his arrangement and style of writing for trio. So, I learned a lot about playing big for trio style.
iRJ: It's interesting that you mentioned you had to learn big band style. I interviewed another Detroit native, JD Allen, for iRockJazz. JD told me about how he had to go through Betty Carter's big band training and she forced them to learn composition.
KR:Oh yes, JD and I came up together. Yes, we did that same thing together (Betty Carter's Big Band). We all went to New York. Me, JD Allen, Peven Everett, Eric Revis, we were all part of the Jazz Ahead program.
iRJ: You have played for a wide range of artists from Sir Paul McCartney, Diana Krall, Milt Jackson, Ron Carter, Roy Hargrove and more and also produced for Common, Dwele, Erykah Badu, The Roots and many more. What has allowed you to thrive in both worlds?
KR: God. It's just a blessing to be able to just touch both genres. It relates, but it kind of doesn't relate. Hip hop has always been in me as well as jazz. So, I just feel like from what I listened to I had to be the best that I could be. I grew up listening to UTFO and a lot of the original hip-hop as well as Miles Davis and Duke Ellington. I really studied a lot of music so that gave me the opportunity to make music on both sides.
iRJ: To a certain extent, you don't force hip hop on jazz and jazz on hip hop. You give both their sense of individuality. They can both be in separate worlds and also exist together.
KR:I like to stay true to the essence of the music and not half do certain things. Some people want to experiment with the fusion, but I'm with it being natural and really trying to take it to another place.
iRJ: How did you start playing with Sir Paul McCartney? Describe that experience.
KR: The experience was very authentic and easy. I got the call from Tommy LiPuma, who produced the project. I recorded a session with Eric Reed featuring Ron Carter on bass for Tommy back in the 90's, so it was love that he reached out. In the studio with Paul we didn't know what we were going to do. He had a list of tunes and said "let's play these and figure out how to do them on the spot". It was a free process, which he actually said was similar to how he made records with The Beatles. They didn't over strategize and it was really like vibing. It was a beautiful experience. He's just an all around great guy, good personality with a great heart. He treats everyone with the same amount of respect. It was a surreal experience, definitely, but I had to do my job, stay focused, and then trip out later.
iRJ: As someone fully entrenched and thriving in both hip hop and jazz, you fully embrace the machine (MPC) as an instrument, whereas some may feel that the only "real" instruments are live instruments. What is your take?
KR:I feel that anything is an instrument. You can play anything. Like playing pots and pans coming up as a kid, those were my instruments. Anything with which you can project an idea is an instrument. And my instrument is the drums, of course. The drum machine, the MPC 3000, I'm very connected to. It's all about the mind and your ear.
iRJ: Where do you feel most natural behind the drums or behind the boards?
KR: The drums are the foundation for me. That's where I get all of the ideas and the inspiration. So, that's home for me, naturally. Everything else is just an extension from that. I'm comfortable on the drums, but also production is about using your mind and the way I make beats, with chops, loops, and breaks, it's just a different way to think and figure out how to do it different than the last person.
iRJ: Describe the meaning behind the title of the new project, "Alone Together"?
KR: "Alone Together" is one of my favorite jazz standards. It's basically all about love—the love for my craft, the love for my instrument, the love for music. We can all listen to the music together, but I made the music alone and that was my love and passion. It was also about spreading that love out into the universe and to music lovers, which brings us together. So, I thought that was a powerful phrase.
iRJ: I get the sense that you locked yourself in a room for a few days and just began creating music.
KR: A lot of the music was made alone in Eastern Europe on a tour bus, while on tour with Diana Krall. I turned the back lounge into my lab, my studio. A lot of the music was done on tour.
iRJ: The album has 34 tracks and some tracks are as short as 14 seconds and as long as 3 minutes. What was the intent with the length of some of the songs?
KR:People have been waiting for a project from me for a really long time and I just wanted to give the listeners a lot of quantity. I wanted to make it like a suite or a collage, so certain songs I felt like less was more. The attention span for certain songs can be short so I cut them down. The longer songs are the ones that I connected to that I thought people would connect to.
iRJ: Tell me a little about Jay Dilla's influence on you and his contribution to music?
KR:His influence on me was incredible. He was an incredible person away from music. That was inspiring from another producer who knows that I'm a producer and we are in the same genre of music and he had real love for me. He brought me records–this is when I first started. I had my drum machine and I would go over to his basement and he would give me loops. That initially set my ear off from how to listen to a record for chops and loops and just how to listen to a record from that perspective. Being a jazz musician we listen to the record, we listen to each instrument. We learn the solo's, we learn what each instrument is doing, but never listening to it from a perspective of chopping it or flipping backwards or whatever. It takes a different type of ear, so I learned that from him. He was a drummer as well and also played piano and bass. He had incredible rhythm, harmony, and syncopation. It was from another place.
iRJ: What's next for Karriem Riggins?
KR: I'm in the process of rehearsing a band. I'm doing some shows and I'm going to present some of the music live. We'll also be doing a few record release parties, one in particular will be a set a Brooklyn Bowl in New York with Questlove in October.
Karriem Riggins will release his solo debut record, "Alone Together", on Stones Throw Records Oct. 23, 2012.
Visit http://stonesthrow.com/karriemriggins to get more information, music links, podcasts, and upcoming events.
Check out Karriem Riggins discography, video, and info via www.karriemriggins.com
by Johnathan Eaglin