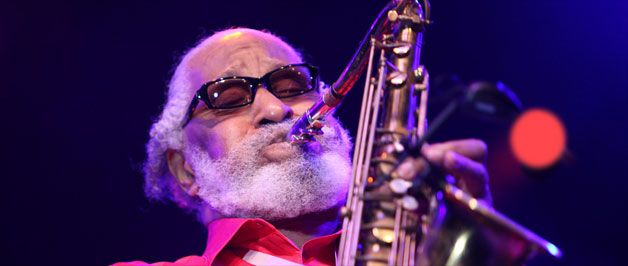 Jazz will always be here and depending on the people we have coming up, jazz will always be something that other music will come to get their inspiration from. – Sonny Rollins
There are few people that can call the likes of John Coltrane and Miles Davis their immediate peers. Few can speak candidly about the style and improvisation of Thelonious Monk. Sonny Rollins is one of a few jazz artists that could make such dubious claims. He is one of the world's finest jazz musicians whose experiences read like a time capsule taken from the pages of some of history's greatest musical achievements. In this rare interview, iRock Jazz got a chance to learn more about his feelings about jazz, his passion for his craft and his acute reflections of some of the best to ever play.
iRJ: You've worked extensively with Thelonious Monk in your past. Would you say that he is your biggest professional influence?
SR: Yes. Thelonious Monk was once described by me as my guru. You know what that means, right?
iRJ: Yes sir, I do.
SR: Well yes, I describe Thelonious Monk as my musical guru. I think that answers your question.
iRJ: As far as your style, did you think he had the most to do with it, or did you develop a style due to him?
SR: I'd say it was probably some of both. I played with him when I was young. He sort of took me under his wing. I'm sure I took some things from him as far as my style went. I had a style before I met him. But I'm sure he refined it and added to it.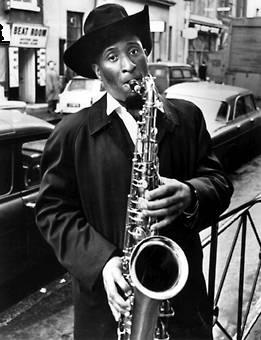 iRJ: You've done so much. And you've worked with so many. What keeps you creatively motivated?
SR: Well I think I am creatively motivated because I sort of came on the music scene as a novice. Many of the people I began playing with were already made, they were already stars. I was sort of a jazz prodigy as a way of speaking. And so my whole life has been trying to improve myself musically, adding to my knowledge. And this has continued. I am still in that same mode. I come on the scene fully developed and I know I am not fully developed! So that's been fortunate for me because it's kept me involved with music. It's still my 24-7 lifestyle and I practice every day. And I still love it as much as I did. Just that now of course, I have more responsibilities. I enjoy practicing when I'm at home by myself, just as I did many years ago when I first started.
iRJ: Wow! I think its amazing to hear that someone of you caliber, still practices as hard as you do!
SR: Well that's good. Of course music is something we never fully learn. There is always something to learn. That's unfortunately the way of a professional's life. People get to a point where they're successful and they have established an acceptable style. And that's it. I think that's perfectly fine. I envy guys that can really get it together and have a style and just play that style for the rest of their life. I'm not that kind of musician. I'm not that good to be able to establish a style and play that. I am constantly changing. It's not a curse, but actually it's a blessing. It fits in perfectly with my nature. I guess it makes me an anomaly. It was just a perfectly normal thing for me.
iRJ: In your opinion, how has jazz changed since you started playing?
SR: I don't want to be technical. The real point about jazz is that it has not really changed. I can listen to Dixieland or a New Orleans jazz group or I can listen to some of the young kids today, whereas some of it is different, but in some ways it is the same. It's the same but different. This makes it a profound art form. It is the same as it was in the twenties, but today there are differences that were instituted by great musicians; their styles and patterns. But really, it's the same music. It's the music of joy and excitement with expectations. It is really a unique music. It is the music of the ages. It's really a great honor for me, that I was given an opportunity to have the gift to play jazz. I am twice blessed. When I grew up, all of my friends wanted to be jazz musicians. Jazz musicians were so cool; they always dressed sharp and they had all the fine women. Jazz musicians were what we wanted to be. But only I had the gift and so I'd practice. But it was a certain gift I was bestowed with. So I'm a really a very grateful person.
iRJ: Here in Chicago we have recently lost a flurry of prominent musicians, most notably Von Freeman. Did you know Von?
SR: I've never met Von Freeman. I know of him. He seemed to be a spiritual brother of mine. We know many of the same people. I actually knew his older brother and his other brother: George Freeman and Eldridge Freeman. But I didn't know Von. But as I said, Von Freeman and I are spiritual brothers. So no, I never met him face to face, but I feel that we closely align with each for some time.
iRJ: "Road Shows Volume II" is your most recent album. What is the significance of this work? Talk about this album.
SR: That album was recorded at my 80th anniversary concert in New York City. I had a lot of my friends over the years come by to wish me happy birthday! So there are a lot of great musicians who are present on that album. It was really quite poignant as far as I was concerned. So all these people thought enough of me to come by and make a record. All are my favorite musicians. So that's what it is, live from the Beacon Theater.
iRJ: You're the recipient of numerous awards. Is there an award that you feel is more significant? How do you rank all of that?
SR: It's very gratifying. I always say that of all the awards I get, I might not agree with them putting me on whatever pedestal they put me on. But I am grateful because it allows me to continue doing my work. And my work is to trying to create meaningful music in the field of jazz. So these awards are very relevant in that they enable me to be well known. So those are what the awards mean to me. One of my most coveted awards was the one I got from Austria. It has only been awarded to two other Americans. Frank Sinatra was one and there was an opera singer who was very famous.
iRJ: The Austrian Cross?
SR: Yes, that's it.
iRJ: Is it Jessie Norman?
SR: Yes. Jessie Norman, Frank Sinatra and Sonny Rollins are the only three Americans to receive this renowned acclaim from Austria. I know that the European people have a very deep respect for the arts and music. So I am most proud of that. There are others as well, but that one I am particularly proud of.
iRJ: I'm going to ask you about three people and just give me your first impression of whatever comes to mind: Miles Davis.
SR: Miles was a very, very great musician; a very soulful musician and one of my best friends in music. That was one of the first bands I ever played with. Miles got me in his band. He heard me playing with another band on the same job and he asked me to join his band back in 1948. He's a tremendous force in music and a personal friend. He's great.
iRJ: Charlie "Bird" Parker?
SR: Charlie Parker was like our prophet. The music he was playing was sort of a breakthrough from one style to another. We were of an age where that was our style and Charlie Parker was our prophet. He was a very important musician. He was also a very aware person. He broke the barrier between jazz as entertainment and jazz as serious music. Many of the musicians prior to Charlie Parker had to have a certain entertainment element to what they did. Charlie Parker denied all of that. He was just about his music which was different, although as years go by you realize it was all the same, but for our conversation right now we'll say its different. I will also say his demeanor was revolutionary to a great extent.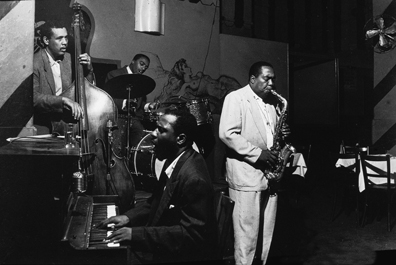 iRJ: What do you mean by that?
SR: He was not an entertainer. He didn't smile or make jokes and then play. He played, period. A lot of times, many had to entertain, they had to sing or make jokes. I'm not criticizing that. Guys had to do that to put bread on the table. So I'm not criticizing that. But when Charlie Parker came along it was revolutionary in many ways. The music was revolutionary and his demeanor, the way he acted, it was all serious. It was Black American Classical music. It was a change from laughing, dancing and joking. And a lot of great musicians had to do that. That's the way things were. But Charlie Parker had the revolutionary music and the revolutionary options: This was serious music. We were not going to be entertained; you were going to listen to serious music, like you would go to a concert hall to listen to Johann Sebastian Bach or Ludwig von Beethoven.
iRJ: What about Coltrane?
SR: Coltrane was such a beautiful spirit. He had what you would call a "paradigm shift". He started playing things that weren't coming up the line from Charlie Parker, which most of us were doing. Yet, like I said before, jazz is the same but different. But Coltrane had his own beautiful style. You know Coltrane was born on the cusp, meaning he was born between two astral signs. You could see it in his playing because he was a spiritual man who had some fantastic music. I never thought that anyone could equal Charlie Parker. But Coltrane did…maybe beyond him. And I am speaking in technical musical terms. Everybody followed Coltrane. He was a very spiritual person. I was glad to be able to say he was one of my best friends. Thelonious Monk and John Coltrane were my really close friends. Miles and I would hang out and all of that. But I could go to one of those guys and say "Look I need five dollars" and nobody would know anything about it." So Coltrane was a beautiful person as well as the music that he did. There is nothing you can say about it man, Coltrane was one of our Gods.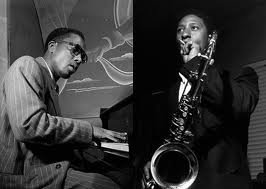 iRJ: What about Monk?
SR: Well Monk is the same thing. [Laughter] When I started playing, I was pretty young and Monk took me under his wing. I used to go down to Monk's house and we used to practice and rehearse. Monk was a piano player and his music was very difficult. But it was completely unique. We used to call Monk "The High Priest". That was his name.
iRJ: Why the High Priest?
SR: It was because of his music. We knew it was something high! Everybody could see that it was something special. We called him the "High Priest" because he also carried himself like a high priest! Also because the way he acted. He was the "High Priest". And his music was of a high priest. It was completely from outer space.
iRJ: You lived in an era when jazz was a part of the popular music. And now it really isn't. Do you think it can ever get back to its origins, or become the popular music? Does it need be popular music to survive?
SR: Jazz was more popular through the efforts of such great people like Louis Armstrong. They made it so that people actually realized that it was music of greatness. So it was popular under other music at the time: you had world music, you've got music from Africa, Reggae, folk music. There are so many ways people hear music today. However, I can say this: Jazz will always be here and depending on the people we have coming up, jazz will always be something that other music will come to get their inspiration from. Will it ever be what it was like in 1925? No. This is not 1925. This is a different time. But jazz will always have its potency because it is such a great musical style. Jazz will never be far from the people's consciousness. A lot of the music gets its power from jazz. Don't let me start talking about stuff like hip-hop! Hip-hop is under the jazz umbrella whether people understand it or not, that's jazz. Jazz is involved with every kind of creative music that's happening in the world today is coming out of jazz.
iRJ: They used to say that Ellington was "a man beyond category". He was unjustly criticized for this statement. In retrospect was he really beyond category of just a really good player?
SR: Duke Ellington was such a force in American music. When I was three or four years old, I remember hearing Duke Ellington's music. It was all over! He was such a musical innovator. This is why jazz is such a tremendous art form. Duke Ellington was so unique. If you listen to Monk, you can hear some Duke Ellington coming out. This is a continuum. You can't take one person. Duke Ellington influenced a lot of people in what he did including the modern jazz people. Duke Ellington influenced us…me too. It is a real form. It is a real, bona fide art form. It goes and goes. It's a beginning and keeps going on. As long as this planet is going to be out here, jazz will be a part of it. So if anyone says anything about Duke Ellington except bowing down to him, it's ridiculous! The man has done so much! His orchestrations and his melodies… he's a giant. He's one of our Gods. You can't say anything negative about Duke Ellington. If I saw somebody, I'd punch him in the face….[Laughter]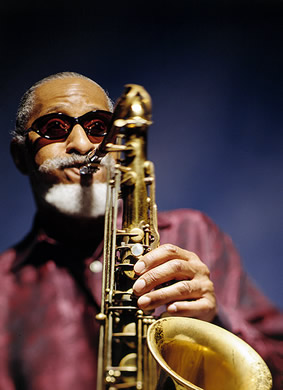 iRJ: You have a nickname called "Newk" I guess it was from somewhere in New York. Somebody wanted to know where you got it from.
SR: Last Sunday, a guy was on the radio as I was listening to a sports show. I listen to a lot of sports shows. He announced they were going to have a great guest on the show named Don Newcombe. Don Newcombe was a great pitcher for the Brooklyn Dodgers. He was there shortly after Jackie Robinson. There was Jackie Robinson, Roy Campanella and Don Newcombe. And Don Newcombe was a really, really great pitcher. He started two ends of a double-header. He'd pitch the first game and then he'd pitch the second game of a double-header. He had all sorts of records and honors in baseball. At the time, I had a facial resemblance to Don Newcombe. Miles Davis and I were someplace in a cab and the cabdriver looked at me and called me Don Newcombe. So Miles started joking around and started calling me "Newk". It became my nickname. I heard him on the radio last weekend. He was a great, great baseball player and fighter for human rights. He was somebody that everybody should know about. They should know about Don Newcombe. He was somebody who wanted to be free. He was a human soul that made everybody feel great. He made everybody feel good of all colors. He was a universal hero.
iRJ: Give me one thing about McCoy Tyner and Dizzy Gillespie.
SR: Dizzy Gillespie was called the "King of Bebop". That was the era when I was growing up, he and Charlie Parker. They made a lot of records and they were my heroes. He was a great musician, composer and orchestrator. What he did, he was one of the first people that was able to sell bebop. Bebop at the time was something sort of different. It was a new style coming in. Dizzy went out there and sold it. At the time, people didn't appreciate it. So he was a big figure. His music was great. He was in the style of an entertainer, like I was talking about before. And if you remember I said there was nothing wrong with that. Louis Armstrong was in the style of an entertainer. That's what jazz musicians did at that time. In doing that, he was able to popularize this new revolutionary music. Dizzy was a funny guy. He liked to make a lot of jokes. It was him. He wasn't doing anything that wasn't him. Dizzy Gillespie was a God. He is in the firmament.
iRJ: What about McCoy Tyner?
SR: McCoy Tyner is one guy that is younger than me. I know McCoy when he used to play in Philly; he was a young guy in there. Bud Powell was someone he learned a lot from. But McCoy is a guy who that is vastly underrated. There are so many people that copied McCoy's playing. He's a great musician. After all the people you asked about were older than me. McCoy is younger than me. So to discuss him is a little different. But as far as talent goes, and what he has contributed his music is enormous. It's deep. This cat has done a lot. Whether he was with Coltrane or just his own playing: McCoy is a real giant. I feel like a lot of these people need to be better known. I feel like he should be more honored. He's done a lot. And he's still out here. We've got to honor this brother. He's still here. He needs to be more respected. They need to give it to McCoy Tyner.
by Mark A. Moore