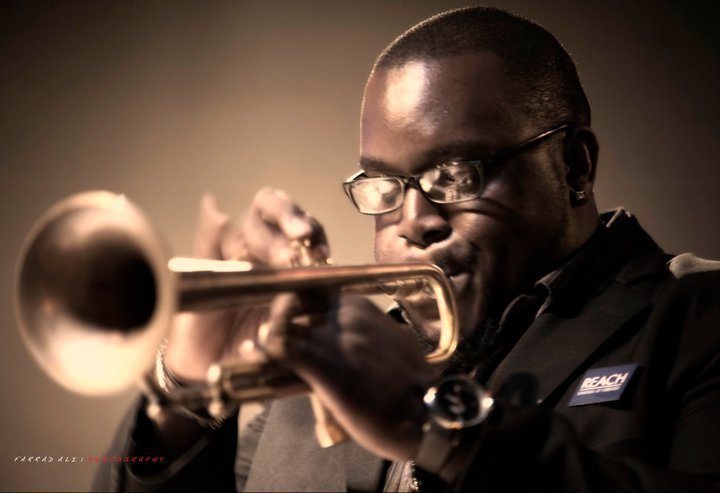 Marquis Hill released his second CD Sounds of the City on Aug. 23. An accomplished musician, composer, arranger, and music educator at age 24, he mastered how to temper his emotional center while playing. He exhibits a more complex thinking and reasoning when he plays the trumpet or flügelhorn. It is wonderful to behold how Hill is able to control his pure youthful exuberance when playing without crushing and destroying the beauty of his music. Instead, Hill harnesses it, making sure that he has some healthy constructive space in which to create the most spectacular, inventive, and imaginative music.
The day after his album was released, Hill played to a packed house at Andy's Jazz Club in Chicago. While on stage peering out at the audience, he thought about the entire music experience.  "It's not about how I sound but how my band sounds as a unit," says Hill. His goal that evening was to create "pretty music." He achieved this. He thinks of nothing else but the music while performing. "Everyone has drama in their lives, but when I'm on stage I block that all out and just play music," says Hill. His live performances are an outlet, a place where he can escape from reality.
Marquis Hill's music flowed easily complementing the nuances of his band mates. They transitioned from one song to another with music as their only form of communication. Their continuity mimicked the connection captured by notable ensembles like the Jazz Crusaders.
Hill is a Romantic Jazz artist; he played melodies in ways listeners of his music are most likely to remember. Most notable was the tune "Wade in the Water", the Negro spiritual first published in New Jubilee Songs. It was almost unrecognizable as he initially played it in a way that induced melancholy, then the song transitioned seamlessly provoking inspiring optimism.  The ensemble led by Marquis Hill was spontaneous in their delivery, masterful with their instruments. They changed chords, pace, and tempo according to how they felt at the time without sounding rehearsed. Marquis transitioned between playing trumpet and a flügelhorn that added a useful low range changing the dynamic of their sound.
When Hill creates melodies his initial response is to create chord changes for it."… I'll hear something outside, a rhythm and I'll sing it to myself, go home and try to create a tune out of it." He's a fan of repetitive things. "When a song gets stuck in your head, that's a good sign."
Real life parallels the songs on Sounds of the City. Hill grew up in Chatham, a neighborhood on the South Side of Chicago. He was inspired by Fred Anderson, a tenor saxophone player that was the proprietor of the Velvet Lounge, where many prominent musicians honed their jazz abilities by playing early in their careers.
"During my years in high school it was the only place where someone would allow me and my friends to stop by and play," Hill comments. That was one experience he included in his latest recording. "Inner City Blues" was inspired by life on the South Side of Chicago. "To me that's the blues," says Hill. The song "Clearfield's" was written for a friend he had in mind as he sat at the piano.
"He's a good friend of mine and a great piano player here in Chicago", Hill adds. "The Wrath of Lark" was inspired by a disagreement he had with one of his professors at DePaul University. "The Sounds of The City" was recorded at the transient studio in Chicago.
Marquis Hill, an independent artist, found time to teach this summer. He dedicates much of his time promoting his latest release, but also offers private lessons, and teaches at the Birch Creek's Summer Jazz Camp with students ranging in age from eighth grade to seniors in year in high school.
"Jazz is truly an American art form, influenced by the black community," says Hill. " I'm confident the music is going to be around it's never going to die out.
The key is exposure to children and that's one of the reasons he teaches. He'd like to see Jazz become today's popular music. He'd like to see with fans going to nightclubs dancing to jazz music. He'd enjoy seeing a live band at a club rather than a disc jockey.
He teaches the fundamentals of Jazz with a performance emphasis. The Chicago native has always known that he wanted to be an educator. He tells his students at Birch Creek's Summer Jazz Camp to work hard, practice hard and listen to talented Jazz artists, especially to those who have to work harder at their craft. The ability to play for Hill came naturally. He was introduced to Jazz music by his fourth grade band teacher. He started thinking seriously about music as a career during his senior year in high school.
"It was easy for me to make sounds with the trumpet," says Hill. I learned during this particular project how to be a leader." He recorded Sounds of the City in two days. In studio he worked with Christopher McBride, Greg Ward, Joshua Mosier, Justin Justefan Thomas, Milton Suggs, Charlie Kirchen and Bobby Broom. During the process of creating Sounds of the City, he learned how to be more articulate when it came to what he wanted from his musicians and to hone in on a problem if something wasn't feeling good.
One of Hill's goals is to put out a record every summer. Last year he debuted his first recording, New Gospel.
"I think it's important to keep your name relevant," says Hill.
He's also working with Milton Suggs to create a record label.
"Playing live can be really draining," Hill confesses. Typically, after a performance, Hill has a glass of water and relaxes for a minute, grabs something to eat and hangs out with his band members and reflects on how he has performed that night.
by Monica Staton