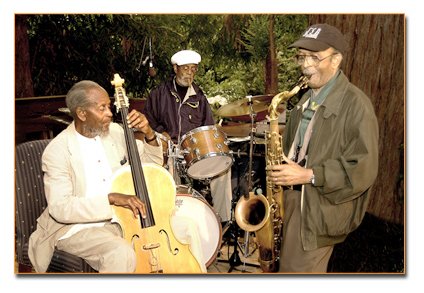 Heath Brothers
On a recent Sunday morning, the iRock Jazz team caught up with two members of the legendary Heath Brothers, Jimmy and Albert "Tootie" Heath. Over a span of six decades or more, the brothers have collectively performed with a "Who's Who" among world-renown jazz performers. The list alone could fill a book. From Howard McGhee, to Dizzy Gillespie, John Coltrane, Miles Davis, and Herbie Hancock to more recently, Wynton Marsalis, Stevie Wonder, Hugh Masekela, Diane Reeves, and Esperanza Spalding, along with many other legends in between, these jazz greats have nearly seen and done it all. And having performed with nearly everybody (we do mean everybody!), these jazz giants in their own right have performed on well over 100 records, and as ambassadors of jazz, have seen the music transition from bebop to hip hop.
No longer a threesome with their late eldest brother and bassist, Percy Heath, being gone, the two remaining brothers are continuing the Heath legacy as jazz titans and refuse to allow any grass to grow under their feet. They are continuing to make the rounds on a constant schedule of live performances, utilizing additional sidemen as needed, which oftentimes includes a next generation of Heath's, Jimmy's son, Mtume, who is a well-known funk and R&B percussionist and founder of the funk soul group Mtume, among other notable musicians. When we met up with Jimmy and Tootie, they were staying in a hotel in Chicago's Grant Park while waiting to perform at their last two sessions at Chicago's Jazz Showcase.
Herein is an abridged version of the brothers' shared insights:
IRJ: How do you define "jazz?"
TOOTIE: Jazz is music that comes from within, meaning it comes from a people that have some expression of what is going on around them and what went on before them.
IRJ: Wynton Marsalis described jazz as being "a swinging dialogue between concerned parties whose philosophy is 'let's try to work it out.'" Do you also agree with that?
TOOTIE: That's a good description. My brother says jazz is a democratic music. We all have different concepts of what it is, but I feel that it comes from within.
IRJ: Do you think that jazz is just as much a commentary on politics and race relations in America?
TOOTIE: Jazz is born out of oppression, born out of the field holler, gospel, R&B–all of that was connected at one time, and due to marketing it's been kind of chopped up. You know we have different markets now. We have markets for R&B, we have markets for gospel, and we have a market for jazz. At one time, all of that was presented as "race music" because it came from Black folks. So, they got rid of that term and now it's more international. We have all kinds of people that play jazz now, and it has evolved into a worldwide music. It is not as esoteric as it was when I came along. We used to go into little night clubs and hear our favorite people and they were Black. We grew up in that era where we were taught to stay in our own neighborhood. I didn't realize that you could venture out into other parts of the world and include other people in whatever it is that you're doing. During my time, we played in our own neighborhoods and at that time for me it was South Philadelphia – for me that was the world.
IRJ: Do you find what you described happening over the years to be a good progression?
TOOTIE: It's good. I mean, we are playing for larger audiences. We are more international. We've made friends with people all over the world because of the music, and you know, it's the way things have evolved. People have evolved. Music has evolved. Art has evolved.
IRJ: In contrast, I understand that now at times you might be performing and look out at the audience and see everybody but Black folks. How does it feel seeing that your own people aren't always the ones embracing your music?
TOOTIE: I understand it. You know, out of desperation, for example, there was a need for our youth to come up with their own music, the same as we did when we were young jazz musicians. We came up with our own version of what was music, and the people that controlled the media decided it was called jazz, but we never really named the music. I think that because of the circumstances involving our youth not wanting to necessarily identify with us (meaning my generation), I think it was necessary for them to create their own music and their own way of fashion, and their own baseball hats on the side of their head, pants down around the butt–all that's a part of the new generation–but that's protesting how we did it. You know, they don't want to identify with anything like their parents and their grandparents. So, they come up with their own music, and all of this is based on economics as well. They took the music out of the schools; they took the instruments out of the schools. I mean, we all had instruments when we were going to school. They had school bands and the students had instruments.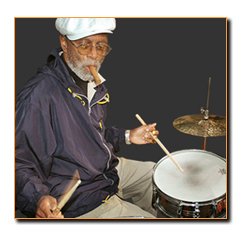 Albert (Tootie) Heath
Now, you can't find this in some public schools. You don't see kids walking home from school with big trombones and tubas like we used to as kids. So, today's youth are forced to create their own music and this music is called hip hop; it's one of the world's greatest phenomena right now because the kids had no instruments and with very little music training, yet they have come up with a music that is now worldwide. I mean it's bigger than jazz; it's everywhere. I've seen people trying to do hip hop in Chinese, and in every country where I go, I see hip hop represented while I don't see jazz represented. Jazz is there but, it's not like the media has caught onto it as well. Hip hop is huge and with not having anything by way of musical instruments to get it started. It's always been that way with Black people. We've always been able to take nothing and make something out of it. You know, it's one of the things we've been doing all our lives. I even went to Africa once and I noticed kids playing with a coat hanger inside the middle of a wheel and they were running around in a yard with this wheel and nothing more than a coffee can. These are things that people throw away and these kids make toys out of them. It just proves that out of nothing, we've always been able to make something. In that respect, hip hop is what I call the new frontier.
IRJ: We talk about "borrowing phrases" in jazz, which comes from listening to other musicians and being able to spontaneously appropriate phrases from one musical piece into one's solo and having it seamlessly blend in with the improvisation they're creating in real time. What do you think of today's hip hop artists, for example, using samplings of older music and creating a whole new musical piece from that? For example, from the Heath Brothers LP Marchin' On, the "Smilin' Billy Suite" (released on the Strata-East label in 1976) was used in songs by Cypress Hill, Nas, and as recently as 2003 by Amy Winehouse.
TOOTIE: It's a way of adding something from the past into the present. Nas was revolutionary to do that. It's happening more and more. I mean, Herbie Hancock's music has been used, and a lot of other composers, just like we used other composer's music. It just goes on and on.
IRJ: And so you see a continuum?
TOOTIE: Yes, I do.
IRJ: And hip hop then, as you say, is like a "new jazz" in that continuum?
TOOTIE: It is! It's the new music. It's the new frontier. It's not western classical music. It's not jazz music. It's new. It's different. They put the drums back in the music instead of taking the drums out of the music and making the drums a voice that you don't really hear. The drums are dominant; I mean, if the beat isn't clear, you don't have anything. But, they put the beat back in the music.
IRJ: You all seem to be so in touch with your African roots and it comes across in your music. There's a piece that's played on the trailer of the video documentary Brother Jazz that was released in 2006. The piece that is used sounds just like it could have come about around the turn of the 20th Century at Congo Square in New Orleans where history informs us jazz music originated.
TOOTIE: Yeah, it's the beat. That's the trick. And, jazz has gotten further and further away from the beat. The beat is employed but it's used sparingly. Drummers like Elvin Jones and Toni Williams–drummers that came up around the time that I did–had a unique way of implying the beat but it wasn't dominant the way that it is in today's music. Without the bass and the drums in hip hop, it has no foundation. I mean to have someone just reciting words in cadence, that's been done. But, I mean not with a beat like now, so it has brought life to poetry and poetry has changed. Poetry doesn't necessarily have to rhyme anymore. It used to rhyme and it had cadences that we call lines, but now it doesn't do that. You can say things that are not really connected and as long as it has rhythm, it's acceptable.
IRJ: What about women in jazz?
TOOTIE: They're up and coming, lots of them.
IRJ: Like who?
TOOTIE: Like Terri Lyne Carrington, the drummer. My brother knows a lot of them, because he's in New York. He's in the jazz mainstream and is always introducing me to women who play different instruments. Esperanza. You know her name because she's getting a lot of press right now. But, I know a girl that I saw at a Michael Jackson tribute at the Staple Center in Los Angeles–I'm talking about the Cirque du Soleil–and I saw a young woman playing a bass instrument there. She was Japanese, and she was not necessarily playing songs, but she was unbelievable on the bass, and then she was playing a cello and she was unbelievable on the cello as well! Yet, nobody really knows who she is; in other words, she doesn't get the media attention of Esperanza. And, Esperanza is going to go much further than she is today. What I'm saying is that there's only a certain amount of room at the top, and Esperanza– it's her time up there. This girl that I saw last night, she's just one person in a huge show, and if you didn't have a playbill, you wouldn't even know who she is. Yeah, there're lots of women in jazz now. More than when I was coming up through jazz when there were more women singers than instrumentalists. But, now there are more women instrumentalists than there are singers in jazz.
IRJ: On your most recent CD, there's a piece "The Rio Dawn" that's grooving. It's written in the style of jazz funk and your musical style has gone from hard bop at times, to jazz funk, or to soul jazz…
TOOTIE: Yeah, that's my brother's piece. This song was written by my brother and he also wrote the lyrics. I recorded a version of it with our pianist, Jeb Patton, and his wife sang the lyrics. When we play it, we're doing the instrumental version of it, but for the first time I heard the lyrics as well as the instrumental version, so she sang the lyrics and it became a whole different song with her singing it. It also shows how we are going forward with the music because my brother was not known for his lyric writing.
IRJ: What are you listening to now?
TOOTIE: Right now, I'm listening to a lot of vocalists. I'm listening to Cesária Évora. I'm listening to Al Green. I love Al Green and love Luther Vandross. I love Marvin Gaye, of course. I like Cyndi Lauper. One person I really love and she uses a lot of Black folks in her videos is a little red-headed woman. I think it's Cyndi Lauper, but, no, not Cyndi Lauper. Anyhow, I listen to a lot of vocal music and I listen to a lot of old R & B. They have a station in Los Angeles where I live and they play the same "old music" every day. I don't know how they do this and keep listeners, but they play all of that old stuff that I like and identify with because it's from my era. Bonnie Raitt is the woman I'm thinking of. Bonnie Raitt is unbelievable! I like her voice. She sang with BB King. She sang with Lightnin' Hopkins. She has videos with all of these people and I really love her. I'm listening to a lot of vocal music.
IRJ: Do you sing?
TOOTIE: Nope. I tried, but I'm no good at it. You have to know what you can do and what you can't do. I gave up on that part. I'm grateful that I can do what I'm doing and I can hear other people. And I still want to advance. I don't want to stay where I am. I want to do what I do better. I'm not satisfied, in other words. I'm still learning. I take lessons from other drummers when I'm in Los Angeles. One is Jeff Hamilton, and another young man from Detroit named Quentin Dennard. I try to study with them. I go and we exchange ideas. It's interesting to see the Detroit person coming with the drums who played with the Spinners, so I learn a lot about R&B from him. And, from Jeff Hamilton, I learn a lot of stuff– big band drumming, how to read charts, and a lot of technical things. I'm still working on it.
End Pt. I
by Tracey L. Lewis