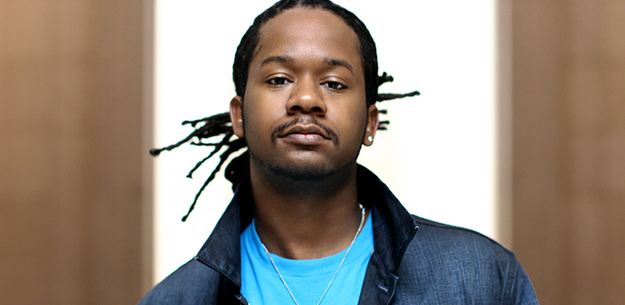 "You have to deal with your art. If you can go to bed at night and be happy with what you are doing, you're on the right track." – Ben Williams
When the opportunity to play with a jazz legend was given to Ben Williams, he didn't hesitate. The chance to work with such a prestigious group of musicians was too tantalizing to pass up. Benjamin James Williams is a talented electric and string bass player whose musical influences span various genres such as jazz, hip-hop, R&B, classical and gospel. iRock Jazz caught up with Ben while on tour with the Pat Metheny Unity Band with Chris Potter and Antonio Sanchez at the Detroit Jazz Festival.
iRJ: Tell us a little bit about what you are working on right now. We know you are working with Pat Metheny correct? What's it like working with the man himself?
BW: Man, it's been amazing…a truly amazing experience. He is a state-of-the-art musician. He is an awesome guy. I mean the whole band; Antonio and Chris, they are high caliber. Every night I am blown away by their playing. Playing on that level, at that rate every time has been amazing for me.
iRJ: Do you feel it has helped you grow as an artist?
BW: Yeah, absolutely! Working closely with Pat and seeing his whole process; he's really serious about what he does. He really puts 100% of himself into all of his projects, no matter what it is. It doesn't matter if it's a trio or quartet, or a twelve piece group or playing by himself with a bunch of machines, whatever it is, he really puts a lot of energy into it. It's great to see that; how successful you can be if you put everything you have into a singular idea, and just kind of work off that.
iRJ: It sounds like it has inspired you on certain levels.
BW: Yeah, we'll see. I don't know what will come out of this inspiration but I'm sure something will.
iRJ: Looking at how jazz continues to evolve, you represent a younger generation coming up. How have you found putting yourself in the mix? Where do you fit in all of this?
BW: I'm coming into my own. I've been putting in the time into developing myself as a musician. I'm trying to make sense of all this music around us. We're developing a voice as a generation. We're starting to make our impact with the music; something that will be meaningful, with a lot of clarity. It is pretty clear what our objective is. We still have youth on our side. You've got to keep it real. The media always loves youth: It only comes around once. The music is in really good hands. My peers are doing really amazing things. We are inspiring each other.
iRJ: What inspires you? Some artists are hardcore, with diehard rehearsals for 3-4 hours a day. Others are like "If I get to it, I get to it." Tell us how this applies to you.
BW: There is always so much to learn. The thing about learning it that the more you learn the less you feel you know, which is a strange thing to say. It's kind of like climbing a mountain: You can't really see the top but you know there is a long way to go. The farther you go, the more motivated you are to keep going. I just love playing my instrument. Every time I pick it up, it's like "ahhh."
iRJ: It's never a drag? You never fell like you're not up to it today?
BW: Nah!
iRJ: You feel that way every time?
BW: Even if it doesn't feel right, there are worse things that could be happening. Even on the worse day, and I'm on a gig, I'm still playing music.
iRJ: Corey Wilkes told me that he doesn't like blowing the horn in the morning. Any other time of the day, just not in the morning!
BW: That might be a trumpet thing, especially such a temperamental instrument like the trumpet![Laughter]
iRJ: Is there an artist you'd like to work with that you never have?
BW: Oh absolutely! I would like to work with Prince. That would be awesome! Norah Jones! I think she is really soulful l in a very cool way. Q-Tip! The Roots! That would be awesome! Chaka Khan and Stevie Wonder would be great too!
iRJ: Representing the younger end of the spectrum, in your opinion, where do you think jazz music is it going?
BW: It's going somewhere. I have no idea where. I think that is the beauty of this. Nobody knows how all of it is going to unravel. I feel like the world is changing drastically over the last 10 years with things like the internet and the music business. The world we live in is totally different. I can literally record something and share it with the world in a matter of minutes. We have complete access to the world at any given point. The world is right at your hands. The connective nature of everything we do is at our disposal. It can really change how we think and develop as musicians. Our brains are on shuffle.
iRJ: If there is one piece of advice you can give a young artist, what would it be? What would you tell them?
BW: Do you. Be yourself. Listen to your mentors and teachers. There is a lot of useful information. And try to take in as much as you can. But at the end of the day, when it's time to do your thing, you have to do what you want. You have to deal with your art. If you can go to bed at night and be happy with what you are doing, you're on the right track.
by Mark A. Moore