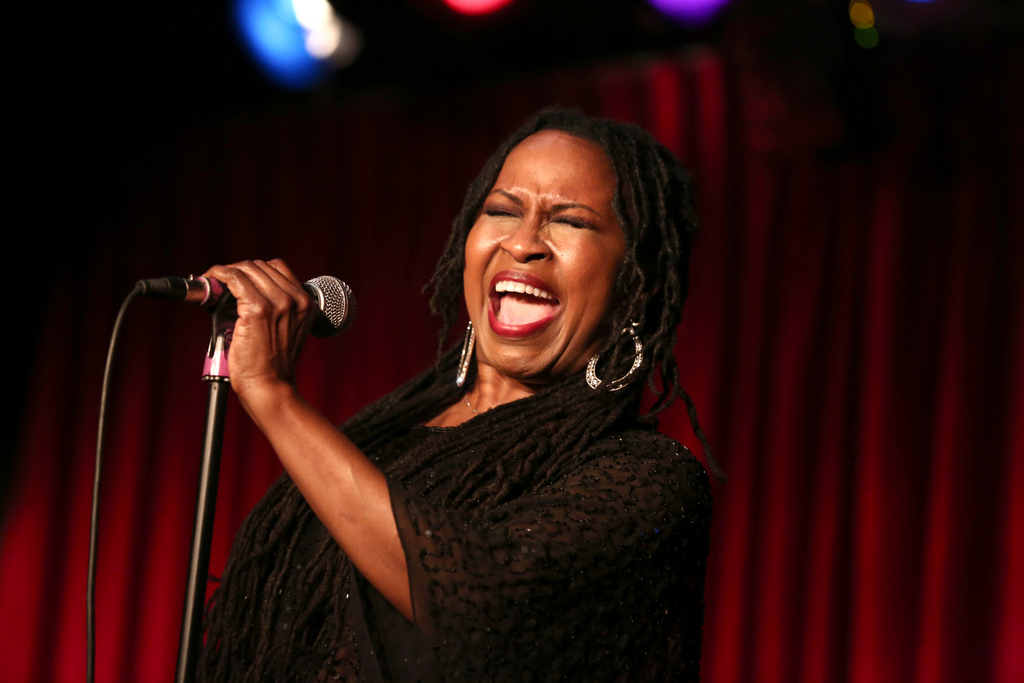 If you are a fan of the late Luther Vandross, then chances are you are familiar with the singing voice of Chicago native Paulette McWilliams. You've heard her singing many times because she was Luther's back up singer for over 20 years. The famous laugh on "Having a Party" is hers!  Who knew?  This Jazz vocalist, who loves to sing, has been singing professionally for over 40 years. She's sung and recorded with numerous other artists including Quincy Jones, Whitney Houston, Bette Midler, Mary J. Blige, the list goes on. Her voice is also heard on various television and radio jingles.
Having a passion for not only singing, but listening to a variety of singers overall, has kept alive Paulette's dream to perform as long as she has breath in her body. Luther once shared with her that he felt her voice is the female version of his voice vocally. Paulette is extremely proud of this complement. "Luther was definitely my brother", shared Paulette. "To this day, it stays in my head, the fact that he would even say that to me." Currently residing in L.A., Paulette allowed iRockjazz some time to catch up with what she's been doing and learn more about who she is.
iRJ: When did you know for sure you wanted to be a singer?
PM: Well, from the age of two. I've been singing from the time I was able to talk. As a matter of fact, my mother would often say, "Girl, you've got to stop that singing!" (Laughs) Yes, I've always been singing as long as I can remember.
iRJ: Well, did you actively pursue singing in high school?
PM: I've always had groups. I've always had some form of singing groups. I found so much peace and happiness when I sang.
iRJ: Do you play any instruments or are you just most prone to singing?
PM: I tinker a little bit with the piano but I wouldn't call myself a piano player. I mean there are so many great piano players out there. But, I do know the cords and I know the keyboard but no, I don't play. I am a vocal musician; that's who I am.
iRJ: What singers gave you inspiration as a young girl or do any give you inspiration now?
PM: Oh my goodness! I love singers! So, that's like wow! There are so many, I mean, Dinah Washington! When I was young, my mother sang while we would listen to Dinah. Okay, Dinah Washington, Sarah Vaughn, Sarah Vaughn first. Billie Holiday, Aretha Franklin, Gladys Knight.
iRJ: All the greats!
PM: Yes, all the greats and I also loved Judy Garland and Diana Ross. I loved Doris Day, Peggy Lee and Barbra Streisand. I just loved singers! Sammy Davis, Billie Eckstein, Nat King Cole. Oh, my goodness! Joe Williams, Louie Armstrong. I mean, I just loved people that would interpret themselves through songs. I love stylists and all kinds of singers. I loved Phoebe Snow, whom I met later from some of the commercials we did together. I really just love singers!
iRJ: Its funny you mentioned this because as a small child, my father was a great Jazz enthusiast but he appreciated all music. Even though his passion was Jazz singers and instrumentalists, he still liked to hear some of the others, like Stevie Wonder, Burt Bacharach, Dionne Warrick, to name a few and once told me to appreciate all music if you love it.
PM: That's right. That's very, very true because everyone has something to offer musically. The people that you love musically are the ones that really offer something authentically; they don't have to be alike. I mean, I like so many singers that are nothing alike. You know, Dionne Warrick was nothing like Aretha Franklin, but I love them both. Okay, you have Gladys Knight who was nothing like either them; I love her. Oh boy, I loved Mary Wells and I loved the Shirelles. To me, it was all about singing you know. I liked Dakota Staton and Lena Horne. Oh, I loved Lena Horne, so you can see there are so many styles to singers that's why I just love singers; I mean all singers. There was one time I overheard someone say, "Oh, so and so can sing better than her" or "She can't sing." I think that is absolutely ridiculous to compare singers because, I feel, everyone brings something to the picture. I love Sade and Anita Baker and I know Anita. Chaka Khan, of course, who is an old and dear friend of mine and I remember a time when people thought you couldn't sing if you didn't sing like her. I think that too is ridiculous, because if everybody sang like Chaka, what would make her special? (Laughs)
So to me, if you love music and you love musicians you have to learn to appreciate the difference in the styles. I think all the colors that they bring, the shades and colors and memories that they bring to us are all so special and will help us appreciate bring more music. There are times when I would love to hear a certain artist on this day, but then on another day, I would rather hear Ella Fitzgerald. You know I love singers and wouldn't dare try to compare them. I mean, I don't sing anything like Chaka. In fact, we were both in Rufus together and I didn't realize that the whole time, I've always been a jazz singer. I think that Chaka learned her calling earlier. I introduced her to Rufus but I feel that was going to happen to her regardless. I was just a channel and was glad I had the opportunity to be a channel.
iRJ: How did you know that you truly wanted to go towards Jazz instead of R&B?
PM: I found my niche after singing with people all these years by singing behind Luther, Barry White and so many others and here I am realizing, going all the way back to my childhood, thinking and knowing that Jazz and blues is what I love singing the most. Because, you know what, I'm more comfortable seeing myself in the Jazz genre. It's not that I don't see myself singing R&B, its just that there are so many credible artists out there. You have Ledisi and Chaka who have great R&B skills, but as for myself, I feel I can really sing great songs like "Lazy Afternoon" or "Save Your Love for Me". When I sing any of those types of songs, I feel like I am way more in my comfort zone. Whereas, if I sing R&B, I feel like I'm searching on where I want to go but when I sing Jazz, I just flow freely.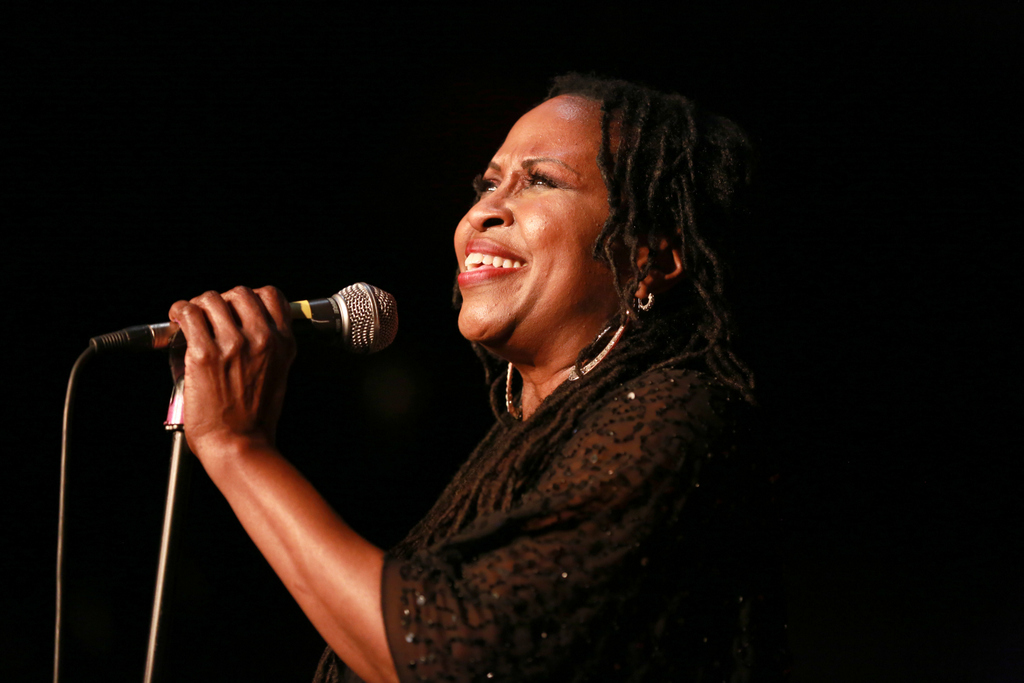 iRJ: Well, that's a good way to go; a place where you can flow freely. Now, is there any advice that you can give to other artists who are seeking a music career?
PM: Well, my advice (and not that I'm a pro because I'm always learning) – the thing that I would like to suggest first, is to always be open and know who you are in any given circumstance. The second thing I would say, is to stay true to what it is you know about yourself. You know, when you are comfortable in a certain genre where you feel like you can really really expand, because it's all about expansion; that's what it is. So to me, I expand when I sing. I expand and flow so freely without any boundaries at all. I feel like, if this is the feeling you get when you are doing what it is you're doing musically, then that's where you should really start your pattern; to stretch, I feel this is really important.
iRJ: Seeing you perform, you look so confident. I was once a Flight Attendant and on one particular flight, I was serving food down the isle and slipped. The only thing I could do was get up, clean up and make sure the passengers had their food. So, my question to you is mistakes happen on stage. How do you deal with them?
PM: Oh my, for me, its really important that I get up and move forward in a direction that I want to go. I've made so many mistakes in the past but my saying that I created is mistakes are the foundation of success. It's the mistakes that I've made that have helped me to learn how to not make those mistakes again. Believe me, being the stubborn person that I am, it took me making mistakes many times over to actually see that I needed to change.
iRJ: Well I would like to thank you for sharing with us today. Will you be coming into Chicago anytime soon?
PM: Hey, let me tell you, coming to Chicago is coming home to me; family and lots of friends are there. I would love nothing more than to come to Chicago and perform at maybe the Sofitel who knows. I would love that. I would love to bring my musical director, who was also Luther's musical director, Ned Adderley Jr. He's brilliant, a dear friend and we would have our spot on stage together. I would absolutely love to come to Chicago and play for all my friends and fans which are many. And believe me, I have a feeling it is amongst thousands of people there that would come out to see me. You know, I went to grammar school there and high school there so it's just a matter of getting the word out.
After years of singing backup for many top artists, Paulette finally has debuted an American CD of her own called, "Telling Stories", which is available on iTunes or Amazon.com Her first CD entitled "Flow" was recorded and released in Japan. For more information on Paulette visit, www.paulettemcwilliams.com.
By Gerri Smith-Freeman