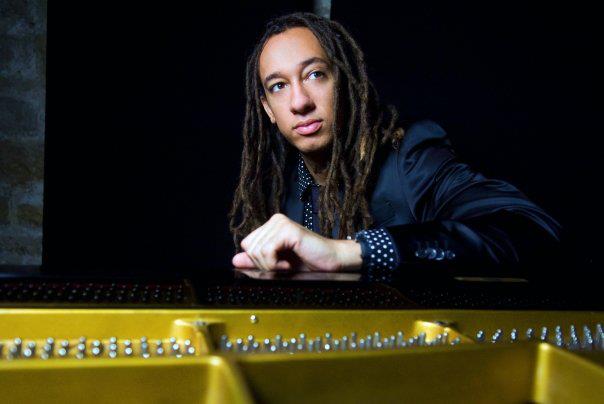 We have all at one time or the other heard the cliché "home is where the heart is". The commonly used phrase as poignant as it is trite is a genius assertion because it invites us to search our heart to find our "home" and its open ended nature demands us to ask ourselves "Where is my heart?" For three-time Grammy nominated pianist, Gerald Clayton, it is music that has taken residence in his heart so that wherever he is he is always at home. Born in the Netherlands, raised in Los Angeles, Clayton currently pursues of harmonic happiness in the musical mecca that is New York City, the place he currently calls home. The son of bassist, John Clayton, one half of the venerable Clayton Brothers, he is one of the new breed of musicians leading the charge with a sound reflective of the shifting future and respective of the bedrock tradition of the past. Clayton has received notable attention from major publications such as Jazz Times, New York Times, Downbeat Magazine, which attest to his "nuanced touch". His collaborations with fellow young lions Joe Sanders (bass) and Justin Brown (drums) on his two acclaimed albums 2009's "Two Shade" and 2010's "Bond: The Paris Sessions", along with a Clayton Brothers album, 2010's "New Song and Dance" all garnered Grammys for Best Instrumental Jazz Album, Best Instrumental Composition, and Best Improvised Jazz Solo.
Amid the recognition which includes an impressive resume of performances with some of the most established, celebrated, and innovating names in jazz like Roy Hargrove, Clark Terry, Kenny Barron, and Ambrose Akinmusire, Clayton is an artist in constant movement exploring music that is honest and true, something like home. iRock Jazz caught up with the 2010 Downbeat Magazine Critic's Poll Rising Star to talk about staying relevant without compromising, why music is its own reward, and how touring has changed his perspective from performer to diplomat.
Clayton's calm disposition, a retreat from the aloof, overconfident cool that often clings to artists who often smell themselves long before the world catches a whiff, is that of a humble, yet assured musician unshaken by trends and bonded to the music that gives him comfort, while challenging him to find new and exciting places for his music to live.
iRJ: Congratulations on the Grammy nomination. This is your third nomination, correct?
GC: Yes, this is the third year for me. The first one was for Best Improvised Jazz solo and last year was for Best
Original Jazz Composition and this year was for Best Jazz Instrumental album.
iRJ: You were nominated along with some of the most iconic jazz figures like Herbie Hancock, Joe Lovano, and Sonny Rollins. How does it feel to be mentioned in such legendary company?
GC: It is an honor and really encouraging. It is a reminder that I can't slack off and I must keep working hard
on my craft, excel, and stay on the path. It's definitely an honor to be mentioned along with those guys.
iRJ: Do you think another jazz artist or album would ever win Best Album at the Grammys?
GC: To be honest, I don't really concern myself too much with that, though it is interesting to think about and contemplate. For the musician it's mainly about figuring out what notes to play, expanding our ear, expanding our compositional sense and making more honest music. So, with the Grammy's it's certainly an honor, kind of a prestigious thing and in the public eye it's kind of a big deal, but for the musician it's not something we really concern ourselves with much. I'm hopeful that good music will continue to be recognized. That's really my main concern is that there is enough people being exposed to these good records to hear people like Herbie (Hancock). I guess every now and then it shows that it will give props to musicians who really focus on their craft and are honest and really focus on their music. It's not so much about the fame and the other side of things. Occasionally they get it right, so I think it will happen again, but ultimately it's not something that I really concern myself with too much.
iRJ: Indeed, there are varying perspectives on both sides. Those who feel awards will expand the reach of jazz and those who feel recognition comes from the public, the listener. What are your thoughts?
GC: The goal is really to reach as many people as we can. It's something that we care about; we want our music to be exposed to the world. You're right, the Grammy's is a good way to expose people to that and get the recognition that it might not have gotten otherwise, but it's not what the reason why we do what we do. I don't know how high a priority the audience is on my list. Sometimes I'm writing music with the musicians I'm playing with in mind–trying to think about what would be the right vibe for them, other times I'm trying to get to an honesty of my own expression and focus on what I am truly hearing. And then other times when you are performing for people and they are part of the environment–it's not like I'm ignoring the audience, I definitely take them into consideration.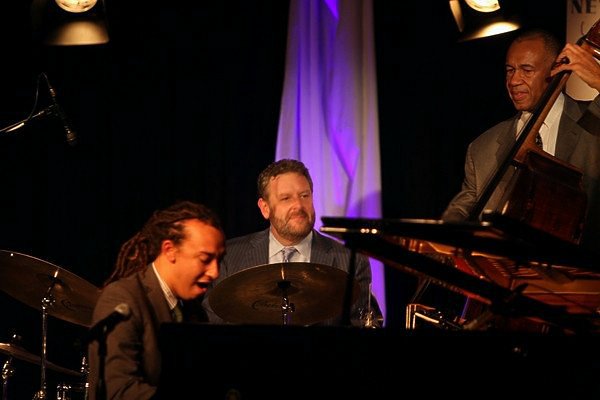 iRJ: You're not turning your back to them akin to Miles Davis' classic gesture?
GC: Even with Miles, he may have physically turned his back, but he was aware of the way he was engaging the audience and trying to get them to be open minded and listen to his music in a different way.
iRJ: I believe Miles gesture was so poignant because it essentially forces you to concentrate solely on the music other than the actual person that is delivering it. Thoughts?
GC: Exactly. Sometimes you have to slap the audience in order to get them to open up their eyes and their ears.
iRJ: Stellar young bassist, Ben Williams, commented that his goal is to focus on getting people his age to listen jazz. As you previously mentioned, sometimes the audience isn't so much a high priority; however, when you compose your music do you think about whom you want to reach and reaching younger audiences?
GC: Oh most definitely. You want your art to be relevant in the context of the time it is created. It is a different audience today. There are different issues going on in the world and there are different stories that we are singing the blues about than what they were singing the blues about 50 or 60 years ago. You know it's all connected and coming from the same language. There are only 12 notes on the piano, you know, so there is no real original thought, I guess you could say, that just how the music is passed along, we borrow from what learn, which our influences become. But, it is interesting to be in the generation because we have. Music is just getting smaller and smaller and people are carrying around entire record collections in the palm of their hands, so if you get together with a Ben Williams or somebody else your age they are liable to be listening to a whole lot of music outside of just the standard stuff that maybe worked thirty years ago to play for an audience. It's just a different context. It's definitely an artists' responsibility to consider the times to stay relevant.
iRJ: Do people in the younger age group recognize when music is good?
GC: Yeah, there is a way to do it with honesty and integrity. Also, there is a way to do and it turns out trite. That's the balance, through trial and error, that you have to try and figure out for yourself. "Am I doing this for
the right reasons?" "Am I just putting a hip hop beat on here because I think that's my ticket to get people to buy
my album or rather am I really feeling this hip hop beat, so let me really get inside of this so I can see how I can use it and manipulate it?" It's all about honesty at the end of the day.
iRJ: You mentioned learning from people that came before you. You had no better example than your own father, bassist, John Clayton and your uncle, Jeff Clayton. Tell me a little about having a musician as a father.
GC: It was a blessing. I'm really fortunate to have grown up in experienced the lifestyle behind the music. I would go to these rehearsals and soundchecks and there was so much love in the room. I saw these grown men giving each other hugs and telling jokes. The community, especially at that time was so strong and unified and it was all for the love of the music. That was a really attractive thing for me at a young age. But also my dad is one of those really special people who is just really driven and works hard. There wasn't a single night where I don't remember him working on some kind of arrangement or writing in his studio. Every night that I would go to sleep I would hear these sounds in the garage. So, he's certainly a good role model for anybody and that was really helpful to have all his music, original recordings and more, available to me. If I was learning a song, I could go to him and he could show me where it came from. There are so many valuable experiences, but the main thing is that I was really just inspired by the love that I was seeing in the music.
iRJ: Since you grew up with a musical family did you still have to pay your dues as a young musician? Were you given any breaks?
GC: Oh yeah. There are no shortcuts in music and art. Really, art and all learning in my opinion is a process of self discovery. So, you can have a lot of guidance, which can be helpful, but you are going to have to put in the time to even learn how to play the instrument. You have to put in time to listen to the music enough that it starts to get inside of you and you begin to understand the language. The good thing is that it is an enjoyable process. If you are doing it because your teacher tells you to chances are you are not in it for 100% the right reasons. But for me I loved listening to Oscar Peterson when I was 5 years old and I just listened to it over and over and eventually started to figure it out and began transcribing the music. The help, the guidance is a great thing and it's really valuable, but you have to do the work yourself.
iRJ: Receiving much or your training in school and at home, did you have friends that shared the same musical interests?
GC: Yeah, somewhat. Early on I was taking classical piano lessons, so I shared interest with some of my teachers and other students I knew. At my school there was a talented violist and our families were close, but early on I met my peers who were really into the same things in high school when I went to L.A. County High School for the Arts. That's when I really began to grow in that regard.
By Johnathan Eaglin