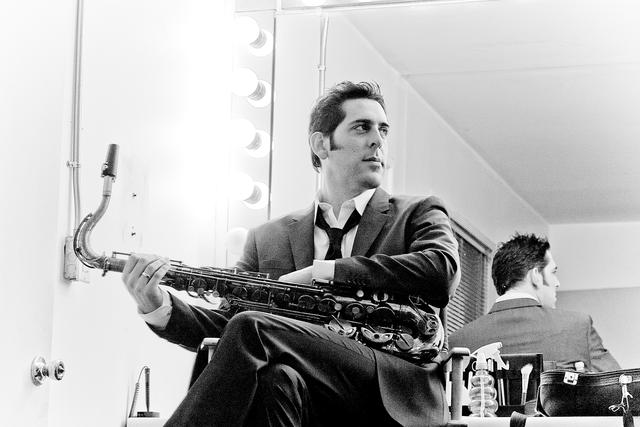 Steve Cole, the jazz artist, returns to his roots as a classically trained musician on his latest release Moonlight. "I started off as a classical musician. I love the sound of the orchestra, and some of the great relationships between arrangers and artists," said Cole.
Moonlight is a seamless combination between string arrangements, jazz instrumentalists, and vocalist. "I love the combination of strings. I've always enjoyed that, I always enjoyed that expressing myself through that context."
His choice of music on the CD is brilliant. He searched for songs that lent themselves to the performance of an orchestra and rhythm section, songs that meant something to him, and songs that he enjoyed for many years. "My song choices were kind of all over the map," Cole explained.
In his latest release Moonlight, it includes classics such as Burt Bacharach's The Look of Love, James Taylor's Close Your Eyes, a tune very current like Sarah McLachlan's Angel, and The Guess Who's Undun. The interpretation of Undun can only be described as simply lovely.
On Moonlight, Steve Cole has mastered the art of internalizing the beauty of melody. He connects what is behind the composition to his own personal experiences. Each of his song selections is expressed in a unique way. He doesn't just perform or execute the songs, he gets inside them.
To date, Cole has five recordings in his catalog. Steve Cole's musical expertise spans many different music genres. His style is a blend of a bit of Jazz, a hint of Pop, and endless Soul. He covered Waterfall, a single by TLC on his 2000 release Between Us. On his third cd NY LA released in 2003, he has hidden track that features American Soul singer Aloe Blacc.
Cole, a child of the 80's, shares that a lot of the music he listened to was introduced to him by his dad. Jazz was a big influence. His dad was a saxophone player and a jazz musician; each loved the tradition of jazz. Cole is inspired by artist like Chet Baker, Charlie Parker, great vocalists like Sarah Vaughn.
As a child, he listened to Rock and Roll music and was a fan of Aerosmith. Cole's father also introduced him to a varying array of artists like Chic known best for their songs "Le Freak, and I Want Your Love and the iconic Chaka Khan. His musical influences are diverse.
Cole began playing the clarinet as a child because there wasn't a spare saxophone. "We did have an extra clarinet." Cole recalls not wanting to play the clarinet. "My father broke down and bought me this old alto saxophone," after Cole threatened to check out of music. Cole made the change from clarinet to alto sax in 8th grade.
He started in band when he was about ten years old. "I didn't like it in elementary school," Cole admitted. He stayed in band but wasn't practicing with regularity. "It really wasn't a big deal then," said Cole. Cole attended Niles North High School where he found a teacher that he really liked- Wayne Richards, a saxophone player.
The ability to play the clarinet and saxophone didn't come easily to Cole. The thing that came easily to Cole in the early years was playing melodies. "Hearing a melody and playing it- playing by ear," said Cole. "It's interesting because there are people who say that I don't know if I have the natural ability to play instruments, but I have the will and I have the work ethic to do it. I don't know if you really truly know whether or not you have the ability or whether you have that natural talent until you get to a point where you can express yourself. There are those of us who just have to put the time into playing an instrument, you get to a point where you begin to express yourself— and at that point they become inspired," said Cole.
Cole became "inspired" musician during his sophomore year of high school at about 15. He discovered he had a natural ability; he'd reached a point when the saxophone became a way to express himself. At that point, he really started enjoying performing. "I had something to say, I was unique, I gained confidence," said Cole.
Cole humbly responds to compliments regarding Moonlight. "It's not like it has a whole lot of groove to it, it has the normal kind of Smooth Jazz, but I think it has a lot of character." Michael Cunningham arranged all of the music for the orchestra. "Cunningham pointed out that all of the songs on Moonlight have something in common, he said whether you knew it or not the album is a 'limitation' The Masquerade is Over – someone realizing that their relationship is over 'the long and winding road that leads to your door is kind of like a longing.' It's almost written as like a requiem," Cole shared.
Moonlight could have been a very expensive record. It was recorded with an orchestra in Chicago at Hinge Studio. About 45 musicians played on Moonlight. Cole gives credit to Cunningham for carving out a space in the arrangements for him to shine. "Like any great relationship that yields great results. Michael and I would fight, and then be cool," said Cole. He learned from Cunningham to think outside of what he was accustomed to in terms of music and how he envisioned it. "I learned there was a whole other dimension to performing a melody," said Cole.
Cole did not go into much detail, but he says emotionally there was a lot going on in his life during the creation of Moonlight. "I was saying goodbye to a certain point and time in my life and reinventing my life in a different place and different time."
He's no Coltrane, John Redman, Jevaugn Jackson or David Sanchez. "I'm not those guys; I'm more of a story teller. While I can play Bebop, I love playing Jazz. I'm not going to be known by far as a Bebop player, there are people that carry that torch very well." Cole will make his mark interpreting music that tells a story in a lyrical way. He focuses on the beauty of melody, melodic structure, and passion.
He learns from the musicians around him. He keeps himself a part of situations in which music is fun. A combination of things makes music fun for Cole–being surrounded by great musicians that are challenging and inspiring. Cole appreciates an audience that interested in being entertained. "If there is a great energy coming from the audience you're going to give it right back tenfold," said Cole.
He has better performances when he thinks less and listens more. He tries to get into the zone during performances. At times while performing, he finds that he's thinking and he tells himself to start listening. "There are million things that go through your mind when you are performing , like are they digging this, are they liking this, what should I play next, is it too much, is it too little, is it too down, is it too…….?
Cole recounts his first real performances. The first club he appeared in was a restaurant in Evanston, IL with his dad called the Calzone. One of the first clubs that he ever played was the Jazz Bulls in Chicago's Lincoln Park neighborhood. His first gig was with Marshall Vente, described as one of the finest jazz pianist in the city of Chicago.
He then began to play with an array of vocalists, one of which was Kirsten Gustafson, a band called Hump City, Richard Patterson from the Miles Davis band, and then he started playing at the Jazz Bulls on his own with a band called Cool World with Jerry Johnson.
"I envy young players," Cole admits. He recalls fondly being wide-eyed and new to the Jazz scene, a time when everything was ahead of him and he was able to focus specifically on the music, he didn't' have a lot of responsibility, and a lot of the experience. Cole also fondly remembers the naiveté and the optimism he experienced as a young player coming up. He never really knew how much he enjoyed it until looking back. His genuine joy of playing today can be heard in Cole's latest release Moonlight.  These days, he is experiencing the joy of playing in front of larger crowds and he says that the feeling is awesome. Today, he appreciates having the experience, track record, and having people acknowledge his talent.
Cole knows who he is and he says the feeling is wonderful. He is at another level in his career and says it's great; he often looks back upon his naïve years, at that time, he had no idea what the future held and he misses that guy.
When Cole uses the word naïve he doesn't use it as a pejorative. A young musician that reminds him of himself we he was starting his career in music is Marcus Anderson. Anderson is a Contemporary Jazz artist, a saxophonist and flutists. Anderson is the 2009 winner of the Capital Jazz Fest Challenge. Anderson and Cole are both members of the Sax Pack.
Anderson is an up and coming saxophone player from North Carolina. He has this energy and optimism that Cole finds totally refreshing. "He's brand spanking new to the scene, it's great to see, he doesn't know what's ahead of him, "said Cole. According to Cole, Anderson has a long career; he's not jaded by the past but looking forward to the future with optimism. "As long as some of us have been around, we still have those moments," said Cole.
The event in Cole's life that put his music career on the right track was the night he ended up on a club gig with base player Richard Patterson. Patterson had been around the world playing music with one of the most influential jazz musicians of all time, he had just ended a tour with Miles Davis, only because he had died. Patterson put a band together that included Cole and good, reputable players in Chicago. Patterson heard him play and asked Cole to join his new project. Cole was about 25 at the time.
Cole was in awe with the Patterson's experience. "I was in a circle of musicians that were well respected," said Cole. "Patterson gave me a lot of credibility just by hanging out with him." One of the most important things he learned from Patterson was how to take a joke. "Those guys would give you shit all the time," said Cole.
He also learned from Patterson how to get inside the music, how to listen, and how to play as a member of an ensemble. He also learned the importance of intensity and that intensity does not have anything to do with how loudly you play. He learned the value of dynamics and how it can go from one extreme to another. "Patterson pushed me a lot," said Cole.
"I would play a solo; I'd get to the end of the solo, and Patterson would shake his head. I'd be done playing, and initially I would become angry at him," said Cole. "Patterson would comment, 'if you wanna leave it like that that's your call. I don't hear anything terribly earth shattering,'" recalls Cole.
Patterson was confident that Cole could push beyond his limitation; he knew there was more to him. He encouraged Cole to stop playing it safe. "That was a big deal," said Cole. He believed that there was something more there for Cole to develop. Patterson reached deep down and pulled something more out of him. "It's hard to tell if someone is taking you seriously or just giving you shit" said Cole.
Cole says that his style of music can't be categorized; it's always evolving. He wants to land someplace that 100% honest and natural. He zeroing in on it. "I don't know where my sweet spot is, I've tried so many different things," said Cole. He's played all kinds of music; he consistently creates the most beautiful sound that he can muster. "A lot of people don't' focus enough on the beauty of the saxophone, if you can't produce a beautiful sound, no one's going to pay attention," says Cole.
At age 41, Cole is able to have fun and focus on the joy of music. "A lot of the music today is defined by business people and not the audiences," Cole explains. Radio doesn't have much to say about how he makes music. "The major record labels are out of this industry." Cole makes his own records. He's focused on touring, performing, enjoying music. He's no longer with Mac Ave. Records, Inc. The relationship terminated a year after Moonlight was released.
Cole considers himself an independent artist. The only record that he completed with the label was Moonlight. He'll probably never sign with another label. However, he's open to the possibility if the label is a business partner as well as an artistic partner.
Cole is happily married and thrilled with his professional and personal life. He doesn't discuss his personal life in great detail, "My family is mine; it's a special thing that we share with each other." Cole was recently appointed to the faculty of the University of St. Paul in St. Paul, MN. Finally, he says, "My music tells that story."
For more on Steve Cole's story go to http://www.artistecard.com/stevecole.
By Monica Staton