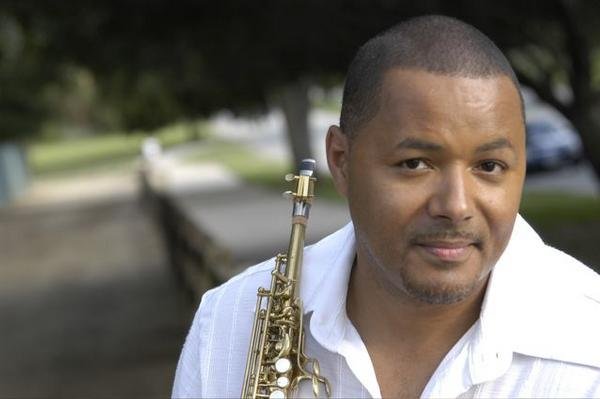 Laid back, easygoing, and simply honest, yet deeply intense…that is Najee the smooth side of jazz. This musical icon has stories to tell through his music that begins deep within. He is able to take music that other artist send him and determine if he can work with it to become just the sound that could make it to the recording studio and into the hearts of his fans. Music that makes him feel good and music that is different from what's been done in the past is what he looks for in a new song. "If it feels good to me, I'm usually certain that listeners will enjoy it." His latest recording, The Smooth Side of Jazz, released earlier this year features whimsical compilations and world famous artists including Jeff Lorber, Chris "Big Dog" Davis, Darren Rahn, Phil Perry and James Lloyd joining him to create a one of a kind Najee musical experience.
Najee, born Jerome Najee Rasheed, believes that he has been directed to do what he does. He is very humble about his talent and ability to take the saxophone, flute, or the clarinet and make music tell stories in his unique style. He shares that he has always enjoyed featuring other outstanding musical artists on his recordings. "I couldn't have imagined working with Quincy Jones, Prince, and Chaka Khan," Najee explained. "Chaka is the one who took Najee and my brother Fareed on the road. She gave two young brothers a chance when we had nothing," he recounts. When it comes to sharing the stage or recording studio, he admits he has many favorites. "I have been blessed to work with so many greats throughout my career." Musical collaborations allow for the blending of creative forces that ultimately result in award-winning releases. He enjoys working with people he likes outside of music. One of his favorite recordings is his tribute to Stevie Wonder, Najee Plays Songs from the Key of Life, which he shares was a special honor.
While he was born in New York City, and studied music at the New England Conservatory of Music, going out on the road and touring is special to him. Performing in front of live audiences allows him to interact with his fans. Najee admits that it's a thrill to see jazz enthusiasts groove to his music the way he does. Once the recordings are completed, Najee hits the road, crisscrossing across the United States on extensive tours.
Touring takes him to other interesting places around the globe. Najee shares that his trips to Africa are his favorite because South African, Zimbabwe, Nigeria and Ivory Coast audiences really embrace his music and live performances. "I like going places all over the world; most people don't know that my motivation as a young kid was to travel; I went to a high school originally to become an airline pilot." That's why traveling and seeing the world is especially meaningful. "I was recently in Mozambique—that was a very life-enriching trip; I had the chance to visit one of the townships there." That experience made him put things into real perspective because people live there with virtually nothing. "You see children playing in the street, and they were just happy, they're not depressed…they are just happy. They don't have video games or anything…they were just happy." He is grateful and learning not to take anything for granted. His music allows him to combine both of his passions—experiencing travel and the culture while playing music.
A heavy touring schedule keeps him to jet setting across the globe to exotic and beautiful places in Europe and Asia as well. It is always a learning experience when you go to different cultures. Regardless of the differences in ethnicity, when audiences know you and your music, fans are the same, Najee explains. "In some places when they don't see you as often, they are more appreciative of your music when a tour comes to town, he adds." He enjoys the excursions almost as much as performing and making music. Najee shares that he is excited about going to Uganda in October. He has desires to tour Russia, Egypt, and India. "I have been invited to Kenya. I travel to places that people can only imagine." While these are wonderful places to visit, Najee is a family man, so for him, there's no place like home.
The hectic touring schedule does have this busy master musician longing for home often. When it's time to unwind, he says, "I just like to go home to relax. I'm a simple guy who likes movies—really nothing to deep." While he stresses that, "I like to keep my private life private, but, it is that life that keeps me going. He recounts that his personal life took precedence early in his career. He needed to provide for his wife and young daughter during a rough financial time, so he sold his horns and even took a regular 9 to 5 job in a bank. Remembering one of the most difficult times in his life, Najee shares, "I gave up music while studying at the New England Conservatory of music. Family was just that important." But, as he stated he was guided to become a musician, so his path led right back on track. Soon after, a friend ran into him, and when he told him he gave up music; the classmate gave him his instruments and started allowing him to perform, which led to him fulfilling his destiny to becoming a master jazz musician.
Najee's sage advice to up and coming artists or anyone seeking to fulfill a dream is that you have to be realistic. "A lot of times, people have the desire to do something, but they don't understand that the struggle is a part of that desire. The success and outcome of the dream is not guaranteed, but the struggle that it takes to get it is definitely guaranteed. You have to figure out how committed you are and figure out how hard you are willing to work for it," he states. This award-winning smooth jazz artist explains that people look at him and think he has it made, but it hasn't always been easy…it took some work to get to this point.
His career has grown steadily since that time of struggle and determination. He still has dreams and aspirations, and hopes to work with other fantastic artist; Herbie Hancock tops his list. He adds, "Ledisi would be great to work with; she is a real treasure, and Robert Glasper is another young piano player I would like to work with in the future." Currently, he is finishing up a traditional jazz recording featuring James Lloyd of the late 70's band, Pieces of a Dream; "he is one of those treasures that people really haven't heard." They recorded in Kansas City a few years ago, and "it's coming out really nice," Najee mentioned.
Jazz music's main vehicle for bringing music to the masses is radio. There has been a significant decrease of jazz radio stations in recent years. When asked about the recent closing of Chicago's smooth jazz station 87.7, Najee remarked, "It is disheartening to have all of the closings and takeovers. We depend on radio to be heard; without radio, it is difficult to have a market." He does believe that with the increase of Internet-based outlets like iRockJazz.com the music genre will have a new life and even new audiences.
Speaking of iRockJazz.com, Najee says, "I love it! I was impressed with the site with the interesting twist of entertainment and assessable information. It has a fresh perspective, and I love supporting iRockJazz." He adds, "I put a post on Facebook saying, I love the iRockJazz website!"
Check out more on Najee and his smooth side at najeemusic.com.
By Marsha J. Eaglin