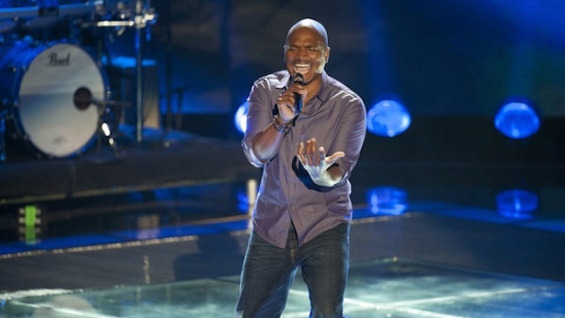 Jesse Campbell, a man who exudes humbleness, has been catapulted to fame since his audition on NBC's "The Voice." When he opened his mouth, all of the famous musical coaches (Christina Aguilera, Adam Levine, Cee Lo Green, and Blake Shelton) turned around within seconds in astonishment that he had "the voice" each wanted on their team. During an interview with iRock Jazz in mid-April, Jesse Campbell, shared his motivation, experience, and what his future holds.
In his very modest way, Campbell and extraordinary vocalist explains that he was surprised that he had captured that coaches' attention. "I couldn't believe that everyone wanted ME," he exclaimed. When all of the coaches turned, "That was when I started to get emotional, and my voice started to shake. All I could think was which one do I choose." Campbell added that after the audition, he thought, "I am living my dream—the manifestation of all the medication and prayer…it really does work."
When it came down to the choice while standing on stage, Campbell is thankful that he learned to hear God in thought. "I asked God who I should choose, and Christina Aguilera came to mind. He really respects expertise of all of the judges, but Team Christina won out. Speaking of his four-time Grammy Award-winning coach, Campbell explains that, "She is very professional, and tied to that is her knowledge and experience." Although he has been singing in the church since he was a teen, he looks forward to everything piece of advice she has for him.
The song choice for the first round on "The Voice," was one many Jesse Campbell fans and even his coach questioned. "It's a Wonderful World", was considered a "sleepy song," and one that might not be favorable to young viewers. He spoke to Aguilera on the phone, after choosing it from the list of approved song used by the show's contestants. He shares that she wasn't feeling it until he said, "Let me sing a little of it." After he sang a few lines, it blew her away and she said o.k. After some time in the studio practicing, his rendition of an old favorite earned him a win in round one. (The recording is available on iTunes)
It truly is a wonderful world for this die-hard optimist. "My purpose is to inspire, Campbell explains about his music and mission in life. His faith and determination is anchored in his beliefs that grew from his upbringing in the Pentecostal church pastured by his father W.J. Campbell. As an adult who has studied the Bible and lived a life of faith, he has moved to a spiritual consciousness that supersedes denominations and religions. He believes that his biblical foundation coupled with his meditation on all that God has for him, as well as his personal relationship God gives him his strengthen and motivation.
Campbell admits that he would not have a humble spirit and personal determination if it were not for his parents. "I have to attribute this to my parents; my father is effective, and my mother has always been the ultimate first lady. She is humble; I always wished people could hear my mom sing. "Besides, if I ever got arrogant, my bothers would get me…and they are bigger than me, Campbell jokes."
This opportunity on is not one that Campbell takes lightly. He states, "I am representing my hometown of Maywood. He explains that Maywood, Illinois village that was a "great place to grow up with great people." He adds, "I am also representing Chicago, the home of our president."
When it comes to recording in the future, Campbell says he will never totally stray far away from his foundation. Gospel music is what he knows in his soul; he wants to incorporate it into many genres of music. Thanks to an array of life experiences, he will use them as a catalyst for songs that have strong messages of life and love. He believes he experienced these things to inspire and encourage others. He can see himself performing and recording music that will touch many hearts. Yes, jazz lovers…a jazz recording is on the agenda. Campbell will definitely take iRock Jazz on that musical journey when it happens.
Looking to the future, the next live round is quickly approaching. All of the contestants on the Voice could be considered Campbell's completion; however, he honestly believes that, "All I can do is bring my A game and leave the rest up to God." Round 2 on The Voice (airs on NBC Mondays & Tuesdays) will reveal a different and contemporary musical side of Campbell. He is excited and up for the challenge.
Challenge is no stranger to Campbell. He and his daughter Soirya were homeless after his divorce. But now, although Soirya, 11-years-old, is quiet, her dad explains that she is loving the experience of instant fame. She is vocal with her dad offering advice. The most important coaching she gives is, "Dad, don't dance; just stand there."
With all of the advice and support, this 42-year-old singer is getting, he is proving that he has The Voice. Jesse Campbell will definitely grace the music industry with his melodious voice as a winner.
For more information on Jesse Campbell, check out his official website jessecampbell.com.
By Marsha J. Eaglin