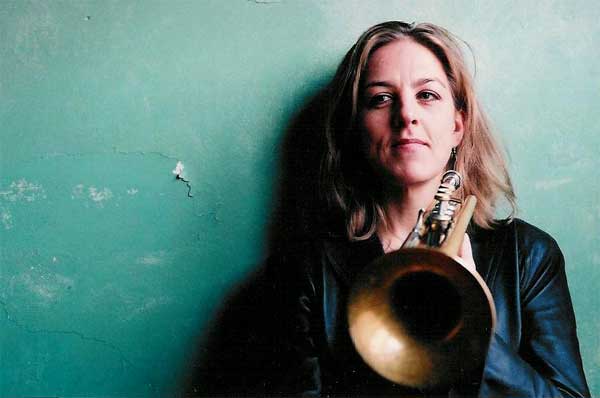 "One of the first records my dad gave me was "Kind of Blue."  With that kind of introduction, it's no wonder than Ingrid Jensen turned out to become a trumpet player.  One might not expect North Vancouver to be a prime locale for recruiting hot jazz musicians.  However, it is, in fact home to one of the premier musicians working in jazz today.  Since the mid-1990's, Jensen has been in heavy demand and well respected by some of the mediums most impressive veterans.  Since judging a book by its cover is still par for the norm in music business, it may be easy for some to wonder how Jensen has achieved so much.
Well, with a family full of musicians, her foundation was secure, ensuring a life of creation.  Ingrid's affinity for jazz can be traced all the way back to when she was a toddler, growing up in British Columbia.  She found an early kinship with a certain trumpeter at age two.  "Apparently, whenever I'd get upset," Jensen told iRockJazz, "my mom just put on Louis Armstrong – it's hard to beat early Louie – and I would dance around and enjoy myself."  Satchmo wasn't the only  influence playing around the house.  Crooners like Bing Crosby made a big impression on Jensen as well. It all led to her desire to learn more about what she was hearing.  "I just remember that sort of swinging feel of back in the day and how that really helped me to get caught up in what happened afterward with Miles [Davis and Freddie Hubbard, Clifford Brown, Clark Terry."  Ingrid's home environment led to much exploration, as she and her two sisters –  who'd go on to learn trombone and saxophone, respectively – got to choose what music could be played at the dinner table every night.  Some of the choices included albums by Oscar Peterson, Chet Baker, Miles Davis and Bing Crosby.
By age 13, Ingrid finally chose to pick up the trumpet, but only after her attempt to initially play her first choice, the trombone, was thwarted when her older sister was already playing it.  "There was a lot of animosity in the house," Ingrid humorously remembers, "but since I'd already had a liking in the trumpet, my mom thought it'd be a good choice for me in band class."  First choice or not, her quest with the trumpet took a turn when she attended her first concert when Clark Terry played a show near her home town at age 14. "It was like going to a rock concert.  I was just so overwhelmed to hear him live," she reminisces.  "I even got all emotional seeing him live because it was so much more powerful than all of the cassettes and LPs I had to that point.  And also, to see his personality in relation – from the music I was hearing, I knew he was funny, loving and kind.  So, to see him interact with his band, it just really set the ball in motion, I guess."
Ingrid's new commitment to trumpet paid off when she got into the prestigious Berklee Music School in Boston, MA.  Despite being one of the only female students there, and in the midst of a politically eschewed college program, she blossomed thanks to the inviting spirit of her peers.   "I was really welcomed by a lot of people who taught me a lot, especially as a white female playing music that traditionally is not white female music."
After graduating from Berkelee, Ingrid went to Copenhagen, Denmark to continue her studies and advance her chops in various jam sessions before returning to the United States.  She chose to come to New York City, the jazz capital of the world, where legends are made and pretenders are swallowed whole.  Ingrid was eager to get her feet wet in this great city, but instead of going to the lauded underground clubs, she just went underground, literally.  "When I came back to New York after being in Denmark, I worked in the subway.  I played in the street, I played in the park."  Anyone else with such chops and an extensive time spend in school studying would be discouraged to play under such circumstances.  Ingrid relished the opportunity.  "It was amazing.  It kicked my butt.  We'd play for five, six hours straight, and I didn't have the stamina at first.  We'd get double takes when people walked by: a Jewish piano, an Asian bass player, an old, African-American drummer and this white, blonde girl.  It was pretty funny."
The subway PhD program paid dividends.  She would go on to work with an endless array of the top jazz musicians in the world, like Dr. Lonnie Smith, Jeff "Tain" Watts, as well as recording her own pleasant albums as a leader.  Ingrid's trumpet style sounds very much like a human voice, which is one of the virtues of her chops that set her apart from other trumpeters.  It is by design according to her.  "Trumpet jocks out there go for a more brassy, intense sound, where it's all about the high notes.  I started playing to the other side where I want to get to the vocal part of it."
Her collaborations have been some of the most career affirming moments for her.  One of those moments came on her 1996 album Here on Earth, when she worked with Gary Bartz, the celebrated saxophonist known best for his work with Miles Davis and Max Roach.  "Working with Gary was scary. [Chuckles]  He's so intense.  He's such a legend and I was very intimidated.  But at the same time, I had a really amazing time in the studio.  Then I took him on the road for a few gigs.  He's beyond any category.  It's almost insulting to say, 'Oh, he's good at jazz.'"
Eventually, Jensen got to collaborate with her teenage hero Clark Terry at an Amsterdam trumpet summit, bringing her career full circle.  "It was incredible.  He's just been a real supporter.  His whole scene with Lionel Hampton and all the people surrounding them really helped me to believe in myself and go forward with who I am.  They have every right to be bitter at the white scene of the way things worked out in this country – or didn't work out – and they just embrace whoever plays from their hearts and keeps it real.  So, being around him has always been consistency inspiring to raising the bar to be a really great human as well as a great player."
Currently, Ingrid is busy capitalizing on the success of her contribution to drummer Terri Lyne Carrington's Grammy winning album, The Mosaic Project.  Jensen was part of an all-star cast of female jazz musicians and vocalists, including Esperanza Spalding, Patrice Rushen, Sheila E., Cassandra Wilson and Nona Hendryx to name a few, and is about to embark on a world tour with the drummer.  "Terri's amazing.  I've known her for 20 years.  She's just beyond description as far as what I would call her: She's a composer; she's an arranger, a sick drummer, amazing bandleader.  She can produce anything and does everything with perfect integrity and a vision that is over the top."  As two of the leading female jazz performers, the two have avoided the taboo topic of stereotypes and gender barriers.  "Sometimes stories do come along, but it might be about the lack of vision and open mindedness that people may have, but it's not about sitting around and bitching about how hard it is.  It's really about what are we going to do to make the music happening, with some magic."
These days, at age 46, she's settling into the next phase of her life with her husband, baby and new home in Upstate New York.  After residing in New York City for more than two decades, she's using her new atmosphere to inspire her to make new music, different from the fast paced bebop approach that's made her a hot commodity.  "I just want things to get settled and write new music.  See what comes out of being in a new space after being in the city for over 25 years.  Now, I'm kind of in the 'burbs; got a view of the Hudson River, tree in the front yard, and I'm kind of going to let things flow."  Whatever that leads to, we'll all be paying attention.
By Matthew Allen