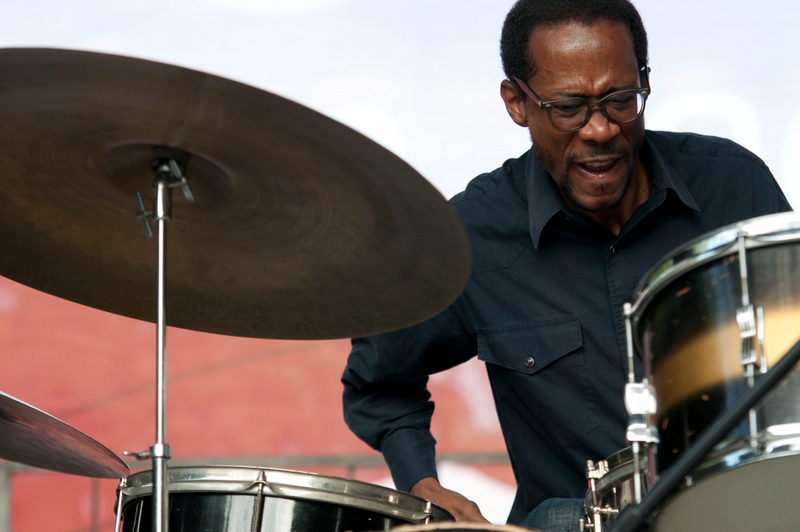 From the day that we are born until the day we leave this earth, each of us is on a journey. And most of the time that journey is of the unknown, although there are little and big signs, landmarks if you will, that give indications of where we have been and where we might be going.
And for in-demand session and jazz drummer Brian Blade, music is also a journey where the musician uses sound as a post to communicate with listeners where he or she has been sonically, and the direction the musician may be heading. And that's part of the reason Blade's band of 14 years, The Fellowship Band, entitled its upcoming album Landmarks. The album is due for release this spring or early summer.
"It's our fourth recording, and since we've been together since 1998, it's a document of where we are now – on the trip we've been on for some time," Blade says. "Jon Cowherd, who is the pianist and composer, has written some songs for the band as he always has done, and I have as well. It's really just the next step in our collective voice. We're trying to make that more singular as we grow together."
In addition to Blade and Cowherd, The Fellowship Band also consist of explosive and explorative musicians such as Myron Walden on alto saxophone and bass clarinet, Melvin Butler on tenor and soprano saxophones and Chris Thomas on bass.
"And we brought in a couple of new and old musicians to play along with us," Blade adds. "We brought in Jeff Parker from Chicago to play guitar, and also Marvin Sewell (on guitar). So it's great to feel like we don't even have to think about – necessarily – all that language that develops over the years from knowing someone up-close and traveling on the road. It's all immeasurable time spent together. I think it adds to the tone and candor and emotional value of our music, hopefully."
Blade believes a landmark is a universal idea that just about everyone can relate to in life, he says. The title track (written by Cowherd) speaks of identifiers in one's life to show where they've been and perhaps indicate where they are going, he says.
"Hopefully it is a clue of what is ahead – a little bit," Blade says. "And also a clue of where you are now."
Over the 14 years that The Fellowship Band has been playing together as one cohesive unit, music journalists and fans have described their previous three albums as serene, mellow, earthy, meditative and a slew of other peaceful adjectives. Blade welcomes them all.
"I think there is always a core of inspiration stemming from John Coltrane and Joni Mitchell – for me," Blade explains. "All of those influences filter through us and into the music, but since we've been so close for so long now, and playing together for so many years, hopefully we have come into our own sort of stance and collective voice. "But I guess our sound speaks to the American landscape and to a world of travel," Blade continues. "The journey is in the music. There is a trip that we are taking and the listener is taking along with us."
Interesting enough, after releasing his third album with his band, Blade decided to mix things up a bit in 2009. Armed with a talent for composing and playing on guitar, Blade put out a deeply passionate and gentle rock album known as Mama Rosa. The album was not only totally out of the jazz ball park (because of its soft-rock feel), but it also introduced fans to the eclectic singing voice Blade possesses.
Even as a rock album, the connection to jazz isn't too far away, Blade says.
"It was a conceptual album that sort of ends with a refrain at the end of the album that goes round and round, stating I'm trembling," Blade says. "It has just the mere idea. And a lot of my writing is written on the guitar (jazz or otherwise)."
When Blade composes he says he's never really sure what might come out of his soul. Some compositions lend themselves to becoming music with vocals, and others develop into instrumental form.
Outside of the jazz circle, Blade might be considered a chameleon-like musician since he finds it so easy to blend into the tapestry of other internationally known musicians as if he was always a part of that music's fabric. At 42, Blade has played with a who's who of legendary musicians such as Bob Dylan, Wayne Shorter, Joni Mitchell, Seal and Daniel Lanois to name a few.
So does the pop/rock music influence his jazz leanings, or does his jazz musicianship influence his forays into rock music? Neither of those genres influenced the other according to Blade.
"I do think that the bedrock of it all, the foundation comes from my upbringing in playing in church," Blade says. "(It comes from) the immeasurable lessons I've learned playing in my home church in Shreveport, Louisiana. My father is still pastor for 51 years now at Zion Baptist Church. My brother and I both started playing drums while growing up there."
"And really, when you serve the song in that way, through a praise and worship environment, I take that into every other musical experience with me that I'm a part of," Blade adds. "So it's great that there weren't any boundaries place upon me (growing up in church playing music). It was always about – and is about now – serving the song and serving the moment. So, with that I can step into various music situations and assess what it is that the song needs. What is my part in it? I think that's the big picture and also what The Fellowship Band kind of projects itself into. What is our part?"
"Playing with other musicians, including some of my music heroes, it feeds back into this never-ending well of ideas and perspectives that continue to inspire me," Blade says. "Hopefully we will be recording another album similar to the Mama Rosa concept sometime in the near future, but The Fellowship Band is a band that is dear to my heart. I hope this band can exist as long as we can exist."
by D.E. Malik Patterson