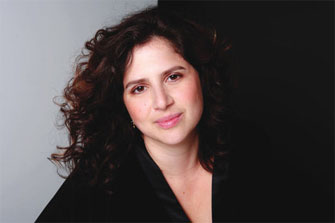 The Anat Cohen quartet recently performed for four nights at Jazz At The Bistro in St. Louis. Anat is an Israeli jazz clarinetist, saxophonist and bandleader. She is known for her excellent writing and entertaining stage performances as she enjoys dancing while playing, often alternating between the tenor/soprano saxophones and the clarinet.
The band which consists of Omer Avital on bass, Jason Linder on piano, and Daniel Freedman on drums all shined, especially during their individual solo performances. Jason and Daniel grew up in New York and went to high school together. According to Anat, they have been playing together for twenty years. Anat and Avital both attended the Thelma Yellin High School of the Arts in Israel. A number of Israeli jazz musicians attended Thelma Yellin which is committed to preparing its students well for successful musical careers especially with so many of them now being recognized worldwide on the covers of magazines like Down Beat.
Anat and the band displayed a tremendous rapport with one another. The rhythm section members are all bandleaders in their own right who have their own names in the jazz community.
It was very hip that Anat played a Lonnie Smith tune entitled "The World Weeps." She was well aware that Lonnie was recently at the Bistro and gave him words of praise before transitioning into the song. The influence of John Coltrane on her playing is conspicuous even when she is playing the clarinet. She played very fast at times to show her chops and used multiphonics (playing multiple notes at a time) on may occasions. Much of this set could be referred to as "free jazz" as it was lacking a clear form or structure.
She played several unnamed tunes but one was an original by the drummer entitled "All Brothers." The song was dedicated to world peace and Anat urged the audience to smile and do nice things for other people. During this song, the pianist used a tambourine and other objects to dampen the sound of the piano which created a "twangy" sound effect.
It is very interesting to watch live jazz performed by international artists. They bring a different angle to the music than American artists and often draw from a different repertoire and vocabulary. It was very interesting to see Anat and her band perform in St. Louis and we hope to see them again soon.
By Jake Weisman
(Jake is a student writer and jazz enthusiast who reviews shows at Jazz at the Bistro in St. Louis, MO.)