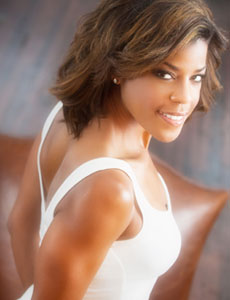 Nicole Henry has established herself as a force in the jazz world since she entered the scene through her own label in 2004. The Miami Herald has referred to her as the "vocal lovechild of Whitney Houston and Sarah Vaughan." On her most recent release, Embraceable, Henry expands beyond jazz, presenting a collection that includes some standards, and also draws from soul, pop, and even reggae. The iRockJazz team recently spoke with Ms. Henry about her vocal influences, her career in jazz, and her return to soul with the new album.
iRJ: Do you view yourself as a jazz vocalist or a musician who happens to sing jazz?
NH: I would say I'm a vocalist who likes to sing and tell a story. I've done that through jazz for many years. I think to really encompass what my career is, and who I am as a whole – I'm a singer who likes to tell a story, has done so through jazz, and will continue to do so through all kinds of music. Good music is good music. Good lyrics are good lyrics.
iRJ: Who have been some of your favorite female singers?
NH: Aretha Franklin because she just has so much soul in her voice. My aunt sang backup for Patti Labelle for almost 25 years, so I grew up watching her perform. Dionne Warwick has such a distinctive approach and a way of delivering lyrics. Whitney Houston – that woman can sing – point blank. And CeCe Winans has a gorgeous voice. I also appreciate folk music and singer/songwriters.
As far as jazz goes – I love Carmen McCrae and her approach – she's just a woman, a strong woman! And of course, Nancy Wilson, Ella Fitzgerald, and I really like Sarah Vaughan's voice and approach. And Dinah Washington – the way she improvised on the melody and really just told a story like she was talking to you. Etta James did that as well.
iRJ: You actually launched your own label initially.
NH: In 2004, I started my own label with my first CD out of necessity. When I first came out with the album and was shopping it, nobody picked it up. So I said, okay I'll do this by myself. I was fortunate to find national distribution. We've probably sold about 20,000 copies of that CD since then.
iRJ: How would you describe your audience today and where you see it headed?
NH: It's so varied. When you sing standards you're going to get people that are in love with standards. Black, White, Latin, upper class middle class, all kinds. It's really broad. I might cover a Jobim tune and then someone who loves Brazilian music may hear me and fall in love with a couple other tunes on the CD. Different cities and different clubs bring different audiences. It's fun for me because I look at the world that way. I believe there's a way to make people come together, and I think music does that. So it's always nice to see that in my audience.
iRJ: Where would you say that jazz stands today, and where do you see the music going?
NH: Musicians and students are learning jazz in college every day so it's not that this music is going to go away. Thank goodness. There are a lot of organizations that support arts education and make sure that children learn jazz.
It's a tradition that I do believe it will stay around; it's just a matter of being creative and having the venues to support it. Internationally, there is a huge audience for jazz, and I think now more than ever a lot of artists are really finding their stages internationally.
iRJ: Let's talk about Embraceable. The album has really taken off. Tell us where this new album started and what went into it.
NH: What I wanted to do with this album was to go a little more mainstream, put a little more soul into it, more contemporary music because that's really who I am. I love jazz, love singing jazz, and will always have jazz music in my repertoire, but I wanted to expand my music, my message, and my audience. So I really wanted to put that back into my repertoire.
For months we listened to hundreds of songs, different songwriters, and listened to music from the 70s the 80s as well as jazz tunes to put into the mix, and what we came up with was Embraceable. The CD wound up being more of a laid back, more jazz soulful approach to the material.
iRJ: You got some incredible musicians and some great people on this album.
NH: We really decided to take it up a notch with this album. We had John Stoddart, the great pianist who has a career of his own as a solo gospel artist, but also plays piano and arranges with Kirk Whalum and many different artists. He arranged half of the songs. Then Matt Pierson who used to run Warner Brothers Jazz, when there was a Warner Brothers Jazz. He did the Donnie Hathaway album with Kirk and a bunch of others. He introduced me to the players in New York who are on the CD. Larry Grenadier, Eric Harland on the drums, they're all incredible. Gil Goldstein who has arranged for Sting, Chris Botti Paul Simon, all kinds of people. It's exciting to have recorded at that level and know that we can just get better and just go up from there.
iRJ: A lot of musicians starting out can't put together a team or the financing. Each project is almost an individual startup business. For those musicians that can't get that far, how do you do it?
NH: I'm really dedicated to my career. Whatever I make I put right back into my career, financially. I just saved all my money, every dollar that I make I put right back into my career. I've been able to do a lot in Miami and keep a steady schedule of performing. When I tour different countries, when I sell CD's, I really just put all the money back into creating the next project. It's all been self-funded.
For this album, however, I did go to an outside company called ArtistShare. They gave me an opportunity to raise 15% of the budget for the CD. It was an opportunity to get my fan base and others involved in the making of the album. Through ArtistShare you can register online to support the project at whatever financial level, and you could be a part of the process.
We'd post blogs, songs, videos, rehearsals, recordings. I'd give feedback about making the CD, what I was feeling that day, and insights into what's made me who I am as an artist. It gave me and others an opportunity to get closer and share my artistry.
Nicole looks forward to doing more writing and collaboration and anticipates her next album to be completed by early 2013. For more information, visit her website at nicolehenry.com.
John Moultrie & Nyasha Nyamapfene