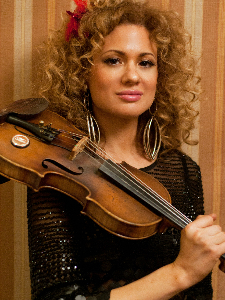 Grammy Award winning violinist Miri Ben-Ari came to the United States from Israel with a dream to play her violin on big stages. Classically trained at a young age, and under the tutelage of Isaac Stern, the hip-hop violinist, composer and arranger was destined for success. She performed hundreds of concerts before being discovered by Betty Carter who mentored her on the jazz circuit. Her big break in hip-hop came when she was introduced to Wyclef Jean who asked her to perform with him at Carnegie Hall. It's the fusion of all three genres that has given Ben-Ari her unique style and allowed her to carve a cozy niche for herself in the music world. She has even been credited with recreating hip-hop.
At 33, Ben-Ari has recorded with many of the biggest names in jazz including Billy Hart, Dave Kosky, Dave Carter and Wynton Marsalis who lends his trumpet sounds on two tracks from Ben-Ari's Song of the Promised Land album. "I had a really nice run with real jazz music", says Ben-Ari. "I was breathing and living it. From there I started developing my original style because I knew how to write and compose".
Her popularity within the hip-hop community catapulted after a collaboration with Kanye West. West recruited Ben-Ari for his album The College Dropout. Her violin playing, arranging, and compositions were an integral part of the album. "I love to perform. I love the audience. I love people", says Ben-Ari. Performances are very different from each other, especially when you compare the jazz world to the pop world". Other hip-hop artists she's teamed up with include Janet Jackson, Britney Spears, Alicia Keys, Patti LaBelle, Joe, Maroon 5, and more. When asked who she'd like to work with next, Ben-Ari said Lady Gaga. "I love her and what she represents. I love her originality and she is such a positive seeker that inspires so many people".
Ben-Ari doesn't see herself as any one kind of artist. She sees no borders or wants to be defined as playing any one kind of music. According to her, she is neither a hip-hop artist playing jazz nor a jazz artist playing hip-hop. She is an artist with a voice (her violin). "When you develop your original style then a lot of people try to put a tag on it", says Ben-Ari. "People like to relate to things that they are familiar with. What contributed to my original style was the classical and jazz training".
What started as a dream has evolved into more of a journey for Ben-Ari. As an artist, she says she keeps evolving and reinventing herself. As a producer she continues to work at being better. She emphasizes that she will never be done growing as an artist. After all, isn't that the beauty of art?
Visit Miri Ben-Ari online at miribenari.com.
By Tracye Dee