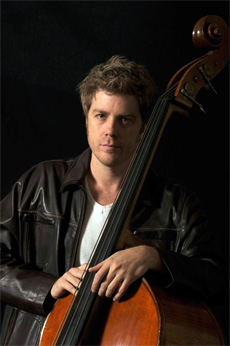 When you are the eldest son of one of the most iconic actors and directors in Hollywood, it is not a stretch to think that one can write his own ticket in an industry that is so fleeting and impossible for most. But that's only if you want that life, which for the most part Kyle Eastwood has shunned.
At 43, Eastwood has rejected the notion of the logical choice to some – become an award-winning actor and director like his legendary father Clint Eastwood is throughout the world in a career spanning more than 50 years. But while acting is not his thing, the younger Eastwood has embraced and made a career out of two things his father holds in high esteem as ultimate passions: scoring films and a love for jazz. And who rocks jazz more than Clint Eastwood (who went out of his way to bring Charlie "Bird" Parker to life on the big screen in 1988)?
Kyle Eastwood, however, found a way to totally submerge himself into his love for jazz music, while at the same time contributing his gifts for melody to his father's films. The end result – among other accolades – has been a Golden Globe nomination for the film scoring of "Gran Torino." iRockJazz caught up with Eastwood in Paris, where he resides most of the year and tours with his quintet. American jazz fans can catch him in the states in April where he'll play select venues on the West and East coasts.
IRJ: What made you decide to choose music instead of following in the footsteps of your famous father and becoming and actor and director?
KE: It was really just a matter of me discovering that music was what I loved more. I started going to (USC) for a short stint as a film major, but that was also around the same time that I started getting more and more involved in doing gigs and playing music. Then I just decided, say after a year of school, to take a year off and just pursue music and see where it could take me, you know. That was 20-something odd years ago.
IRJ: What drew you to the bass of all instruments?
KE: I started off playing the piano. I studied piano when I was young. I studied that for a few years, then I learned some guitar when I was about 12 or 13 for the first film I ever did with my father. Then I kind of picked up the bass after that really. I don't know other than I was just kind of always interested in the rhythm section of drums and bass. So I kind of just picked up the bass and it just came naturally, really from what I knew of music theory through piano. I just started teaching myself basically. And I started studying it more later on.
IRJ: Your father is known for being a jazz fan like forever. He was instrumental in bringing Charlie "Bird" Parker's life to the silver screen. So does it make sense to say he influenced you in pursuing jazz music over say pop or classical?
KE: Well, I like a lot other different kinds of music, but I would say my earliest memories of music in the house were of jazz. Both of my parents were jazz fans. It was the music of choice around the house when I was very young. And the very first concerts I remember my parents taking me to when I was young were jazz concerts. I grew up just about 15 minutes from where the Monterey Jazz Festival was held. So the very first concert I can ever remember going to was out there to see the Count Basie band play in like 1976 or 1977.
IRJ: So let's get into the process or techniques that you take in scoring films. It would be appropriate to ask first how did you get into scoring films?
KE: My very first exposure to it was playing in the orchestra as I started playing bass in some string sections for some orchestras. A friend of mine started doing some work for Hans Zimmer every now and then for some sessions and things like that. So my interest in scoring started from being part of the orchestra, while doing session work and watching how it was done. And then I started writing little bits and pieces of music for some of my father's films, and just kind of slowly and gradually worked my way up to writing the whole score.
IRJ: Do you have a special approach – orthodox or unorthodox – that you use when preparing to score a film?
KE: Well, most of my work has been for my father, so most of the time I get a chance to review the script while the movie is either in production, or a lot of times even before the film goes into production. So, you know, you get a pretty good idea of what is coming at you. Then you see the film, at least in the rough cut before it's finished. You sit down and watch it again all the way through when it's finished, and I sit down and watch the film with (my father) or the director, and from there I take notes. You pick the most important scenes and/or character that you feel will need a certain theme (with music). You pick your main spots for where some of the music cues will be in the film; and then you get a couple of copies of the film on DVD; take it home and sit down at the piano and start playing music to determine what will work for that scene, and see what doesn't.
IRJ: There was once a documentary we saw where Duke Ellington was speaking on seeing the piano keys as one full orchestra. Is that how you approach the piano when sitting down to compose?
KE: Well, yes, that's a part of it. Of course you first start out trying to figure out some type of chord progression, or maybe a little melodic motif or something, you know. From there you build it up and decide how big or small something has to be.
IRJ: Was your first major piece of music for film done for the 2003 Oscar award-winning picture of the year, "Mystic River?"
KE: Well, yes, you could say that. We had done a few things before that film, but it would be fair to say that was the first major film that I did a couple of pieces for.
IRJ: And your first Golden Globe nomination for another one of your father's films, "Grand Torino?"
KE: Yes, for that film. But "Mystic River" did some things for us, then "Million Dollar Baby." But "Flags of Our Fathers" is probably the first film that I did the scoring all the way through.
IRJ: It appears you spend most of your time living overseas in France nowadays. France has always had a unique relationship with American jazz musicians. Tell us what lured you over there?
KE: There are a lot of great places to play over here in France. There are a lot of great jazz festivals over here – and in Europe in general for that matter. There are a lot of great opportunities to play, and I think the audiences have always been open to jazz, and music from all over the world – but American music especially. It's a good place to play and the audiences are always very enthusiastic and appreciative of the music. But I love to play in the states quite often.
IRJ: Who or what are the influences in your music?
KE: Well, I listen to a lot of different types of music and musicians that influence me. Of course jazz artists influence me the most, but I've liked a lot of R&B and funk bands throughout the years. And everything from big bands like Benny Goodman to Count Basie, and to music like Led Zeppelin. I listen to everything really. If it is good I like it.
IRJ: Many music critics have described your albums as being very cinematic. How would you describe your music and your sound?
KE: I guess with all of the film music I listened to throughout the years, and being involved with film through my father, I'm sure some of that has rubbed off. So that's a fair description (laughs).
IRJ: What projects are you working on now?
KE: Well, "Songs From The Chateau" (Rendezvous Music) is our latest offering. And right now I'm touring with my quintet and doing gigs around here in Paris and Europe. I wrote the music for a documentary that came out last year called "Mulberry Child." I guess it is kind of making its round at some of the film festivals right now. But really that the last film stuff I have done. I'm just doing concerts and stuff, and supporting the last album.
I will probably get around to writing some new music soon and recording a new album sometime this summer. I'm still developing the sound of this band that I have had together for the last four, five, really six years now.
IRJ: Will you ever follow in your father's footsteps and pursue acting and/or directing?
KE: Well, I did some acting some years ago, but if I ever really decided to pursue that direction it would be more in line with me directing than the acting angle of it. But I'm really more interested in the overall process of making film. I'm really just happy right now staying involved with the role of creating music for film. So I'm not really thinking about wanting to direct too much.
IRJ: What advice would you give to younger musicians interested in scoring films?
KE: I would first tell them that it is a totally different process than writing music for your own albums. Doing jazz and creating music for your own albums is like the ultimate freedom. There's a lot less of that, you know, when you're writing music for films. You have to create something that is supportive of something that is already up on the screen. But the other perspective is it gives you a direction to go in. It's a different type of challenge, but it's fun. So I would just say make a demo tape with different styles of music to show that you can write any kind of music style you may be called upon to do. Show that you can do different moods and things like that. It would be great if you could do a jazz score, but unfortunately you don't get called many times to do that.
by D.E. Malik Patterson